Welcome to the Department of Pediatric Research
The Pediatric Research Institute (PFI) was established as a joint university and hospital institute at the Rikshospitalet in 1959. In the first years, research focused on hematology; however, soon a whole range of research topics was established, including metabolic diseases, pediatric cancer, adverse effects of bilirubin, and basic research on the effect of peptides on diseases.
During the last 20 years, the research focus was primarily on the effect of hypoxia-reoxygenation injury and oxydativ stress, especially during the neonatal period. For this purpose, a number of animal models and cell culture models were established at the PFI. PFI collaborates extensively with a number of national and international research groups.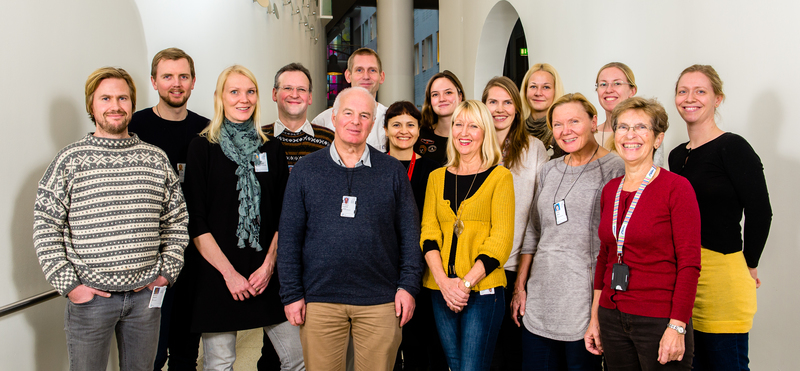 Overall goals:
The PFI is committed to promote pediatric research through advanced science in combination with clinical practice. The aim is to obtain scientific knowledge for a better understanding, treatment, and prevention of pediatric diseases. To reach this goal, we intend to
create a research environment for researchers and clinicians in the field of pediatrics
provide a platform to discuss scientific achievements for clinicians and scientists from different disciplines
advice and provide knowledge to health professionals and the general public
perform a variety of different relevant major research projects
apply and develop different techniques and methods for our research
encourage and value practical, translational, and basic pediatric science
connect and exchange our knowledge with national and international collaboration partners
... for the sake of our children
Our research focuses currently on:
---
Latest new of the department of Pediatric Research
Prof. Ola Skjeldal Autisme og Autisme spekter forstyrrelse
November 27th 2017, 12.00 at the auditorium for internal medicine research, D1.2082, OUS-Rikshospitalet.
Honorary symposium for Ola Didrik Saugstad
March 3rd 2017, 3-5 p.m. in 'Blått auditorium' OUS-Rikshospitalet Sognsvannsveien 20, 0372 Oslo.
Selected latest oral presentations of the Department at national and international conferences 2013 - to date
Håvard T. Garberg Increased urinary neutrophil gelatinase associated lipocalin after global hypoxia-ischemia in piglets. 1st Congress of joint European Neonatal Societies (jENS), Budapest, 16.-20.09.15
Cecilie Revhaug et al. A murine model of bronchopulmonary dysplasia - preliminary results from a whole-genome mRNA expression study in blood. 1st Congress of joint European Neonatal Societies (jENS), Budapest, 16.-20.09.15
Cecilie Revhaug A murine model of Bronchopulmonary Dysplasia. 30th International Workshop on Surfactant Replacement, Stockholm, 5-6.06.15
Torkil Benterud In Situ Zymography of Purkinje cells could be valuable to assess brain damage after perinatal hypoxia. Pediatric Academic Societies' Annual Meeting, San Diego, 25.-28.04.15
Ola Didrik Saugstad at the 2nd Argentinian congress of neonatal medicine, Buenos Aires, Argenitina, 27-29.06.13, Lecture 1
Ola Didrik Saugstad at the 2nd Argentinian congress of neonatal medicine, Buenos Aires, Argentina, 27-29.06.13, Lecture 2
Latest degree of Master in 2015
Karianne Vegheim Effect of ammonia on metabolic activity, urea production, and gene expression in hepatocytes
Sophia Mandueldas Investigating novel biomarkers for neonatal asphyxia in newborn piglets
Cecilie Aas A novel pig cell line as model system for studies of calcineurin inhibitors.
Latest degree of PhD in 2017
Babak Asadi-Azarbaijani The quality of cryopreserved ovarian tissue used for fertility preservation in pediatric and young adult cancer patients.
Nicolai A. Lund-Blix Early nutrition and risk of type 1 diabetes.
Latest awards
Chiesi Prize of Excellence in Neonatology to Ola Didrik Saugstad 09.10.17 at the VIIIth Recent Advances in Neonatal Medicine conference in Würzburg, Germany
Erich Saling Perinatal prize to Ola Didrik Saugstad 26.10.17 at the 13th World Congress of Perinatal Medicine, Belgrade
Poster prize for Babak Asadi-Azarbaijani Effects of imatinib mesylate, a tyrosine kinase inhibitor, on the early folliculogenesis in postnatal rat ovary. The 4th World Congress of the International Society for Fertility Preservation, 13.-15.11.15, Shanghai, China
Lifetime Achievement Award to Ola Didrik Saugstad at The 12th World Congress of Perinatal Medicine in Madrid, 3rd-6th November, 2015, Spain
Annual reports
Sider på norsk
Pediatrisk forskningsinstitutt
---
Contact information:
Department of Pediatric Research
Division of Paediatric and Adolescent Medicine
Oslo University Hospital Rikshospitalet Postal address: P. O. Box 4950 Nydalen, N-0424 Oslo, Norway Street address: Sognsvannsveien 20, 0372 Oslo, Oslo University Hospital, Norway Phone: +47 23 07 27 90 Fax: +47 23 07 27 80, Switchboard: +47 22 93 40 00
Webmaster for PFI: lars.o.baumbusch@rr-research.no