Research area 1: Targeting of cancer-specific mutations
Immunotherapy with checkpoint inhibitors, such as anti-PD1 and anti-CTLA4, activates T cells capable of recognizing peptides from mutated proteins (neo-antigens), representing a major breakthrough in cancer treatment. However, while all cancers harbor mutations, patient T cells rarely elicit a curative response, and the majority of patients eventually relapse following checkpoint inhibition. It is now clear that patient T cells only recognize a minor subset of mutations in a tumor. A major focus of the lab is to develop novel technologies that can improve on the identification and targeting of cancer-specific mutations that can evoke an immune response (immunogenic neoantigens). Our goal is that such technologies can be used to improve on the therapeutic outcome of patients treated with immunotherapy.
Projects
Targeting mutations that are neglected by the immune system of the patient with healthy donor T cells
In collaboration with Ton Schumacher, partner on our K.G. Jebsen center for Cancer Immunotherapy, we have recently demonstrated that healthy donor T cells recognize many more mutations than are "seen" by the patient tumor-infiltrating lymphocytes. We are now studying the rules that determine why some mutations can elicit T cell responses why others cannot, using healthy donor T cells.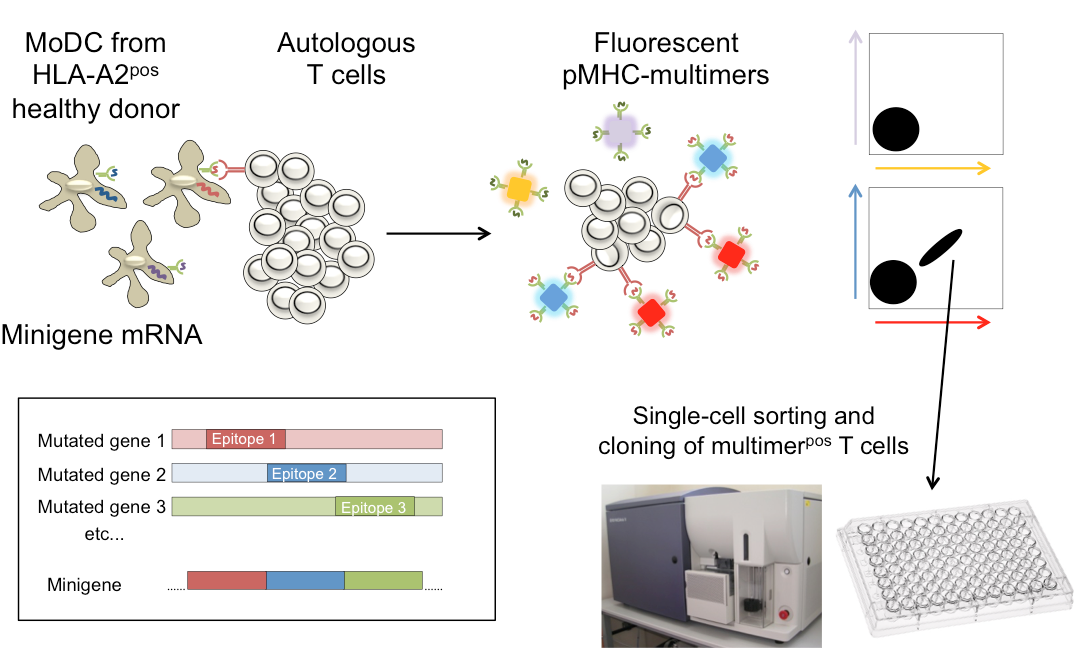 ---
Selected references:
Bartok O, Pataskar A, Nagel R, Laos M, Goldfarb E, Hayoun D, Levy R, Körner PR, Kreuger IZM, Champagne J, Zaal EA, Bleijerveld OB, Huang X, Kenski J, Wargo J, Brandis A, Levin Y, Mizrahi O, Alon M, Lebon S, Yang W, Nielsen MM, Stern-Ginossar N, Altelaar M, Berkers CR et al. (2020)
Anti-tumour immunity induces aberrant peptide presentation in melanoma
Nature, 590 (7845), 332-337
DOI 10.1038/s41586-020-03054-1, PubMed 33328638
---
Strønen E, Toebes M, Kelderman S, van Buuren MM, Yang W, van Rooij N, Donia M, Böschen ML, Lund-Johansen F, Olweus J, Schumacher TN (2016)
Targeting of cancer neoantigens with donor-derived T cell receptor repertoires
Science, 352 (6291), 1337-41
DOI 10.1126/science.aaf2288, PubMed 27198675
Commentaries:
In Science: IMMUNOTHERAPY. Outsourcing the immune response to cancer. [Science. 2016]
In NEJM: The Antigenicity of the Tumor Cell — Context Matters [NEJM, 2017]
---
Characterizing tumor-reactive T cells and their targets in cancer patients
We recently completed a successful trial (LYMVAC-1 protocol, PI: Arne Kolstad) testing an in-house developed regime for local immunotherapy in patients with follicular lymphoma. Thirty-six percent of the patients in LYMVAC-1 achieved clinical responses. In collaboration with our clinical partner, senior oncologist Arne Kolstad (Dept of Oncology, Radiumhospitalet), we are currently investigating into the targets of the tumor-reactive T cells of biobanked material from the study, and a follow-up clinical trial has recently been started (LYMVAC-2).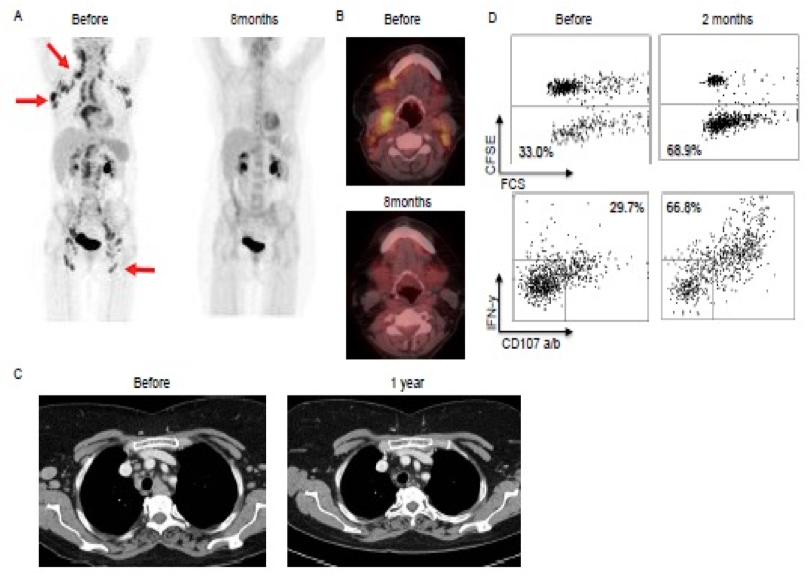 Patient 2 in the Lymvac-1 study: complete remission after 6.5 years
---
Selected references:
Kolstad A, Kumari S, Walczak M, Madsbu U, Hagtvedt T, Bogsrud TV, Kvalheim G, Holte H, Aurlien E, Delabie J, Tierens A, Olweus J (2014)
Sequential intranodal immunotherapy induces antitumor immunity and correlated regression of disseminated follicular lymphoma
Blood, 125 (1), 82-9
PubMed 25293773
---
Kolstad A, Olweus J (2015)
"In situ" vaccination for systemic effects in follicular lymphoma
Oncoimmunology, 4 (7), e1014773
PubMed 26140239
---
Discovery of auto-antibody targets and exploring their utility as biomarkers of T cell reactivity in cancer patients
In collaboration with the group of Fridtjof Lund-Johansen, partner on K.G. Jebsen Center for Cancer Immunotherapy, we have developed protein array technology useful to identify the targets of autoantibodies. The arrays are based on the MAP technology developed by Lund-Johansen and described in references (Wu W, Slastad H, de la Rosa Carrillo D, Frey T, Tjonnfjord G, Boretti E, Aasheim HC, Horejsi V, Lund-Johansen F. Antibody array analysis with label-based detection and resolution of protein size. Mol Cell Proteomics. 2009;8(2):245-257; Slaastad H, Wu W, Goullart L, Kanderova V, Tjonnfjord G, Stuchly J, Kalina T, Holm A, Lund-Johansen F. Multiplexed immuno-precipitation with 1725 commercially available antibodies to cellular proteins. Proteomics. 2011;11(23):4578-4582.)
Arrays with more than 10,000 full-length human proteins have been developed and are currently used to measure the reactivity of serum antibodies from large cohorts of patient sera before and after treatment with immunotherapy and other therapies. We have discovered a number of novel targets that are currently investigated further, also with regard to T-cell reactivity to peptides from the same targets. We believe that basic studies of the collaboration between T- and B-cells can bring important new insights into cancer immunity of therapeutic importance.