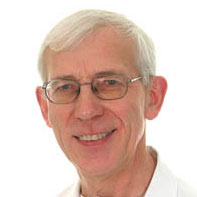 Gunnar B. Kristensen
Senior consultant; MD, PhD
+47 22 93 56 90
Born in Denmark 1946.
Medical Degree in 1972 from University of Århus, Denmark. 
Passed the American ECFMG examination in 1972.
Received basic clinical training in Denmark followed by specialization in gynecology and obstetrics. Received board certification in gynecology and obstetrics in 1982. 
I Worked at the University Hospital of Odense in Denmark from 1982 to 1989 with special interest in surgical gynecologic oncology. 
In 1989 I decided to work full time with gynecologic oncology and took a job at the Norwegian Radium Hospital where I have worked since as consultant.
Early in my carrier I was interested in genital infections and carried out several studies on this topic. Also I was interested in the development of precancer and cancer of the squamous epithelium of the female genital tract. This interest led to a more general interest for gynecological cancer.

I have had a steady scientific production of articles related to squamous cell neoplasia. I have published about diagnostic and treatment related aspects of cervical preinvasive and invasive neoplasia and a great number of articles related to HPV and cervical neoplasia. 

In recent years I have been working on studies on how to improve the efficacy of treatment for cervical cancer and at the same time reduce the morbidity from the treatment. These efforts have to a great extent been successful as evidenced by the increasing survival figures from our institution. As an example, I have introduced fertility saving surgery for early cervical cancer in Norway. Presently, we are running several studies to improve the detection of tumor spread outside the cervix at time of diagnosis, to predict prognosis and to predict the risk of late radiation damage after radiation for cervical cancer. In theses studies we are using themost modern techniques, such as PET scanning, dynamic MRI scanning and up-to-datelaboratory techniques with microarray technique, CGH and relevant protein analysis techniques.

I have been supervisor for several PhD students doing thesis work on both cervical cancer and ovarian cancer. The work on ovarian cancer has partly been clinical research and partly laboratory based biologic studies. 

Since 1998 I have been president of the Nordic Society for Gynecologic Oncology, which is acooperative group engaged in clinical research. The society partly runs protocols of its own and partly international protocols developed by other groups. In this period, the organization has developed into a professional, internationally recognized Clinical Trials Organization.

I am author of 145 scientific articles in peer-reviewed journals and of 19 chapters in books.
I am principal investigator in GOG ( the American Gynecologic Oncology Group) for the Nordic countries.

I am reviewer for the following scientific journals:
Lancet, Gynecologic Oncology, Acta Obstet Gynecol Scand, Cancer Letters, International Journal Gynecological Cancer, Critical Review in Oncology, Exper Review Anticancer, Molecular Diagnostics

I am member of the following scientific organizations: 
Nordic Society of Gynecologic Oncology, International Gynecological Cancer Society, American Society for Clinical Oncology (ASCO), European Society of Medical Oncology (ESMO), European Organization for Research and Treatment of Cancer-Gynecological Cancer Cooperative Group, Scandinavisk Selskap for Gynekologi og Obstetrik, Norsk Forum for Gynekologisk Onkologi,
Publications 2019
Jonsson M, Fjeldbo CS, Holm R, Stokke T, Kristensen GB, Lyng H (2019)
Mitochondrial Function of CKS2 Oncoprotein Links Oxidative Phosphorylation with Cell Division in Chemoradioresistant Cervical Cancer
Neoplasia, 21 (4), 353-362
DOI 10.1016/j.neo.2019.01.002, PubMed 30856376
Nilsen A, Jonsson M, Aarnes EK, Kristensen GB, Lyng H (2019)
Reference MicroRNAs for RT-qPCR Assays in Cervical Cancer Patients and Their Application to Studies of HPV16 and Hypoxia Biomarkers
Transl Oncol, 12 (3), 576-584
DOI 10.1016/j.tranon.2018.12.010, PubMed 30660934
Publications 2018
Nielsen B, Kleppe A, Hveem TS, Pradhan M, Syvertsen RA, Nesheim JA, Kristensen GB, Trovik J, Kerr DJ, Albregtsen F, Danielsen HE (2018)
Association Between Proportion of Nuclei With High Chromatin Entropy and Prognosis in Gynecological Cancers
J Natl Cancer Inst, 110 (12), 1400-1408
DOI 10.1093/jnci/djy063, PubMed 29684152
Publications 2017
Meltzer-Gunnes CJ, Småstuen MC, Kristensen GB, Tropé CG, Lie AK, Vistad I (2017)
Vulvar carcinoma in Norway: A 50-year perspective on trends in incidence, treatment and survival
Gynecol Oncol, 145 (3), 543-548
DOI 10.1016/j.ygyno.2017.03.008, PubMed 28356187
Publications 2016
Davidson B, Kjæreng ML, Førsund M, Danielsen HE, Kristensen GB, Abeler VM (2016)
Progesterone Receptor Expression Is an Independent Prognosticator in FIGO Stage I Uterine Leiomyosarcoma
Am J Clin Pathol, 145 (4), 449-58
DOI 10.1093/ajcp/aqw030, PubMed 27149024
Publications 2012
Pradhan M, Davidson B, Abeler VM, Danielsen HE, Tropé CG, Kristensen GB, Risberg BÅ (2012)
DNA ploidy may be a prognostic marker in stage I and II serous adenocarcinoma of the endometrium
Virchows Arch, 461 (3), 291-8
DOI 10.1007/s00428-012-1275-2, PubMed 22824999
Publications 2011
Vistad I, Cvancarova M, Kristensen GB, Fosså SD (2011)
A study of chronic pelvic pain after radiotherapy in survivors of locally advanced cervical cancer
J Cancer Surviv, 5 (2), 208-16
DOI 10.1007/s11764-011-0172-z, PubMed 21259075
Publications 2010
Tropé CG, Kristensen GB (2010)
Surgery in treatment of recurrent cervical cancer
CME Journal of Gynecologic Oncology, 15 (1), 33-39
PublikaID 104
Tropé CG, Kristensen GB (2010)
The treatment of recurrent cervical cancer
CME Journal of Gynecologic Oncology, 15 (1), 72-90
PublikaID 106
Publications 2006
Lyng H, Brøvig RS, Svendsrud DH, Holm R, Kaalhus O, Knutstad K, Oksefjell H, Sundfør K, Kristensen GB, Stokke T (2006)
Gene expressions and copy numbers associated with metastatic phenotypes of uterine cervical cancer
BMC Genomics, 7, 268
DOI 10.1186/1471-2164-7-268, PubMed 17054779
Publications 1990
Kristensen GB, Beiter EC, Mather O (1990)
SINGLE-DOSE CEFUROXIME PROPHYLAXIS IN NON-ELECTIVE CESAREAN SECTION
Acta Obstet. Gynecol. Scand., 69 (6), 497-500
DOI 10.3109/00016349009013325