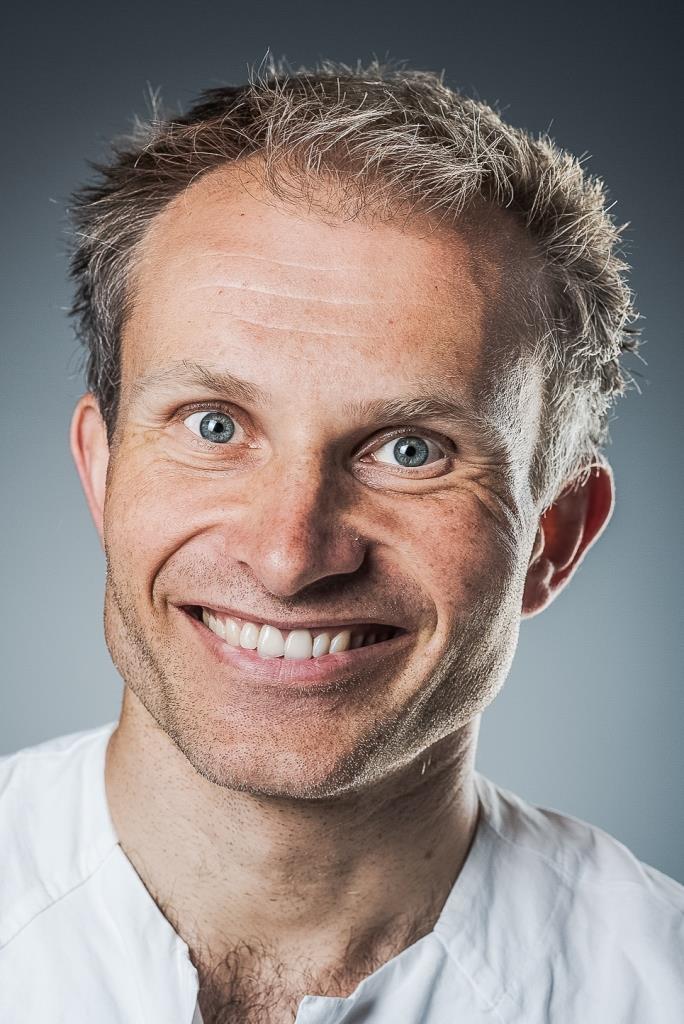 Kaspar Broch
Consultant Cardiologist, MD, PhD
+47 230 73555
Kaspar Broch successfully defended his thesis "Dilated cardiomyopathy: diagnostic work-up, pathogenesis, prognosis and treatment" in February 2016.
The studies in his thesis demonstrate an increased survival rate for patients diagnosed with dilated cardiomyopathy. This is a heart muscle disease that causes impaired heart pump function without coronary artery disease, valve disease or high blood pressure. It is thought that many of the cases are due to viral infection or gene defects, but most often the cause remains unclear. Life prospects have previously been reported to be significantly reduced.
Physician and researcher Kaspar Broch followed 102 patients with dilated cardiomyopathy over several years. Despite extensive research into the underlying cause, this was revealed in only a small number of patients. Nevertheless, morbidity was moderate and survival was good with modern heart failure treatment in these patients. The level of a new disease marker called ST2 is elevated in patients with heart failure. In Broch's patient group, ST2 was related to the degree of heart failure, but not to the underlying cause or amount of fibrous tissue in the heart. This suggests that ST2 may not reflect the disease process in the heart, as previously thought. When interperating blood tests, it is important to keep this in mind.
Cholesterol-lowering drugs called statins can have anti-inflammatory properties. One theory has been that the effect of statins is as much due to these properties as the reduction of cholesterol itself. In a study in which 72 patients with dilated cardiomyopathy were randomly assigned to rosuvastatin or narcotic drugs, Broch and co-workers showed that although cholesterol levels dropped significantly in the statin group, neither the degree of heart failure nor the degree of inflammation was attenuated. This result suggests that statins have no intrinsic anti-inflammatory effect and cannot be used to treat heart failure of this type.
Publications 2023
Dodgson CS, Beitnes JO, Kløve SF, Herstad J, Opdahl A, Undseth R, Eek CH, Broch K, Gullestad L, Aaberge L, Lunde K, Bendz B, Lie ØH (2023)
An investigator-sponsored pragmatic randomized controlled trial of AntiCoagulation vs AcetylSalicylic Acid after Transcatheter Aortic Valve Implantation: Rationale and design of ACASA-TAVI
Am Heart J, 265, 225-232
DOI 10.1016/j.ahj.2023.08.010, PubMed 37634655
Holt MF, Flø A, Bjørnø V, Husebye T, Knudsen EC, Hodt A, Gustavsen A, Kristiansen HA, Raki M, Broch K, Wien TN, Gude E (2023)
A man in his seventies with fatigue and renal failure
Tidsskr Nor Laegeforen, 143 (9)
DOI 10.4045/tidsskr.22.0679, PubMed 37341412
Nendl A, Raju SC, Broch K, Mayerhofer CCK, Holm K, Halvorsen B, Lappegård KT, Moscavitch S, Hov JR, Seljeflot I, Trøseid M, Awoyemi A (2023)
Intestinal fatty acid binding protein is associated with cardiac function and gut dysbiosis in chronic heart failure
Front Cardiovasc Med, 10, 1160030
DOI 10.3389/fcvm.2023.1160030, PubMed 37332580
Ravnestad H, Andersen R, Birkeland S, Svalebjørg M, Lingaas PS, Gude E, Gullestad L, Kvitting JP, Broch K, Andreassen AK (2023)
Pulmonary endarterectomy and balloon pulmonary angioplasty in chronic thromboembolic pulmonary hypertension: Comparison of changes in hemodynamics and functional capacity
Pulm Circ, 13 (1), e12199
DOI 10.1002/pul2.12199, PubMed 36788941
Ribic D, Remme EW, Smiseth OA, Massey RJ, Eek CH, Kvitting JE, Gullestad L, Broch K, Russell K (2023)
Non-invasive myocardial work in aortic stenosis - validation and improvement of left ventricular pressure estimation
Eur Heart J Cardiovasc Imaging (in press)
DOI 10.1093/ehjci/jead227, PubMed 37672652
Woxholt S, Ueland T, Aukrust P, Anstensrud AK, Broch K, Tøllefsen IM, Ryan L, Bendz B, Hopp E, Kløw NE, Seljeflot I, Halvorsen B, Dahl TB, Huse C, Andersen GØ, Gullestad L, Wiseth R, Amundsen BH, Damas JK, Kleveland O (2023)
Cytokine pattern in patients with ST-elevation myocardial infarction treated with the interleukin-6 receptor antagonist tocilizumab
Open Heart, 10 (2)
DOI 10.1136/openhrt-2023-002301, PubMed 37591633
Publications 2022
Bardan S, Kvaslerud AB, Andresen K, Kløve SF, Edvardsen T, Gullestad L, Broch K (2022)
Intravenous ferric derisomaltose in iron-deficient patients undergoing transcatheter aortic valve implantation due to severe aortic stenosis: study protocol of the randomised controlled IIISAS trial
BMJ Open, 12 (9), e059546
DOI 10.1136/bmjopen-2021-059546, PubMed 36691165
Brautaset Englund KV, Østby CM, Broch K, Ueland T, Aukrust P, Gude E, Andreassen AK, Gullestad L (2022)
Iron homeostasis in heart transplant recipients randomized to ferric derisomaltose or placebo
Clin Transplant, 36 (7), e14695
DOI 10.1111/ctr.14695, PubMed 35532871
Hunt TE, Traaen GM, Aakerøy L, Bendz C, Øverland B, Akre H, Steinshamn S, Loennechen JP, Hegbom F, Broch K, Lie ØH, Lyseggen E, Haugaa KH, Gullestad L, Anfinsen OG (2022)
Effect of continuous positive airway pressure therapy on recurrence of atrial fibrillation after pulmonary vein isolation in patients with obstructive sleep apnea: A randomized controlled trial
Heart Rhythm, 19 (9), 1433-1441
DOI 10.1016/j.hrthm.2022.06.016, PubMed 35716856
Huse C, Anstensrud AK, Michelsen AE, Ueland T, Broch K, Woxholt S, Yang K, Sharma K, Tøllefsen IM, Bendz B, Amundsen BH, Damås JK, Berg ES, Bjørkelund E, Quiles-Jiménez A, Bjerkeli V, Bendz C, Kleveland O, Stensaeth KH, Opdahl A, Kløw NE, Andersen GØ, Wiseth R, Halvorsen B, Gullestad L et al. (2022)
Interleukin-6 inhibition in ST-elevation myocardial infarction: Immune cell profile in the randomised ASSAIL-MI trial
EBioMedicine, 80, 104013
DOI 10.1016/j.ebiom.2022.104013, PubMed 35504178
Kvaslerud AB, Bardan S, Andresen K, Kløve SF, Fagerland MW, Edvardsen T, Gullestad L, Broch K (2022)
Intravenous iron supplement for iron deficiency in patients with severe aortic stenosis scheduled for transcatheter aortic valve implantation: results of the IIISAS randomised trial
Eur J Heart Fail, 24 (7), 1269-1279
DOI 10.1002/ejhf.2557, PubMed 35579454
Kvaslerud AB, Gude E, Eriksen G, Andreassen AK, Gullestad L, Broch K (2022)
Diastolic Dysfunction Is Unmasked on Exercise in Patients With Asymptomatic, Severe Aortic Stenosis: An Invasive Hemodynamic Study
Circ Heart Fail, 15 (2), e009253
DOI 10.1161/CIRCHEARTFAILURE.121.009253, PubMed 35137599
Skjølsvik ET, Haugen Lie Ø, Chivulescu M, Ribe M, Castrini AI, Broch K, Pripp AH, Edvardsen T, Haugaa KH (2022)
Progression of cardiac disease in patients with lamin A/C mutations
Eur Heart J Cardiovasc Imaging, 23 (4), 543-550
DOI 10.1093/ehjci/jeab057, PubMed 33824984
Publications 2021
Awoyemi A, Mayerhofer C, Felix AS, Hov JR, Moscavitch SD, Lappegård KT, Hovland A, Halvorsen S, Halvorsen B, Gregersen I, Svardal A, Berge RK, Hansen SH, Götz A, Holm K, Aukrust P, Åkra S, Seljeflot I, Solheim S, Lorenzo A, Gullestad L, Trøseid M, Broch K (2021)
Rifaximin or Saccharomyces boulardii in heart failure with reduced ejection fraction: Results from the randomized GutHeart trial
EBioMedicine, 70, 103511
DOI 10.1016/j.ebiom.2021.103511, PubMed 34329947
Brautaset Englund KV, Østby CM, Rolid K, Gude E, Andreassen AK, Gullestad L, Broch K (2021)
Intravenous iron supplement for iron deficiency in cardiac transplant recipients (IronIC): A randomized clinical trial
J Heart Lung Transplant, 40 (5), 359-367
DOI 10.1016/j.healun.2021.01.1390, PubMed 33612360
Brautaset Englund KV, Østby CM, Tjønnås G, Gude E, Andreassen AK, Gullestad L, Broch K (2021)
Prevalence of iron deficiency in heart transplant recipients
Clin Transplant, 35 (8), e14346
DOI 10.1111/ctr.14346, PubMed 33969559
Broch K, Anstensrud AK, Woxholt S, Andersen GØ, Gullestad L (2021)
Reply: Clarification Regarding the Lack of Heart Failure Events in the ASSAIL-MI Trial
J Am Coll Cardiol, 78 (6), 637-638
DOI 10.1016/j.jacc.2021.06.005, PubMed 34353542
Broch K, Anstensrud AK, Woxholt S, Sharma K, Tøllefsen IM, Bendz B, Aakhus S, Ueland T, Amundsen BH, Damås JK, Berg ES, Bjørkelund E, Bendz C, Hopp E, Kleveland O, Stensæth KH, Opdahl A, Kløw NE, Seljeflot I, Andersen GØ, Wiseth R, Aukrust P, Gullestad L (2021)
Randomized Trial of Interleukin-6 Receptor Inhibition in Patients With Acute ST-Segment Elevation Myocardial Infarction
J Am Coll Cardiol, 77 (15), 1845-1855
DOI 10.1016/j.jacc.2021.02.049, PubMed 33858620
Broch K, Brautaset Englund KV, Gullestad L (2021)
Reply: Safety of intravenous iron in heart transplant patients: Comment to paper by Brautaset Englund et al
J Heart Lung Transplant, 40 (10), 1247-1248
DOI 10.1016/j.healun.2021.07.007, PubMed 34384682
Helseth R, Kleveland O, Ueland T, Wiseth R, Damas JK, Broch K, Michelsen A, Bendz B, Gullestad L, Aukrust P, Seljeflot I (2021)
Tocilizumab increases citrullinated histone 3 in non-ST segment elevation myocardial infarction
Open Heart, 8 (1)
DOI 10.1136/openhrt-2020-001492, PubMed 33972404
Holt MF, Michelsen AE, Shahini N, Bjørkelund E, Bendz CH, Massey RJ, Schjalm C, Halvorsen B, Broch K, Ueland T, Gullestad L, Nilsson PH, Aukrust P, Mollnes TE, Louwe MC (2021)
The Alternative Complement Pathway Is Activated Without a Corresponding Terminal Pathway Activation in Patients With Heart Failure
Front Immunol, 12, 800978
DOI 10.3389/fimmu.2021.800978, PubMed 35003128
Kotchetkov R, Susman D, Bhutani D, Broch K, Dispenzieri A, Buadi FK (2021)
Chemotherapy-based approach is the preferred treatment for sporadic late-onset nemaline myopathy with a monoclonal protein
Int J Cancer, 148 (11), 2807-2814
DOI 10.1002/ijc.33483, PubMed 33529362
Kotchetkov R, Susman D, Bhutani D, Broch K, Dispenzieri A, Buadi FK (2021)
Reply to: Comments on: Chemotherapy-based approach is the preferred treatment for sporadic late-onset nemaline myopathy with a monoclonal protein
Int J Cancer, 149 (3), 743-744
DOI 10.1002/ijc.33571, PubMed 33742687
Kvaslerud AB, Santic K, Hussain AI, Auensen A, Fiane A, Skulstad H, Aaberge L, Gullestad L, Broch K (2021)
Outcomes in asymptomatic, severe aortic stenosis
PLoS One, 16 (4), e0249610
DOI 10.1371/journal.pone.0249610, PubMed 33826652
Olsen MB, Gregersen I, Sandanger Ø, Yang K, Sokolova M, Halvorsen BE, Gullestad L, Broch K, Aukrust P, Louwe MC (2021)
Targeting the Inflammasome in Cardiovascular Disease
JACC Basic Transl Sci, 7 (1), 84-98
DOI 10.1016/j.jacbts.2021.08.006, PubMed 35128212
Traaen GM, Aakerøy L, Hunt TE, Øverland B, Bendz C, Sande LØ, Aakhus S, Fagerland MW, Steinshamn S, Anfinsen OG, Massey RJ, Broch K, Ueland T, Akre H, Loennechen JP, Gullestad L (2021)
Effect of Continuous Positive Airway Pressure on Arrhythmia in Atrial Fibrillation and Sleep Apnea: A Randomized Controlled Trial
Am J Respir Crit Care Med, 204 (5), 573-582
DOI 10.1164/rccm.202011-4133OC, PubMed 33938787
Publications 2020
Broch K, Gude E, Karason K, Dellgren G, Rådegran G, Gjesdal G, Gustafsson F, Eiskjaer H, Lommi J, Pentikäinen M, Lemström KB, Andreassen AK, Gullestad L (2020)
Cholesterol lowering with EVOLocumab to prevent cardiac allograft Vasculopathy in De-novo heart transplant recipients: Design of the randomized controlled EVOLVD trial
Clin Transplant, 34 (9), e13984
DOI 10.1111/ctr.13984, PubMed 32445429
Broch K, Popperud T, Gude E, Fløisand Y, Antal EA, Bosse G, Jonsrud C, Hegard T, Skaara S, Elsais A (2020)
A Middle-Aged Man Presenting With Progressive Heart Failure, Myopathy, and Monoclonal Gammopathy of Uncertain Significance
JACC Case Rep, 2 (5), 785-789
DOI 10.1016/j.jaccas.2020.02.024, PubMed 34317348
Gude E, Hoel TN, Sørensen G, Broch K, Meyer A, Fiane AE (2020)
Long-term continuous flow mechanical biventricular support: 9 years and counting
Interact Cardiovasc Thorac Surg, 30 (1), 81-84
DOI 10.1093/icvts/ivz231, PubMed 31580433
Lekva T, Gullestad L, Broch K, Aukrust P, Andreassen AK, Ueland T (2020)
Distinct patterns of soluble leukocyte activation markers are associated with etiology and outcomes in precapillary pulmonary hypertension
Sci Rep, 10 (1), 18540
DOI 10.1038/s41598-020-75654-w, PubMed 33122779
Mayerhofer CCK, Kummen M, Holm K, Broch K, Awoyemi A, Vestad B, Storm-Larsen C, Seljeflot I, Ueland T, Bohov P, Berge RK, Svardal A, Gullestad L, Yndestad A, Aukrust P, Hov JR, Trøseid M (2020)
Low fibre intake is associated with gut microbiota alterations in chronic heart failure
ESC Heart Fail, 7 (2), 456-466
DOI 10.1002/ehf2.12596, PubMed 31978943
Rolid K, Andreassen AK, Yardley M, Gude E, Bjørkelund E, Authen AR, Grov I, Broch K, Gullestad L, Nytrøen K (2020)
Long-term effects of high-intensity training vs moderate intensity training in heart transplant recipients: A 3-year follow-up study of the randomized-controlled HITTS study
Am J Transplant, 20 (12), 3538-3549
DOI 10.1111/ajt.16087, PubMed 32484261
Rolid K, Andreassen AK, Yardley M, Gude E, Bjørkelund E, Authen AR, Grov I, Pettersen KI, Dall CH, Karason K, Broch K, Gullestad L, Nytrøen K (2020)
High-intensity interval training and health-related quality of life in de novo heart transplant recipients - results from a randomized controlled trial
Health Qual Life Outcomes, 18 (1), 283
DOI 10.1186/s12955-020-01536-4, PubMed 32807179
Trøseid M, Andersen GØ, Broch K, Hov JR (2020)
The gut microbiome in coronary artery disease and heart failure: Current knowledge and future directions
EBioMedicine, 52, 102649
DOI 10.1016/j.ebiom.2020.102649, PubMed 32062353
Publications 2019
Andreassen AK, Broch K, Eiskjær H, Karason K, Gude E, Mølbak D, Stueflotten W, Gullestad L, SCHEDULE (SCandinavian HEart transplant everolimus De-novo stUdy with earLy calcineurin inhibitors avoidancE) Investigators (2019)
Blood Pressure in De Novo Heart Transplant Recipients Treated With Everolimus Compared With a Cyclosporine-based Regimen: Results From the Randomized SCHEDULE Trial
Transplantation, 103 (4), 781-788
DOI 10.1097/TP.0000000000002445, PubMed 30211826
Anstensrud AK, Woxholt S, Sharma K, Broch K, Bendz B, Aakhus S, Ueland T, Amundsen BH, Damås JK, Hopp E, Kleveland O, Stensæth KH, Opdahl A, Kløw NE, Seljeflot I, Andersen GØ, Wiseth R, Aukrust P, Gullestad L (2019)
Rationale for the ASSAIL-MI-trial: a randomised controlled trial designed to assess the effect of tocilizumab on myocardial salvage in patients with acute ST-elevation myocardial infarction (STEMI)
Open Heart, 6 (2), e001108
DOI 10.1136/openhrt-2019-001108, PubMed 31673391
Lunde NN, Gregersen I, Ueland T, Shetelig C, Holm S, Kong XY, Michelsen AE, Otterdal K, Yndestad A, Broch K, Gullestad L, Nyman TA, Bendz B, Eritsland J, Hoffmann P, Skagen K, Gonçalves I, Nilsson J, Grenegård M, Poreba M, Drag M, Seljeflot I, Sporsheim B, Espevik T, Skjelland M et al. (2019)
Legumain is upregulated in acute cardiovascular events and associated with improved outcome - potentially related to anti-inflammatory effects on macrophages
Atherosclerosis, 296, 74-82
DOI 10.1016/j.atherosclerosis.2019.12.008, PubMed 31870625
Mayerhofer CCK, Awoyemi A, Hov JR, Trøseid M, Broch K (2019)
Reply: Potential risk associated with direct modulation of the gut flora in patients with heart failure
ESC Heart Fail, 6 (3), 557-558
DOI 10.1002/ehf2.12437, PubMed 31034162
Trøseid M, Mayerhofer CCK, Broch K, Arora S, Svardal A, Hov JR, Andreassen AK, Gude E, Karason K, Dellgren G, Berge RK, Gullestad L, Aukrust P, Ueland T (2019)
The carnitine-butyrobetaine-TMAO pathway after cardiac transplant: Impact on cardiac allograft vasculopathy and acute rejection
J Heart Lung Transplant, 38 (10), 1097-1103
DOI 10.1016/j.healun.2019.06.003, PubMed 31301965
Publications 2018
Emdin M, Aimo A, Vergaro G, Bayes-Genis A, Lupón J, Latini R, Meessen J, Anand IS, Cohn JN, Gravning J, Gullestad L, Broch K, Ueland T, Nymo SH, Brunner-La Rocca HP, de Boer RA, Gaggin HK, Ripoli A, Passino C, Januzzi JL (2018)
sST2 Predicts Outcome in Chronic Heart Failure Beyond NT-proBNP and High-Sensitivity Troponin T
J Am Coll Cardiol, 72 (19), 2309-2320
DOI 10.1016/j.jacc.2018.08.2165, PubMed 30384887
Kleveland O, Ueland T, Kunszt G, Bratlie M, Yndestad A, Broch K, Holte E, Ryan L, Amundsen BH, Bendz B, Aakhus S, Espevik T, Halvorsen B, Mollnes TE, Wiseth R, Gullestad L, Aukrust P, Damås JK (2018)
Interleukin-6 receptor inhibition with tocilizumab induces a selective and substantial increase in plasma IP-10 and MIP-1β in non-ST-elevation myocardial infarction
Int J Cardiol, 271, 1-7
DOI 10.1016/j.ijcard.2018.04.136, PubMed 29961572
Kummen M, Mayerhofer CCK, Vestad B, Broch K, Awoyemi A, Storm-Larsen C, Ueland T, Yndestad A, Hov JR, Trøseid M (2018)
Gut Microbiota Signature in Heart Failure Defined From Profiling of 2 Independent Cohorts
J Am Coll Cardiol, 71 (10), 1184-1186
DOI 10.1016/j.jacc.2017.12.057, PubMed 29519360
Kvaslerud AB, Hussain AI, Auensen A, Ueland T, Michelsen AE, Pettersen KI, Aukrust P, Mørkrid L, Gullestad L, Broch K (2018)
Prevalence and prognostic implication of iron deficiency and anaemia in patients with severe aortic stenosis
Open Heart, 5 (2), e000901
DOI 10.1136/openhrt-2018-000901, PubMed 30613413
Mayerhofer CCK, Awoyemi AO, Moscavitch SD, Lappegård KT, Hov JR, Aukrust P, Hovland A, Lorenzo A, Halvorsen S, Seljeflot I, Gullestad L, Trøseid M, Broch K (2018)
Design of the GutHeart-targeting gut microbiota to treat heart failure-trial: a Phase II, randomized clinical trial
ESC Heart Fail, 5 (5), 977-984
DOI 10.1002/ehf2.12332, PubMed 30088346
Publications 2017
Abraityte A, Lunde IG, Askevold ET, Michelsen AE, Christensen G, Aukrust P, Yndestad A, Fiane A, Andreassen A, Aakhus S, Dahl CP, Gullestad L, Broch K, Ueland T (2017)
Wnt5a is associated with right ventricular dysfunction and adverse outcome in dilated cardiomyopathy
Sci Rep, 7 (1), 3490
DOI 10.1038/s41598-017-03625-9, PubMed 28615692
Broch K, de Marchi SF, Massey R, Hisdal J, Aakhus S, Gullestad L, Urheim S (2017)
Left Ventricular Contraction Pattern in Chronic Aortic Regurgitation and Preserved Ejection Fraction: Simultaneous Stress-Strain Analysis by Three-Dimensional Echocardiography
J Am Soc Echocardiogr, 30 (4), 422-430.e2
DOI 10.1016/j.echo.2016.11.012, PubMed 28065583
Broch K, Leren IS, Saberniak J, Ueland T, Edvardsen T, Gullestad L, Haugaa KH (2017)
Soluble ST2 is associated with disease severity in arrhythmogenic right ventricular cardiomyopathy
Biomarkers, 22 (3-4), 367-371
DOI 10.1080/1354750X.2016.1278266, PubMed 28067540
Holte E, Kleveland O, Ueland T, Kunszt G, Bratlie M, Broch K, Michelsen AE, Bendz B, Amundsen BH, Aakhus S, Damås JK, Gullestad L, Aukrust P, Wiseth R (2017)
Effect of interleukin-6 inhibition on coronary microvascular and endothelial function in myocardial infarction
Heart, 103 (19), 1521-1527
DOI 10.1136/heartjnl-2016-310875, PubMed 28432157
Mayerhofer CCK, Ueland T, Broch K, Vincent RP, Cross GF, Dahl CP, Aukrust P, Gullestad L, Hov JR, Trøseid M (2017)
Increased Secondary/Primary Bile Acid Ratio in Chronic Heart Failure
J Card Fail, 23 (9), 666-671
DOI 10.1016/j.cardfail.2017.06.007, PubMed 28688889
Norum HM, Broch K, Michelsen AE, Lunde IG, Lekva T, Abraityte A, Dahl CP, Fiane AE, Andreassen AK, Christensen G, Aakhus S, Aukrust P, Gullestad L, Ueland T (2017)
The Notch Ligands DLL1 and Periostin Are Associated with Symptom Severity and Diastolic Function in Dilated Cardiomyopathy
J Cardiovasc Transl Res, 10 (4), 401-410
DOI 10.1007/s12265-017-9748-y, PubMed 28474304
Nymo SH, Aukrust P, Kjekshus J, McMurray JJ, Cleland JG, Wikstrand J, Muntendam P, Wienhues-Thelen U, Latini R, Askevold ET, Gravning J, Dahl CP, Broch K, Yndestad A, Gullestad L, Ueland T, CORONA Study Group (2017)
Limited Added Value of Circulating Inflammatory Biomarkers in Chronic Heart Failure
JACC Heart Fail, 5 (4), 256-264
DOI 10.1016/j.jchf.2017.01.008, PubMed 28359413
Shahini N, Michelsen AE, Nilsson PH, Ekholt K, Gullestad L, Broch K, Dahl CP, Aukrust P, Ueland T, Mollnes TE, Yndestad A, Louwe MC (2017)
The alternative complement pathway is dysregulated in patients with chronic heart failure
Sci Rep, 7, 42532
DOI 10.1038/srep42532, PubMed 28195242
Publications 2016
Broch K, Urheim S, Massey R, Stueflotten W, Fosså K, Hopp E, Aakhus S, Gullestad L (2016)
Exercise capacity and peak oxygen consumption in asymptomatic patients with chronic aortic regurgitation
Int J Cardiol, 223, 688-692
DOI 10.1016/j.ijcard.2016.08.237, PubMed 27568990
Kleveland O, Kunszt G, Bratlie M, Ueland T, Broch K, Holte E, Michelsen AE, Bendz B, Amundsen BH, Espevik T, Aakhus S, Damås JK, Aukrust P, Wiseth R, Gullestad L (2016)
Effect of a single dose of the interleukin-6 receptor antagonist tocilizumab on inflammation and troponin T release in patients with non-ST-elevation myocardial infarction: a double-blind, randomized, placebo-controlled phase 2 trial
Eur Heart J, 37 (30), 2406-13
DOI 10.1093/eurheartj/ehw171, PubMed 27161611
Murbraech K, Holte E, Broch K, Smeland KB, Holte H, Rösner A, Lund MB, Dalen H, Kiserud C, Aakhus S (2016)
Impaired Right Ventricular Function in Long-Term Lymphoma Survivors
J Am Soc Echocardiogr, 29 (6), 528-36
DOI 10.1016/j.echo.2016.02.014, PubMed 27038515
Publications 2015
Broch K, Andreassen AK, Hopp E, Leren TP, Scott H, Müller F, Aakhus S, Gullestad L (2015)
Results of comprehensive diagnostic work-up in 'idiopathic' dilated cardiomyopathy
Open Heart, 2 (1), e000271
DOI 10.1136/openhrt-2015-000271, PubMed 26468400
Broch K, Murbraech K, Ragnarsson A, Gude E, Andersen R, Fiane AE, Andreassen J, Aakhus S, Andreassen AK (2015)
Echocardiographic evidence of right ventricular functional improvement after balloon pulmonary angioplasty in chronic thromboembolic pulmonary hypertension
J Heart Lung Transplant, 35 (1), 80-86
DOI 10.1016/j.healun.2015.08.007, PubMed 26476768
Broch K, Murbræch K, Andreassen AK, Hopp E, Aakhus S, Gullestad L (2015)
Contemporary Outcome in Patients With Idiopathic Dilated Cardiomyopathy
Am J Cardiol, 116 (6), 952-9
DOI 10.1016/j.amjcard.2015.06.022, PubMed 26233575
Broch K, Urheim S, Lønnebakken MT, Stueflotten W, Massey R, Fosså K, Hopp E, Aakhus S, Gullestad L (2015)
Controlled release metoprolol for aortic regurgitation: a randomised clinical trial
Heart, 102 (3), 191-7
DOI 10.1136/heartjnl-2015-308416, PubMed 26661319
Norum HM, Gullestad L, Abraityte A, Broch K, Aakhus S, Aukrust P, Ueland T (2015)
Increased Serum Levels of the Notch Ligand DLL1 are Associated with Diastolic Dysfunction, Reduced Exercise Capacity, and Adverse Outcome in Chronic Heart Failure
J Card Fail, 22 (3), 218-23
DOI 10.1016/j.cardfail.2015.07.012, PubMed 26211721
Publications 2014
Broch K, Al-Ani A, Gude E, Gullestad L, Aakhus S (2014)
Echocardiographic evaluation of left ventricular filling pressure in heart transplant recipients
Scand Cardiovasc J, 48 (6), 349-56
DOI 10.3109/14017431.2014.981579, PubMed 25414078
Broch K, Andreassen AK, Ueland T, Michelsen AE, Stueflotten W, Aukrust P, Aakhus S, Gullestad L (2014)
Soluble ST2 reflects hemodynamic stress in non-ischemic heart failure
Int J Cardiol, 179, 378-84
DOI 10.1016/j.ijcard.2014.11.003, PubMed 25464491
Broch K, Askevold ET, Gjertsen E, Ueland T, Yndestad A, Godang K, Stueflotten W, Andreassen J, Svendsmark R, Smith HJ, Aakhus S, Aukrust P, Gullestad L (2014)
The effect of rosuvastatin on inflammation, matrix turnover and left ventricular remodeling in dilated cardiomyopathy: a randomized, controlled trial
PLoS One, 9 (2), e89732
DOI 10.1371/journal.pone.0089732, PubMed 24586994
Publications 2012
Broch K, Eek C, Wergeland R, Ueland T, Skårdal R, Aukrust P, Skulstad H, Gullestad L (2012)
NT-proBNP predicts myocardial recovery after non-ST-elevation acute coronary syndrome
Scand Cardiovasc J, 46 (2), 65-71
DOI 10.3109/14017431.2011.652981, PubMed 22191851
Broch K, Ueland T, Nymo SH, Kjekshus J, Hulthe J, Muntendam P, McMurray JJ, Wikstrand J, Cleland JG, Aukrust P, Gullestad L (2012)
Soluble ST2 is associated with adverse outcome in patients with heart failure of ischaemic aetiology
Eur J Heart Fail, 14 (3), 268-77
DOI 10.1093/eurjhf/hfs006, PubMed 22302661
Publications 2011
Ueland T, Aukrust P, Broch K, Aakhus S, Skårdal R, Muntendam P, Gullestad L (2011)
Galectin-3 in heart failure: high levels are associated with all-cause mortality
Int J Cardiol, 150 (3), 361-4
DOI 10.1016/j.ijcard.2011.05.081, PubMed 21641051
Ueland T, Dahl CP, Gullestad L, Aakhus S, Broch K, Skårdal R, Vermeer C, Aukrust P, Schurgers LJ (2011)
Circulating levels of non-phosphorylated undercarboxylated matrix Gla protein are associated with disease severity in patients with chronic heart failure
Clin Sci (Lond), 121 (3), 119-27
DOI 10.1042/CS20100589, PubMed 21294711
Publications 2009
Arora S, Aukrust P, Ueland T, Broch K, Simonsen S, Gude E, Fiane AE, Geiran O, Wergeland R, Andreassen AK, Gullestad L (2009)
Elevated serum uric acid levels following heart transplantation predict all-cause and cardiac mortality
Eur J Heart Fail, 11 (10), 1005-13
DOI 10.1093/eurjhf/hfp115, PubMed 19737803
Broch K, Gude E, Scott H, Aakhus S (2009)
[A patient with aortic stenosis and reduced left ventricular function]
Tidsskr Nor Laegeforen, 129 (20), 2119-21
DOI 10.4045/tidsskr.08.0622, PubMed 19855451