Åslaug Helland's research group
Translational studies on solid tumours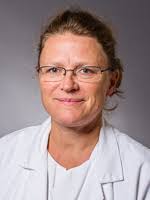 Our group focuses on translational studies on solid tumours, with a special interest in pancreatic cancers, lung cancers, ovary cancers and colorectal cancers. We do whole genome analyses on patient material, aiming at identifying predictive and prognostic biomarkers. We are analysing mRNA, miRNA, DNA, methylation, glycosylation, mutations and proteins. By increasing the understanding of the underlying biology of tumour development, we aim at improving cancer patient care. Several of our projects include material from patients included in clinical studies, and we have clinical and follow-up data from all patients.
The group has three research project groups, with a total of 17 members and four associate members. Eight of these 17 are MDs. We are three researchers, two postdocs, nine PhD-students, one study nurse and two engineers.
Aims
The ultimate goal is to personalise cancer treatment, and improve prognosis.
Identification of biomarkers in blood samples, for diagnostics, follow-up and prognostication
Identification of tumour biomarkers for prediction of therapy response and for prognosticaton
Projects
Serum miRNA-signatures identifying lung cancer patients
Molecular characterisation of lung adenocarcinomas
Molecular characterisation of pancreatic cancers
Genome-wide detection of diagnostic plasma miRNAs in pancreatic cancer
Immunological features - therapy response
MiRNA in ovarian cancer
Improving radiotherapy in lung cancer
Identification of biomarkers in colorectal cancers
Protein analyses in lung and pancreatic cancers
NGS of lung carcinomas
Exosome profiles of proteins and miRNAs in plasma of pancreatic cancer patients
Serum N-glycans as prognostics markers in pancreatic and colorectal cancers
Biology of ALK-positive tumours
Recent achievements
In 2014, the group was involved in four EU-applications. We published 20 papers in peer-review journals, and filed one DOFI. We published miRNA-data on lung adenocarcinomas, identifying miRNA-signatures for EGFR-mutated samples, in addition to a miRNA with prognostic impact. We published molecular signatures of mRNA and miRNA as prognostic markers in pancreatic cancer, and plasma miRNAs predicting clinical outcome in colorectal cancer. We published data on methylation changes during radiotherapy of breast cancers, influencing therapy effect.
We arranged a regional lung cancer meeting with appr 100 participants. We have had talks at national and international meetings, and are PIs on several translational and clinical studies. Currently 17 clinical studies for lung cancer patients are ongoing.
Kure's project group: Translational studies with a special focus on pancreatic cancer