Department of Physical Medicine and Rehabilitation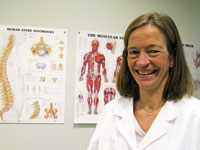 The Department of Physical Medicine and Rehabilitation has its own research unit, which is currently comprised of two research groups, namely
The entity consists of an interdisciplinary staff, where all respective staff members are engaged in clinical work while conducting research as a secondary responsibility.
Currently, there are six positions associated with this research unit, consisting of two professor II positions (Faculty of Medicine, Institute of Clinical Medicine), three senior researchers (occupational therapist, physiotherapist, doctor), and a postdoc position. Alongside this, two professors of Psychology are affiliated with the neuropsychological section (15% part time). Since 2008, the department has in addition to this employed an assistant professor in molecular biology (20% part time). Further, this unit provides guidance to PhD fellows, as well as other projects and master theses connected to the field of medicine.

In 2011, nine PhD fellows were affiliated with the Research Unit. Interdisciplinary research committee approves all the projects undertaken by the Department`s employees, or related to the Department`s clinical activities.