Home page of Tore Abrahamsen's group, from UiO: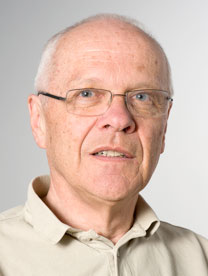 Infeksjon og immunologi
Forskningsgruppen for infeksjon og immunologi arbeider med problemstillinger innenfor antibiotikabruk og bakteriers resistensutvikling i tillegg til primær og sekundær immunsvikt, spesielt DiGeorge syndrom.
Om gruppen
Gruppen har som mål å bedre diagnostikk og behandling av alvorlige infeksjoner hos barn, særlig dem med medfødte immunsykdommer. Flere biobanker og kvalitetsregistre er etablert. Gjennom et internasjonalt samarbeid har gruppen vært involvert i kartlegging av flere immunsviktgen. Vi er et "Jeffrey Modell Diagnostic and Research Center" fra 2014. Forskningsgruppen driver også Referansesenteret for DiGeorge syndrom siden 2008.
Pågående studier
T-cells, autoimmunity and inflammation in 22q11.2 deletion syndrome (DiGeorge syndrome)
Newborn screening for severe combined immunodeficiency (SCID)
Hematologiske og immunologiske studier av pasienter med DiGeorge syndrom
Antibiotic resistance in the fecal flora of children treated for cancer and cystic fibrosis
Exome sequencing of DNA from primary immunodeficiency patients to find new discease genes
Funksjonelle studier av nye sykdomsgener med utgangspunkt i immunsviktpasienter behandlet ved OUS
Behandlingsstudier på primær immunsvikt, blant annet gjennom samarbeid med GOSH, London
Publisert
24. sep. 2012 12:38
-
Sist endret
3. des. 2018 14:41
Kari Lima
Hans Christian Erichsen
Torstein Øverland
Kiran Gul
Dina Aresvik
Kathleen Halvorsen
Per Kristian Knudsen
Astrid Rojahn
Marius K. Skram
Jochen Büchner
Karen Marie Lundeby