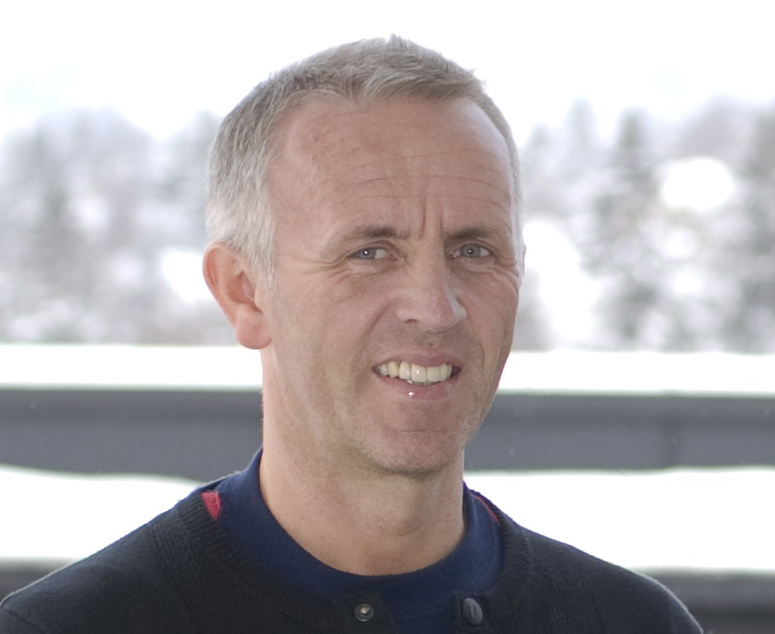 Activities
DNA repair involves many distinct repair pathways, but the base excision repair (BER) pathway is postulated as the major pathway for removal of endogenously induced DNA damage, such as that arising from intracellular reactive oxygen species (ROS). The BER pathway has been the focus of our research for more than two decades, and we have identified several proteins involved in the pathway. Like other somatic cells and differentiated cells, the stem cells are equipped with DNA repair proteins that secure integrity of cellular DNA. DNA repair is especially important for the stem cell population, since mutations may limit their pluripotency. The aim of the stem cell research in the Bjørås laboratory is to explore the impact of BER for neuronal progenitor proliferation and differentiation, in which we are characterizing numerous BER knock-out mouse models.
Selected publications
Aukrust, P., Luna, L., Ueland, T., Johansen, R., Muller, F., Frøland, S., Seeberg, E., and Bjørås, M.
Enhanced oxidative DNA damage and decreased DNA glycosylase activity for removal of oxidative base lesions in CD4+ T cells during human immunodeficiency virus (HIV) infection - possibly pathogenic role of enhanced oxidative stress HIV related immunodeficiency.
Blood 105, 4730-5, (2005).
Hildrestrand, Gunn; Diep, Dzung; Kunke, David; Backman, Mattias; Bolstad, Nils;Bjørås, Magnar; Krauss, Stefan; Luna, Luisa
The capacity to remove 8-oxoG is enhanced in neural stem/progenitor cells and decreases with age and upon cell differentiation.
DNA repair , 723-32, 6 (2007)
Kovtun, IV., Liang, Y., Bjørås, M., Klungland, A., Wilson, W. and McMurray, CT.
OGG1 initiates age-dependent somatic CAG expansion during normal base excision repair of oxidized bases in vitro and in vivo.
Nature, 447-52, 447 (2007)
Rolseth, V., Runden-Pran, E., Neurauter, C, Yndestad, A., Luna, L., Ottersen, OP., Bjørås, M
Base excision repair activities in organotypic hippocampal slice cultures exposed to oxygen and glucose deprivation.
DNA repair, 7, 869-78 (2008)
Rolseth, V., Runden-Pran, E., Luna, L., Bjørås, M., Ottersen, OP.
Widespread and differential distribution of DNA glycosylases removing oxidative DNA lesions in the human and rodent brain.
DNA repair . 7, 1578-88 (2008).
Dalhus, B., Arvy, A., Rosnes, I., Alseth, I., Cao, W., Olsen, ØE., Tainer, J.,Bjørås, M.
Structural basis of repair of deaminated adenine in DNA by EndonucleaseV.
Nature Struct. Mol. Biol., 16, 138-43 (2009)
Gunn A. Hildrestrand, Shivali Duggal, Magnar Bjørås, Luisa Luna and Jan E. Brinchmann
Modulation of DNA glycosylase activities in mesenchymal stem cells.
Exp. Cell Res. 315, 2558-67 (2009)
Hildrestrand, G., Neurauter C., Diep, D., Castellanos, C., Krauss, S., Bjørås, M., Luna, L.
Expression patterns of Neil3 during embryonic brain development and neoplasia.
BMC Neurosci, 10, 45 (2009)
Bjørn Dalhus, Jon K. Laerdahl, Paul H., Backe, Magnar Bjørås.
DNA base repair - recognition and initiation of catalysis.
FEMS Microbiol. Rev, 33, 1044-78 (2009)
Pauline Isakson, Magnar Bjørås, Stig Ove Bøe and Anne Simonsen
Autophagy contributes to therapy-induced degradation of the PML/RARA oncoprotein
Blood. 116, 2324-31, (2010)
Wei Wang, Pia Osenbroch, Ragnhild Skinnes, Ying Esbensen, Magnar Bjørås and Lars Eide
The OGG1 DNA glycosylase is essential for proper mitochondrial maturation during differentiation of neural stem cells.
Stem Cells 28, 2195-204 (2010)
Wei Wang, Ying Esbensen, David Kunke, Rajikala Suganthan, Magnar Bjørås, Lars Eide.
Mitochondrial DNA Damage level determines Neural Stem Cell differentiation fate.
J. of Neuroscience 2011 Jun 29;31(26):9746-51
Yngve Sejersted, Gunn Annette Hildrestrand,David Kunke,Veslemøy Rolseth, Silje Zandstra Krokeide, Christine Gran Neurauter, Rajikala Suganthan, Monica Atneosen-Aasegg, Aaron M. Fleming, Ola Didrik Saugstad,Cynthia J. Burrows, Luisa Luna and Magnar Bjørås
Endonuclease III like (Neil3) DNA glycosylase.
PNAS. 2011 Nov 15;108(46):18802-7.
Møllersen L, Rowe AD, Illuzzi JL, Hildrestrand GA, Gerhold KJ, Tveterås L, Bjølgerud A, Wilson DM 3rd, Bjørås M, Klungland A.
Neil1 is a genetic modifier of somatic and germline CAG trinucleotide repeat instability in R6/1 mice.
Hum Mol Genet. 2012. 21:4939-47.
Jalland CMO, Benestad SL, Ersdal C, Scheffler K, Suganthan R, Nakabeppu Y, Eide L, Bjørås M, Tranulis M.
Accelerated clinical course of prion disease in mice compromised in repair of oxidative DNA damage.
Free Radic Biol Med. 2014.Mar 1;68C:1-7.
Regnell CE, Hildrestrand GA, Sejersted Y, Medin T, Moldestad O, Rolseth V, Zandstra SK, Suganthan R, Luna L, Bjørås M*, Bergersen LH*. Hippocampal adult neurogenesis is maintained by Neil3-dependent repair of oxidative DNA lesions in neural progenitor cells.
Cell Reports. 2012, 2:503-10. *Corresponding authors and contributed equally.
Yang M, Lin X, Rowe A, Rognes T, EideL, Bjørås M.
Transcriptome analysis of human OXR1 depleted cells reveals its role in regulating the p53 signaling pathway.
Sci Rep, 2015 Nov 30;5:17409. doi: 10.1038/srep17409
Yang M, Luna L, Sørbø JG, Alseth I, Johansen RF, Backe PH, Danbolt NC, Eide L, Bjørås M.
Human OXR1 maintains mitochondrial DNA integrity and ROS balance by regulating antioxidant pathways involving p21.
Free Radic Biol Med. 2014;77:41-8.
Bjørge MD, Hildrestrand GA, Scheffler K, Suganthan R, Rolseth V, Kuœnierczyk A, Rowe AD, Vågbø CB, Vetlesen S, Eide L, Slupphaug G, Nakabeppu Y, Bredy TW, Klungland A and Bjørås M.
Synergistic actions of Ogg1 and Mutyh DNA glycosylases modulate anxiety-like behavior in mice.
Cell Reports. 2015. 13(12):2671-8.
Skarpengland T Holm S, Scheffler K, Gregersen I, Dahl TB, Suganthan R, Segers FM, Østlie I, Otten JJ, Luna L, Ketelhuth DF, Lundberg AM, Neurauter CG, Hildrestrand G, Skjelland M, Bjørndal B, Svardal AM, Iversen PO, Hedin U, Nygård S, Olstad OK, Krohg-Sørensen K, Slupphaug G, Eide L, Kuœnierczyk A, Folkersen L, Ueland T, Berge RK, Hansson GK, Biessen EA, Halvorsen B#, Bjørås M#, Aukrust P#.
Neil3 dependent base excision repair regulates lipid metabolism and prevents atherosclerosis.
Sci Rep 2016. 22;6:28337
Palibrk V, Suganthan R, Scheffler K, Wang W, Bjørås M# and Bøe SO.
PML# regulates neuroprotective innate immunity and neuroblast commitment in a hypoxia ischemic encephalopathy model.
Cell Death and Disease. 2016. 7(7):e2320 .
Dahl JA, Jung I, Aanes H, Greggains GD, Mana A, Lerdrup M, Li G, Kuan S, Li B, Lee AY, Preissl S, JermstadI, Haugen MH, Suganthan R, Bjørås M, Hansen K, Dalen KT, Fedorcsak P, Ren B, Klungland A.
Broad histone H3K4me3 domains in mouse oocytes modulate maternal to zygotic transition.
Nature, Sep 14;537(7621):548-55
Jalland C, Scheffler K, Benestad S, Moldal T, Ersdal C, Gunnes G, Suganthan R, Bjørås M, Tranulis M.
Neil3 induced neurogenesis protects against prion disease during the clinical phase.
Sci Reports. In press
Rydning SL, Backe PH, Sousa MML, Iqbal Z, Øye AM, Sheng Y, Yang M, Lin X, Slupphaug G, Nordenmark TH, Vigeland MD, Bjørås M, Tallaksen CH and Selmer KK.
Novel UCHL1-mutations reveal new insights into ubiquitin processing.
Human Molecular Genetics, 2016Dec 22. pii: ddw391. doi: 10.1093/hmg/ddw391
Olsen MB, Hildrestrand GA, Scheffler K, Vinge LE, Alfsnes K, Palibrk V, Neurauter CG, Luna L, Johansen J, Øgaard JD, Ohma IK, Slupphaug G, Kuœnierczyk A, Fiane AE, Brorson SH, Zhang L, Gullestad L, Louch W, Iversen PO, Østlie I, Klungland A, Christensenc G, Sjaastad I, Sætrom P, Yndestad A, Aukrust P#, Bjørås M# and Finsen A#.
NEIL3-dependent regulation of cardiac fibroblast proliferation prevents myocardial rupture.
Cell Reports, 2017. 18(1):82-92.