NorMa: Normal mammary tissue and cancer development
­­NorMa – Normal Mammary tissue
Main objective:
Molecular studies on breast tissue from healthy women, with varying risk of breast cancer development.
Aim of study:
The study is defined in two set of aims; short-term aims and long-term aims.
1. Short-term aims:
Reveal the differentiation route of epithelial cells
Explore the pattern of development of different breast cancer sub-types
Detect how the micro environment affect the differentiation of epithelial cells and cancer sub-type development
2. Long-term aims:
Reveal the molecular profiles of normal breast tissue associated with increased risk of breast cancer development
Achieve increased knowledge of breast cancer initiation and progression
Objects of investigation:
Three groups of women is investigated
Group 1. Low-risk: Reduction mammoplastics
Group 2. Increased-risk: Benign lesions
Group 3. High-risk: a) Breast cancer patients (Ipsilateral, contralateral) b) Profylactic mastectomies
Collected materials:
Healthy breast tissue for isolation of viable cells/ organoids
Healthy breast tissue (fresh-frozen)
Tumor tissue (fresh-frozen)
Biopsy from healthy tissue (contralateral)
Blood samples (EDTA, plasma, serum)
Skin (Ipsilateral, contralateral)
Methods:
Micro enviroment (ME) arrays: What micro environment will cause the progenitor cells to differentiate into luminal or myoepithelial cells?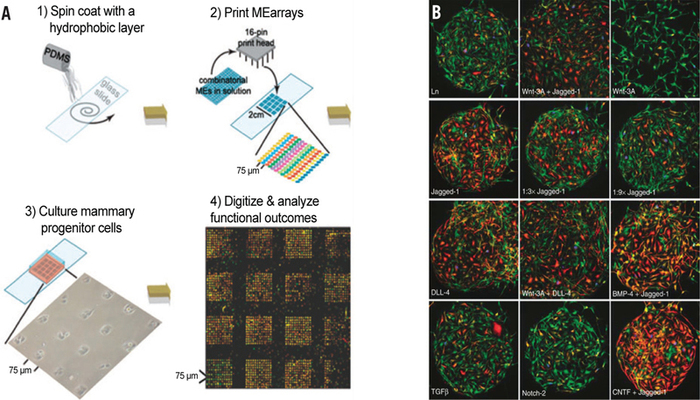 Micro environment array. A plate with 384-wells is coated with a hydrophobic layer to permit protein adhesion. The ME-array is printed with 192 highly specific combinations of different micro environments. Epithelial progenitor cells are grown to allow differentiation.