The Neurogenetic laboratory is now pleased to offer the research community its competence in genotyping. Our service is optimal for genotyping of low to moderate number of genetic variants, complementing medium- and high-throughput technologies already available (NSC, GCF and CIGENE).
We have extensive experience with genotyping using our semi-automated platform. We provide genotyping services delivering excellent data quality at minimum costs to Norwegian and collaborating international researchers.
We are offering genotyping service by using KASPTM genotyping chemistry, a significant cost saving option compared to common TaqMan®- technology.
We perform assay design and genotyping of your samples in our service laboratory.
The variants may be single nucleotide variants or small indels (insertion or deletion of bases).
We use the ViiATM7 plate platform (Applied Biosystems®) with 384-plate reader and can also offer pipetting service to automatically transfer DNA samples from tubes or 96-well plates.
Additional services, including DNA extraction from blood samples, can be discussed individually.
The price will be dependent on the number of samples and variants. Normally the total price is lower than the assay costs for TaqMan genotyping. See price examples listed below.
Contact us for a price offer or further information at: mtoft@ous-hf.no or 23079023.
For technical details of design, sample delivery and DNA volumes: see here.
We are located in Domus medica 4, a new research building attached to Oslo University Hospital in Oslo, Norway.
Examples of genotyping service cost inclusive primer design, all chemical reagents and assays, lab ware and analysis. TaqMan® prices are included in-house discounts and recommended volumes from Life Technologies AS and exclusive services, lab ware etc.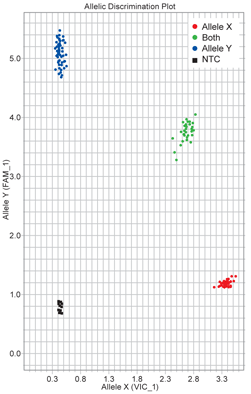 #SNVs

#Samples

# 384-plates

Genotyping service incl. design and assays [NOK]

TaqMan®-assays excl. service [NOK]

2

384

2

8 300

8 600

3

768

6

13 000

14 800

5

384

5

14 000

21 500

5

1840

25

33 500

46 800