OUS-CCC Seminar 29/04 13-14: Åsmund Fretland and Tor Erik Rusten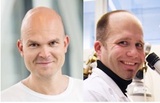 The next OUS Comprehensive Cancer Centre (CCC) seminar will present talks by Åsmund Avdem Fretland (TIK&KIT) and Tor Erik Rusten (CanCell - ICR).
Åsmund Fretland: "NEW-COMET & The Transplantation Revolution"
Tor Erik Rusten: "Towards modeling Multi-Organ Interaction in Disease - Cancer Cachexia in flies and man"
The seminar takes place in the Seminar Rooms FOBY, RAD 1300-1400 on Friday April 29.
Åsmund Avdem Fretland was born in Oslo, but grew up in Lærdal in Sogn. He is a gastro-surgeon educated at Hamar and OUS, and has worked with liver and pancreatic surgery at Rikshospitalet since 2010. He has special interest and expertise in minimally invasive treatment of liver tumors. He currently holds a shared position between the Intervention Center (TIK) and the Section for liver and pancreatic surgery (KIT). Throughout his research life, he has worked with large teams focusing on clinical and basic research, health economics, technology, industrial collaboration and patient-reported data, his PhD project was a randomized study, OSLO-COMET, which compared open and laparoscopic surgery for liver metastases from colorectal cancer. They found that laparoscopy was more gentle for the patient, and cost-effective for society, with equally good long-term results for cancer survival.

Åsmund is now involved in two new, large projects concerning the treatment of liver tumors. The first is a new randomized study, NEW-COMET. In this study, thermal ablation (microwave or radiofrequency) is compared with laparoscopic resection of liver metastases from bowel cancer. The second, "the transplantation revolution" is a project that aims to document the benefits of liver transplantation from living donors to selected patients with liver metastases from bowel cancer, using new technology to make donor surgery safer. Both projects involve many actors and are very exciting to coordinate. Åsmund received a career research grant from HSØ in 2022.
---
Tor Erik Rusten was educated in Bergen and Heidelberg before joining Dept Molecular Cell Biology and Harald Stenmark's research group in 2002. An expert on Drosophila model systems, he developed his own group in 2016, termed Tumor-Host Biology. His groups' overarching interest is to understand the mechanisms by which tumor and host cells mutually engage each other in reciprocal interactions to facilitate carcinogenesis through cell signaling and transfer of nutrients. Tumor-host interactions occur both locally in the tumor microenvironment and systemically causing organ dysfunction such as in cancer cachexia - the metabolic reprogramming and catastrophic wasting of muscle and adipose tissue. His group is an integral part of the Centre for Cancer Cell Reprogramming (CanCell SFF), where Tor Erik is one of 6 core PIs. Tor Erik obtained a "Toppforsk" grant from RCN in 2017 and is an associated professor at Klinmed.

In late 2021 Tor Erik and partners were granted Life Science Convergence Environment MORGI -- Towards modeling Multi-Organ Interaction in Disease. This proposal brings together a consortium of expertise from several disciplines to model multi-organ interactions in disease, to build a platform of enabling technologies in this emerging research area, currently not possible to address in isolation. Integrated development of bioinformatical analysis, modeling and investigation of societal and legal aspects lay the foundation for utilization of this technology for personalized medicine and innovative therapeutic intervention.
Links:
Åsmund Avdem Fretland's publications
Research group for hepatobiliary malignacies
Tor Erik Rusten's publications
Home page of Tor Erik Rusten's Tumor-Host Biology research group


---
The OUS-CCC seminars aim to promote scientific and clinical achievements within Oslo University Hospital Comprehensive Cancer Centre.

Upcoming seminars:

May 20: Hilde Nilsen, KLM & Odd Terje Brustugun, KRE

On behalf of OUS-CCC Research Board,
Anders Øverbye, PhD
Administrative Coordinator