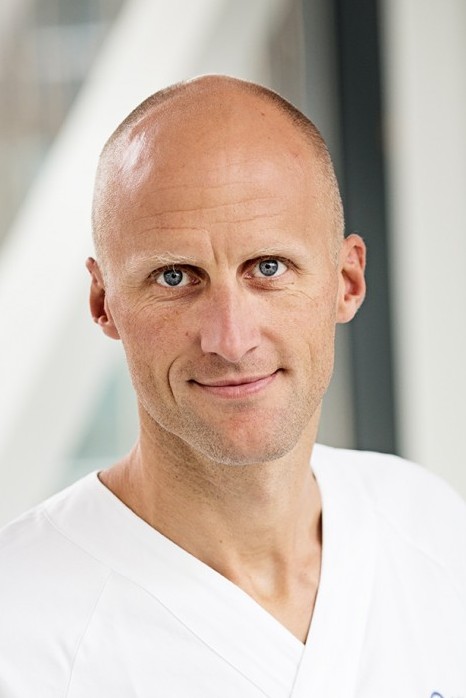 Kjetil Boye
Consultant Oncologist/Post doc MD PhD
+47 22781852
---
Research interests
The main focus of my research at present is:
(i) The MetAction clinical study, aiming to provide targeted treatment to cancer patients based on the genomic profile from their own metastasis.
(ii) The identification and clinical utility of circulating tumor DNA in high-grade soft tissue sarcoma and GIST.
In addition, identification, validation and functional studies of prognostic biomarkers in colorectal cancer is a continued interest, with a particular focus on the calcium-binding protein S100A4.
---
Publications
Publications 2018
Frezza AM, Jones RL, Lo Vullo S, Asano N, Lucibello F, Ben-Ami E, Ratan R, Teterycz P, Boye K, Brahmi M, Palmerini E, Fedenko A, Vincenzi B, Brunello A, Desar IME, Benjamin RS, Blay JY, Broto JM, Casali PG, Gelderblom H, Grignani G, Gronchi A, Hall KS, Mir O, Rutkowski P et al. (2018)
Anthracycline, Gemcitabine, and Pazopanib in Epithelioid Sarcoma: A Multi-institutional Case Series
JAMA Oncol (in press)
PubMed 29800950
Hølmebakk T, Hompland I, Bjerkehagen B, Stoldt S, Bruland ØS, Hall KS, Boye K (2018)
Recurrence-Free Survival After Resection of Gastric Gastrointestinal Stromal Tumors Classified According to a Strict Definition of Tumor Rupture: A Population-Based Study
Ann Surg Oncol, 25 (5), 1133-1139
PubMed 29435684
Publications 2017
Boye K, Jebsen NL, Zaikova O, Knobel H, Løndalen AM, Trovik CS, Monge OR, Hall KS (2017)
Denosumab in patients with giant-cell tumor of bone in Norway: results from a nationwide cohort
Acta Oncol, 56 (3), 479-483
PubMed 28105885
Egeland EV, Boye K, Park D, Synnestvedt M, Sauer T, Oslo Breast Cancer Consortium (OSBREAC), Naume B, Borgen E, Mælandsmo GM (2017)
Prognostic significance of S100A4-expression and subcellular localization in early-stage breast cancer
Breast Cancer Res Treat, 162 (1), 127-137
PubMed 28058579
Hompland I, Bruland ØS, Hølmebakk T, Poulsen JP, Stoldt S, Hall KS, Boye K (2017)
Prediction of long-term survival in patients with metastatic gastrointestinal stromal tumor: analysis of a large, single-institution cohort
Acta Oncol, 56 (10), 1317-1323
PubMed 28557540
Namløs HM, Zaikova O, Bjerkehagen B, Vodák D, Hovig E, Myklebost O, Boye K, Meza-Zepeda LA (2017)
Use of liquid biopsies to monitor disease progression in a sarcoma patient: a case report
BMC Cancer, 17 (1), 29
PubMed 28061772
Ree AH, Russnes HG, Heinrich D, Dueland S, Boye K, Nygaard V, Silwal-Pandit L, Østrup O, Hovig E, Nygaard V, Rødland EA, Nakken S, Øien JT, Johansen C, Bergheim IR, Skarpeteig V, Sathermugathevan M, Sauer T, Lund-Iversen M, Beiske K, Nasser S, Julsrud L, Reisse CH, Ruud EA, Flørenes VA et al. (2017)
Implementing precision cancer medicine in the public health services of Norway: the diagnostic infrastructure and a cost estimate
ESMO Open, 2 (2), e000158
PubMed 28761742
Stacchiotti S, Mir O, Le Cesne A, Vincenzi B, Fedenko A, Maki RG, Somaiah N, Patel S, Brahmi M, Blay JY, Boye K, Sundby Hall K, Gelderblom H, Hindi N, Martin-Broto J, Kosela H, Rutkowski P, Italiano A, Duffaud F, Kobayashi E, Casali PG, Provenzano S, Kawai A (2017)
Activity of Pazopanib and Trabectedin in Advanced Alveolar Soft Part Sarcoma
Oncologist, 23 (1), 62-70
PubMed 28754721
Publications 2016
Boye K, Jacob H, Frikstad KA, Nesland JM, Maelandsmo GM, Dahl O, Nesbakken A, Flatmark K (2016)
Prognostic significance of S100A4 expression in stage II and III colorectal cancer: results from a population-based series and a randomized phase III study on adjuvant chemotherapy
Cancer Med, 5 (8), 1840-9
PubMed 27273130
Egeland EV, Flatmark K, Nesland JM, Flørenes VA, Mælandsmo GM, Boye K (2016)
Expression and clinical significance of Wee1 in colorectal cancer
Tumour Biol, 37 (9), 12133-12140
PubMed 27220319
Hompland I, Bruland ØS, Ubhayasekhera K, Bergquist J, Boye K (2016)
Clinical implications of repeated drug monitoring of imatinib in patients with metastatic gastrointestinal stromal tumour
Clin Sarcoma Res, 6, 21
PubMed 27999655
Johnsen B, Fasmer KE, Boye K, Rosendahl K, Trovik C, Biermann M, Aukland SM (2016)
Estimated cumulative radiation dose received by diagnostic imaging during staging and treatment of operable Ewing sarcoma 2005-2012
Pediatr Radiol, 47 (1), 82-88
PubMed 27815616
Rud AK, Boye K, Fodstad Ø, Juell S, Jørgensen LH, Solberg S, Helland Å, Brustugun OT, Mælandsmo GM (2016)
Detection of disseminated tumor cells in lymph nodes from patients with early stage non-small cell lung cancer
Diagn Pathol, 11 (1), 50
PubMed 27316334
Publications 2015
Egeland EV, Boye K, Pettersen SJ, Haugen MH, Øyjord T, Malerød L, Flatmark K, Mælandsmo GM (2015)
Enrichment of nuclear S100A4 during G2/M in colorectal cancer cells: possible association with cyclin B1 and centrosomes
Clin Exp Metastasis, 32 (8), 755-67
PubMed 26349943
Johnsen B, Boye K, Rosendahl K, Biermann M, Trovik C, Aukland SM (2015)
F-18-FDG PET-CT in children and young adults with Ewing sarcoma diagnosed in Norway during 2005-2012: a national population-based study
Clin Physiol Funct Imaging, 36 (6), 441-446
PubMed 26039107
Prasmickaite L, Berge G, Bettum IJ, Aamdal S, Hansson J, Bastholt L, Øijordsbakken M, Boye K, Mælandsmo GM (2015)
Evaluation of serum osteopontin level and gene polymorphism as biomarkers: analyses from the Nordic Adjuvant Interferon alpha Melanoma trial
Cancer Immunol Immunother, 64 (6), 769-76
PubMed 25832001
Publications 2014
Haugen MH, Boye K, Nesland JM, Pettersen SJ, Egeland EV, Tamhane T, Brix K, Maelandsmo GM, Flatmark K (2014)
High expression of the cysteine proteinase legumain in colorectal cancer - implications for therapeutic targeting
Eur J Cancer, 51 (1), 9-17
PubMed 25466510
Ingebrigtsen VA, Boye K, Nesland JM, Nesbakken A, Flatmark K, Fodstad Ø (2014)
B7-H3 expression in colorectal cancer: associations with clinicopathological parameters and patient outcome
BMC Cancer, 14, 602
PubMed 25139714
Panagopoulos I, Bjerkehagen B, Gorunova L, Berner JM, Boye K, Heim S (2014)
Several fusion genes identified by whole transcriptome sequencing in a spindle cell sarcoma with rearrangements of chromosome arm 12q and MDM2 amplification
Int J Oncol, 45 (5), 1829-36
PubMed 25176350
Panagopoulos I, Gorunova L, Bjerkehagen B, Boye K, Heim S (2014)
Chromosome aberrations and HEY1-NCOA2 fusion gene in a mesenchymal chondrosarcoma
Oncol Rep, 32 (1), 40-4
PubMed 24839999
Publications 2013
Boye K, Del Prever AB, Eriksson M, Saeter G, Tienghi A, Lindholm P, Fagioli F, Skjeldal S, Ferrari S, Hall KS (2013)
High-dose chemotherapy with stem cell rescue in the primary treatment of metastatic and pelvic osteosarcoma: final results of the ISG/SSG II study
Pediatr Blood Cancer, 61 (5), 840-5
PubMed 24254749
Friedman R, Boye K, Flatmark K (2013)
Molecular modelling and simulations in cancer research
Biochim Biophys Acta, 1836 (1), 1-14
PubMed 23416097
Rud AK, Borgen E, Mælandsmo GM, Flatmark K, Le H, Josefsen D, Solvoll I, Schirmer CB, Helland Å, Jørgensen L, Brustugun OT, Fodstad Ø, Boye K (2013)
Clinical significance of disseminated tumour cells in non-small cell lung cancer
Br J Cancer, 109 (5), 1264-70
PubMed 23942067
Rud AK, Boye K, Oijordsbakken M, Lund-Iversen M, Halvorsen AR, Solberg SK, Berge G, Helland A, Brustugun OT, Mælandsmo GM (2013)
Osteopontin is a prognostic biomarker in non-small cell lung cancer
BMC Cancer, 13, 540
PubMed 24215488
Publications 2012
Boye K, Nesland JM, Sandstad B, Haugland Haugen M, Mælandsmo GM, Flatmark K (2012)
EMMPRIN is associated with S100A4 and predicts patient outcome in colorectal cancer
Br J Cancer, 107 (4), 667-74
PubMed 22782346
Ingebrigtsen VA, Boye K, Tekle C, Nesland JM, Flatmark K, Fodstad O (2012)
B7-H3 expression in colorectal cancer: nuclear localization strongly predicts poor outcome in colon cancer
Int J Cancer, 131 (11), 2528-36
PubMed 22473715
Rud AK, Lund-Iversen M, Berge G, Brustugun OT, Solberg SK, Mælandsmo GM, Boye K (2012)
Expression of S100A4, ephrin-A1 and osteopontin in non-small cell lung cancer
BMC Cancer, 12, 333
PubMed 22853000
Schee K, Boye K, Abrahamsen TW, Fodstad Ø, Flatmark K (2012)
Clinical relevance of microRNA miR-21, miR-31, miR-92a, miR-101, miR-106a and miR-145 in colorectal cancer
BMC Cancer, 12, 505
PubMed 23121918
Schee K, Flatmark K, Holm R, Boye K, Paus E (2012)
Investigation of nonspecific cross-reacting antigen 2 as a prognostic biomarker in bone marrow plasma from colorectal cancer patients (vol 33, pg 73, 2012)
Tumor Biol., 33 (4), 1263-1264
Publications 2011
Berge G, Pettersen S, Grotterød I, Bettum IJ, Boye K, Mælandsmo GM (2011)
Osteopontin--an important downstream effector of S100A4-mediated invasion and metastasis
Int J Cancer, 129 (4), 780-90
PubMed 20957651
Flatmark K, Borgen E, Nesland JM, Rasmussen H, Johannessen HO, Bukholm I, Rosales R, Hårklau L, Jacobsen HJ, Sandstad B, Boye K, Fodstad Ø (2011)
Disseminated tumour cells as a prognostic biomarker in colorectal cancer
Br J Cancer, 104 (9), 1434-9
PubMed 21448171
Schee K, Flatmark K, Holm R, Boye K, Paus E (2011)
Investigation of nonspecific cross-reacting antigen 2 as a prognostic biomarker in bone marrow plasma from colorectal cancer patients
Tumour Biol, 33 (1), 73-83
PubMed 22006279
Publications 2010
Boye K, Nesland JM, Sandstad B, Mælandsmo GM, Flatmark K (2010)
Nuclear S100A4 is a novel prognostic marker in colorectal cancer
Eur J Cancer, 46 (16), 2919-25
PubMed 20719498
Grotterød I, Maelandsmo GM, Boye K (2010)
Signal transduction mechanisms involved in S100A4-induced activation of the transcription factor NF-kappaB
BMC Cancer, 10, 241
PubMed 20507646
Publications 2009
Boye K, Maelandsmo GM (2009)
S100A4 and metastasis: a small actor playing many roles
Am J Pathol, 176 (2), 528-35
PubMed 20019188
Publications 2008
Boye K, Grotterød I, Aasheim HC, Hovig E, Maelandsmo GM (2008)
Activation of NF-kappaB by extracellular S100A4: analysis of signal transduction mechanisms and identification of target genes
Int J Cancer, 123 (6), 1301-10
PubMed 18548584
Publications 2006
Boye K, Andersen K, Tveito S, Øyjord T, Maelandsmo GM (2006)
Interferon-gamma-induced suppression of S100A4 transcription is mediated by the class II transactivator
Tumour Biol, 28 (1), 27-35
PubMed 17143014
Publications 2004
Pedersen KB, Andersen K, Fodstad Ø, Maelandsmo GM (2004)
Sensitization of interferon-gamma induced apoptosis in human osteosarcoma cells by extracellular S100A4
BMC Cancer, 4, 52
PubMed 15318945
Publications 2003
Andersen K, Smith-Sørensen B, Pedersen KB, Hovig E, Myklebost O, Fodstad Ø, Maelandsmo GM (2003)
Interferon-gamma suppresses S100A4 transcription independently of apoptosis or cell cycle arrest
Br J Cancer, 88 (12), 1995-2001
PubMed 12799648
Flatmark K, Pedersen KB, Nesland JM, Rasmussen H, Aamodt G, Mikalsen SO, Bjørnland K, Fodstad Ø, Maelandsmo GM (2003)
Nuclear localization of the metastasis-related protein S100A4 correlates with tumour stage in colorectal cancer
J Pathol, 200 (5), 589-95
PubMed 12898594
Publications 2002
Pedersen KB, Nesland JM, Fodstad Ø, Maelandsmo GM (2002)
Expression of S100A4, E-cadherin, alpha- and beta-catenin in breast cancer biopsies
Br J Cancer, 87 (11), 1281-6
PubMed 12439718
Publications 1998
Ree AH, Bjørnland K, Brünner N, Johansen HT, Pedersen KB, Aasen AO, Fodstad O (1998)
Regulation of tissue-degrading factors and in vitro invasiveness in progression of breast cancer cells
Clin Exp Metastasis, 16 (3), 205-15
PubMed 9568638