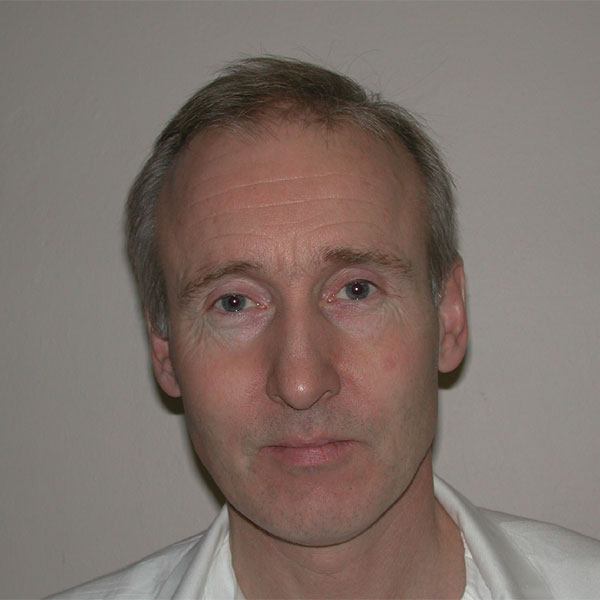 Arne Kolstad
Head physician; MD, PhD
+47 22 93 47 31
Curriculum vitae

ARNE KOLSTAD
born 4th of december 1958
Married, three children
MD, PhD
Consultant of Medical Oncology and Radiotherapy
MD University Hospital of Tromsø 1984
PhD University of Tromsø 1989
Thesis entitled: "Variants of the HLA-system defined by human-human hybridoma antibodiese"
Speciality in medical oncology and radiotherapy 1996
Consultant The Norwegian Radium Hospital 1993-95
Consultant University Hospital of Tromsø 1995-2003
Assoc. Professor University of Tromsø 1999-2003
Consultant The Norwegian Radium Hospital 2003- present
Responsible for Lymphoma treatment and autologous stem cell transplants for Northern Norway 1995-2003. Etablished radioimmunotherapy in Tromsø and The Norwegian Radium Hospital. Etasblished allogeneic stem cell transplantation with reduced conditioning at the Norwegian Radium Hospital 2004. Member of the Norwegian and Nordic Lymphoma groups 1995-present.
Visiting researcher at the University of Michigan 1998-99, working with radioimmunotherapy
Tutor for PhD-student for thesis entiteled:
"Cancer therapies and impact on the immune system" 2002.

At present working at The Norwegian Radium Hospital as consultant with focus on lymphoma therapy and high-dose therapy with autologous and allogeneic stem cell transplantation.
Publications 2023
Ask EH, Tschan-Plessl A, Hoel HJ, Kolstad A, Holte H, Malmberg KJ (2023)
MetaGate: Interactive Analysis of High-Dimensional Cytometry Data with Meta Data Integration
bioRxiv
DOI 10.1101/2023.10.27.564454, PubMed 37961421
Cicone F, Santo G, Bodet-Milin C, Cascini GL, Kraeber-Bodéré F, Stokke C, Kolstad A (2023)
Radioimmunotherapy of Non-Hodgkin B-cell Lymphoma: An update
Semin Nucl Med, 53 (3), 413-425
DOI 10.1053/j.semnuclmed.2022.12.006, PubMed 36635112
Foldvari Z, Knetter C, Yang W, Gjerdingen TJ, Bollineni RC, Tran TT, Lund-Johansen F, Kolstad A, Drousch K, Klopfleisch R, Leisegang M, Olweus J (2023)
A systematic safety pipeline for selection of T-cell receptors to enter clinical use
NPJ Vaccines, 8 (1), 126
DOI 10.1038/s41541-023-00713-y, PubMed 37607971
Gerdtsson AS, Matos Rodrigues J, Eskelund CW, Husby S, Grønbæk K, Räty R, Kolstad A, Geisler C, Porwit A, Jerkeman M, Ek S (2023)
Overexpression of the key metabolic protein CPT1A defines mantle cell lymphoma patients with poor response to standard high-dose chemotherapy independent of MIPI and complement established highrisk factors
Haematologica, 108 (4), 1092-1104
DOI 10.3324/haematol.2022.281420, PubMed 36519324
Nikkarinen A, Lokhande L, Amini RM, Jerkeman M, Porwit A, Molin D, Enblad G, Kolstad A, Räty R, Hutchings M, Weibull CE, Hollander P, Ek S, Glimelius I (2023)
Soluble CD163 predicts outcome in both chemoimmunotherapy and targeted therapy-treated mantle cell lymphoma
Blood Adv, 7 (18), 5304-5313
DOI 10.1182/bloodadvances.2023010052, PubMed 37389827
Rodrigues JM, Hollander P, Schmidt L, Gkika E, Razmara M, Kumar D, Geisler C, Grønbæk K, Eskelund CW, Räty R, Kolstad A, Sundström C, Glimelius I, Porwit A, Jerkeman M, Ek S (2023)
MYC protein is a high-risk factor in mantle cell lymphoma and identifies cases beyond morphology, proliferation and TP53/p53 - a Nordic Lymphoma Group study
Haematologica (in press)
DOI 10.3324/haematol.2023.283352, PubMed 37646663
Salim R, Husby S, Winther Eskelund C, Scott DW, Holte H, Kolstad A, Räty R, Ek S, Jerkeman M, Geisler C, Sommer Kristensen L, Dahl M, Grønbæk K (2023)
Exploring new prognostic biomarkers in Mantle Cell Lymphoma: a comparison of the circSCORE and the MCL35 score
Leuk Lymphoma, 64 (8), 1414-1423
DOI 10.1080/10428194.2023.2216819, PubMed 37259807
Spasevska I, Sharma A, Steen CB, Josefsson SE, Blaker YN, Kolstad A, Rustad EH, Meyer S, Isaksen KT, Chellappa S, Kushekhar K, Beiske K, Førsund MS, Spetalen S, Holte H, Ostenstad B, Brodtkorb M, Kimby EK, Olweus J, Taskén K, Newman AM, Lorenz S, Smeland EB, Alizadeh AA, Huse K et al. (2023)
Diversity of intratumoral regulatory T cells in B-cell non-Hodgkin lymphoma
Blood Adv (in press)
DOI 10.1182/bloodadvances.2023010158, PubMed 37695745
Publications 2022
Dahl M, Husby S, Eskelund CW, Besenbacher S, Fjelstrup S, Côme C, Ek S, Kolstad A, Räty R, Jerkeman M, Geisler CH, Kjems J, Kristensen LS, Grønbæk K (2022)
Correction: Expression patterns and prognostic potential of circular RNAs in mantle cell lymphoma: a study of younger patients from the MCL2 and MCL3 clinical trials
Leukemia, 36 (4), 1198
DOI 10.1038/s41375-022-01526-z, PubMed 35181760
Husby S, Bæch-Laursen C, Eskelund CW, Favero F, Jespersen JS, Hutchings M, Pedersen LB, Niemann CU, Weischenfeldt J, Räty R, Larsen TS, Kolstad A, Jerkeman M, Grønbæk K (2022)
Clonal hematopoiesis is associated with hematological toxicity during lenalidomide-based therapy for MCL
Leukemia, 36 (12), 2912-2916
DOI 10.1038/s41375-022-01725-8, PubMed 36274067
Løndalen A, Blakkisrud J, Revheim ME, Dahle J, Kolstad A, Stokke C (2022)
FDG PET/CT and Dosimetric Studies of 177Lu-Lilotomab Satetraxetan in a First-in-Human Trial for Relapsed Indolent non-Hodgkin Lymphoma-Are We Hitting the Target?
Mol Imaging Biol, 24 (5), 807-817
DOI 10.1007/s11307-022-01731-3, PubMed 35486292
Malenge MM, Maaland AF, Repetto-Llamazares A, Middleton B, Nijland M, Visser L, Patzke S, Heyerdahl H, Kolstad A, Stokke T, Ree AH, Dahle J (2022)
Anti-CD37 radioimmunotherapy with 177Lu-NNV003 synergizes with the PARP inhibitor olaparib in treatment of non-Hodgkin's lymphoma in vitro
PLoS One, 17 (4), e0267543
DOI 10.1371/journal.pone.0267543, PubMed 35486574
Riise J, Meyer S, Blaas I, Chopra A, Tran TT, Delic-Sarac M, Hestdalen ML, Brodin E, Rustad EH, Dai KZ, Vaage JT, Nissen-Meyer LSH, Sund F, Wader KF, Bjornevik AT, Meyer PA, Nygaard GO, König M, Smeland S, Lund-Johansen F, Olweus J, Kolstad A (2022)
Rituximab-treated patients with lymphoma develop strong CD8 T-cell responses following COVID-19 vaccination
Br J Haematol, 197 (6), 697-708
DOI 10.1111/bjh.18149, PubMed 35254660
Publications 2021
Ali M, Giannakopoulou E, Li Y, Lehander M, Virding Culleton S, Yang W, Knetter C, Odabasi MC, Bollineni RC, Yang X, Foldvari Z, Böschen ML, Taraldsrud E, Strønen E, Toebes M, Hillen A, Mazzi S, de Ru AH, Janssen GMC, Kolstad A, Tjønnfjord GE, Lie BA, Griffioen M, Lehmann S, Osnes LT et al. (2021)
T cells targeted to TdT kill leukemic lymphoblasts while sparing normal lymphocytes
Nat Biotechnol, 40 (4), 488-498
DOI 10.1038/s41587-021-01089-x, PubMed 34873326
Blakkisrud J, Løndalen A, Dahle J, Martinsen AC, Kolstad A, Stokke C (2021)
Myelosuppression in patients treated with 177Lutetium-lilotomab satetraxetan can be predicted with absorbed dose to the red marrow as the only variable
Acta Oncol, 60 (11), 1481-1488
DOI 10.1080/0284186X.2021.1959635, PubMed 34425735
Dahl M, Husby S, Eskelund CW, Besenbacher S, Fjelstrup S, Côme C, Ek S, Kolstad A, Räty R, Jerkeman M, Geisler CH, Kjems J, Kristensen LS, Grønbæk K (2021)
Expression patterns and prognostic potential of circular RNAs in mantle cell lymphoma: a study of younger patients from the MCL2 and MCL3 clinical trials
Leukemia, 36 (1), 177-188
DOI 10.1038/s41375-021-01311-4, PubMed 34244612
Fowler NH, Dickinson M, Dreyling M, Martinez-Lopez J, Kolstad A, Butler J, Ghosh M, Popplewell L, Chavez JC, Bachy E, Kato K, Harigae H, Kersten MJ, Andreadis C, Riedell PA, Ho PJ, Pérez-Simón JA, Chen AI, Nastoupil LJ, von Tresckow B, Ferreri AJM, Teshima T, Patten PEM, McGuirk JP, Petzer AL et al. (2021)
Tisagenlecleucel in adult relapsed or refractory follicular lymphoma: the phase 2 ELARA trial
Nat Med, 28 (2), 325-332
DOI 10.1038/s41591-021-01622-0, PubMed 34921238
Lindberg Å, Eskelund CW, Albertsson-Lindblad A, Kolstad A, Laurell A, Räty R, Grønbaek K, Geisler CH, Jerkeman M (2021)
Pre-treatment health-related quality of life parameters have prognostic impact in patients >65 years with newly diagnosed mantle cell lymphoma: The Nordic Lymphoma Group MCL4 (LENA-BERIT) experience
Hematol Oncol, 40 (1), 22-30
DOI 10.1002/hon.2940, PubMed 34713465
Lokhande L, Kuci Emruli V, Eskelund CW, Kolstad A, Hutchings M, Räty R, Niemann CU, Grønbaek K, Jerkeman M, Ek S (2021)
Serum proteome modulations upon treatment provides biological insight on response to treatment in relapsed mantle cell lymphoma
Cancer Rep (Hoboken), 5 (7), e1524
DOI 10.1002/cnr2.1524, PubMed 34319003
Merrien M, Wasik AM, Ljung E, Morsy MHA, de Matos Rodrigues J, Carlsten M, Rassidakis GZ, Christensson B, Kolstad A, Jerkeman M, Ek S, Herold N, Wahlin BE, Sander B (2021)
Clinical and biological impact of SAMHD1 expression in mantle cell lymphoma
Virchows Arch, 480 (3), 655-666
DOI 10.1007/s00428-021-03228-w, PubMed 34738194
Rodrigues JM, Nikkarinen A, Hollander P, Weibull CE, Räty R, Kolstad A, Amini RM, Porwit A, Jerkeman M, Ek S, Glimelius I (2021)
Infiltration of CD163-, PD-L1- and FoxP3-positive cells adversely affects outcome in patients with mantle cell lymphoma independent of established risk factors
Br J Haematol, 193 (3), 520-531
DOI 10.1111/bjh.17366, PubMed 33686666
Publications 2020
Ask EH, Tschan-Plessl A, Gjerdingen TJ, Sætersmoen ML, Hoel HJ, Wiiger MT, Olweus J, Wahlin BE, Lingjærde OC, Horowitz A, Cashen AF, Watkins M, Fehniger TA, Holte H, Kolstad A, Malmberg KJ (2020)
A Systemic Protein Deviation Score Linked to PD-1+ CD8+ T Cell Expansion That Predicts Overall Survival in Diffuse Large B Cell Lymphoma
Med, 2 (2), 180-195.e5
DOI 10.1016/j.medj.2020.10.006, PubMed 35590201
Eskelund CW, Dimopoulos K, Kolstad A, Glimelius I, Räty R, Gjerdrum LMR, Sonnevi K, Josefsson P, Nilsson-Ehle H, Bentzen HHN, Fagerli UM, Kuittinen O, Haaber J, Niemann CU, Pedersen LB, Larsen MT, Geisler CH, Hutchings M, Jerkeman M, Grønbæk K (2020)
Detailed Long-Term Follow-Up of Patients Who Relapsed After the Nordic Mantle Cell Lymphoma Trials: MCL2 and MCL3
Hemasphere, 5 (1), e510
DOI 10.1097/HS9.0000000000000510, PubMed 33364550
Eskelund CW, Husby S, Favero F, Klausen TW, Rodriguez-Gonzalez FG, Kolstad A, Pedersen LB, Räty RK, Geisler CH, Jerkeman M, Weischenfeldt J, Grønbæk K (2020)
Clonal hematopoiesis evolves from pretreatment clones and stabilizes after end of chemotherapy in patients with MCL
Blood, 135 (22), 2000-2004
DOI 10.1182/blood.2019003539, PubMed 32181815
Kolstad A, Illidge T, Bolstad N, Spetalen S, Madsbu U, Stokke C, Blakkisrud J, Løndalen A, O'Rourke N, Beasley M, Jurczak W, Fagerli UM, Kaščák M, Bayne M, Obr A, Dahle J, Rojkjaer L, Pascal V, Holte H (2020)
Phase 1/2a study of 177Lu-lilotomab satetraxetan in relapsed/refractory indolent non-Hodgkin lymphoma
Blood Adv, 4 (17), 4091-4101
DOI 10.1182/bloodadvances.2020002583, PubMed 32877524
Lokhande L, Kuci Emruli V, Kolstad A, Hutchings M, Räty R, Jerkeman M, Ek S (2020)
Immune-related protein signature in serum stratify relapsed mantle cell lymphoma patients based on risk
BMC Cancer, 20 (1), 1202
DOI 10.1186/s12885-020-07678-4, PubMed 33287742
Løndalen A, Blakkisrud J, Revheim ME, Madsbu UE, Dahle J, Kolstad A, Stokke C (2020)
FDG PET/CT parameters and correlations with tumor-absorbed doses in a phase 1 trial of 177Lu-lilotomab satetraxetan for treatment of relapsed non-Hodgkin lymphoma
Eur J Nucl Med Mol Imaging, 48 (6), 1902-1914
DOI 10.1007/s00259-020-05098-x, PubMed 33196921
Maaland AF, Saidi A, Torgue J, Heyerdahl H, Stallons TAR, Kolstad A, Dahle J (2020)
Targeted alpha therapy for chronic lymphocytic leukaemia and non-Hodgkin's lymphoma with the anti-CD37 radioimmunoconjugate 212Pb-NNV003
PLoS One, 15 (3), e0230526
DOI 10.1371/journal.pone.0230526, PubMed 32187209
Rodrigues JM, Hassan M, Freiburghaus C, Eskelund CW, Geisler C, Räty R, Kolstad A, Sundström C, Glimelius I, Grønbaek K, Kwiecinska A, Porwit A, Jerkeman M, Ek S (2020)
p53 is associated with high-risk and pinpoints TP53 missense mutations in mantle cell lymphoma
Br J Haematol, 191 (5), 796-805
DOI 10.1111/bjh.17023, PubMed 32748433
Publications 2019
Ferrero S, Rossi D, Rinaldi A, Bruscaggin A, Spina V, Eskelund CW, Evangelista A, Moia R, Kwee I, Dahl C, Di Rocco A, Stefoni V, Diop F, Favini C, Ghione P, Mahmoud AM, Schipani M, Kolstad A, Barbero D, Novero D, Paulli M, Zamò A, Jerkeman M, da Silva MG, Santoro A et al. (2019)
KMT2D mutations and TP53 disruptions are poor prognostic biomarkers in mantle cell lymphoma receiving high-dose therapy: a FIL study
Haematologica, 105 (6), 1604-1612
DOI 10.3324/haematol.2018.214056, PubMed 31537689
Josefsson SE, Beiske K, Blaker YN, Førsund MS, Holte H, Østenstad B, Kimby E, Köksal H, Wälchli S, Bai B, Smeland EB, Levy R, Kolstad A, Huse K, Myklebust JH (2019)
TIGIT and PD-1 Mark Intratumoral T Cells with Reduced Effector Function in B-cell Non-Hodgkin Lymphoma
Cancer Immunol Res, 7 (3), 355-362
DOI 10.1158/2326-6066.CIR-18-0351, PubMed 30659053
Köksal H, Dillard P, Josefsson SE, Maggadottir SM, Pollmann S, Fåne A, Blaker YN, Beiske K, Huse K, Kolstad A, Holte H, Kvalheim G, Smeland EB, Myklebust JH, Inderberg EM, Wälchli S (2019)
Preclinical development of CD37CAR T-cell therapy for treatment of B-cell lymphoma
Blood Adv, 3 (8), 1230-1243
DOI 10.1182/bloodadvances.2018029678, PubMed 30979721
Maaland AF, Heyerdahl H, O'Shea A, Eiriksdottir B, Pascal V, Andersen JT, Kolstad A, Dahle J (2019)
Targeting B-cell malignancies with the beta-emitting anti-CD37 radioimmunoconjugate 177Lu-NNV003
Eur J Nucl Med Mol Imaging, 46 (11), 2311-2321
DOI 10.1007/s00259-019-04417-1, PubMed 31309259
Publications 2018
Eskelund CW, Albertsson-Lindblad A, Kolstad A, Laurell A, Räty R, Pedersen LB, Geisler CH, Jerkeman M, Grønbæk K (2018)
Lenalidomide plus bendamustine-rituximab does not overcome the adverse impact of TP53 mutations in mantle cell lymphoma
Haematologica, 103 (11), e541-e543
DOI 10.3324/haematol.2018.194399, PubMed 29794145
Holte H, Beiske K, Boyle M, Trøen G, Blaker YN, Myklebust J, Kvaløy S, Rosenwald A, Lingjaerde OC, Rimsza LM, Smeland EB, Scott DW, Kolstad A (2018)
The MCL35 gene expression proliferation assay predicts high-risk MCL patients in a Norwegian cohort of younger patients given intensive first line therapy
Br J Haematol, 183 (2), 225-234
DOI 10.1111/bjh.15518, PubMed 30080252
Jerkeman M, Eskelund CW, Hutchings M, Räty R, Wader KF, Laurell A, Toldbod H, Pedersen LB, Niemann CU, Dahl C, Kuitunen H, Geisler CH, Grønbæk K, Kolstad A (2018)
Ibrutinib, lenalidomide, and rituximab in relapsed or refractory mantle cell lymphoma (PHILEMON): a multicentre, open-label, single-arm, phase 2 trial
Lancet Haematol, 5 (3), e109-e116
DOI 10.1016/S2352-3026(18)30018-8, PubMed 29396091
Stokke C, Blakkisrud J, Løndalen A, Dahle J, Martinsen ACT, Holte H, Kolstad A (2018)
Pre-dosing with lilotomab prior to therapy with 177Lu-lilotomab satetraxetan significantly increases the ratio of tumor to red marrow absorbed dose in non-Hodgkin lymphoma patients
Eur J Nucl Med Mol Imaging, 45 (7), 1233-1241
DOI 10.1007/s00259-018-3964-9, PubMed 29470615
Publications 2017
Barzenje DA, Kolstad A, Ghanima W, Holte H (2017)
Long-term outcome of patients with solitary plasmacytoma treated with radiotherapy: A population-based, single-center study with median follow-up of 13.7 years
Hematol Oncol, 36 (1), 217-223
DOI 10.1002/hon.2415, PubMed 28393375
Blakkisrud J, Holtedahl JE, Løndalen A, Dahle J, Bach-Gansmo T, Holte H, Nygaard S, Kolstad A, Stokke C (2017)
Biodistribution and Dosimetry Results from a Phase 1 Trial of Therapy with the Antibody-Radionuclide Conjugate 177Lu-Lilotomab Satetraxetan
J Nucl Med, 59 (4), 704-710
DOI 10.2967/jnumed.117.195347, PubMed 28848035
Eskelund CW, Dahl C, Hansen JW, Westman M, Kolstad A, Pedersen LB, Montano-Almendras CP, Husby S, Freiburghaus C, Ek S, Pedersen A, Niemann C, Räty R, Brown P, Geisler CH, Andersen MK, Guldberg P, Jerkeman M, Grønbæk K (2017)
TP53 mutations identify younger mantle cell lymphoma patients who do not benefit from intensive chemoimmunotherapy
Blood, 130 (17), 1903-1910
DOI 10.1182/blood-2017-04-779736, PubMed 28819011
Josefsson SE, Huse K, Kolstad A, Beiske K, Pende D, Steen CB, Inderberg EM, Lingjærde OC, Østenstad B, Smeland EB, Levy R, Irish JM, Myklebust JH (2017)
T Cells Expressing Checkpoint Receptor TIGIT Are Enriched in Follicular Lymphoma Tumors and Characterized by Reversible Suppression of T-cell Receptor Signaling
Clin Cancer Res, 24 (4), 870-881
DOI 10.1158/1078-0432.CCR-17-2337, PubMed 29217528
Wogsland CE, Greenplate AR, Kolstad A, Myklebust JH, Irish JM, Huse K (2017)
Mass Cytometry of Follicular Lymphoma Tumors Reveals Intrinsic Heterogeneity in Proteins Including HLA-DR and a Deficit in Nonmalignant Plasmablast and Germinal Center B-Cell Populations
Cytometry B Clin Cytom, 92 (1), 79-87
DOI 10.1002/cyto.b.21498, PubMed 27933753
Publications 2016
Albertsson-Lindblad A, Kolstad A, Laurell A, Räty R, Grønbæk K, Sundberg J, Pedersen LB, Ralfkiær E, Karjalainen-Lindsberg ML, Sundström C, Ehinger M, Geisler C, Jerkeman M (2016)
Lenalidomide-bendamustine-rituximab in patients older than 65 years with untreated mantle cell lymphoma
Blood, 128 (14), 1814-1820
DOI 10.1182/blood-2016-03-704023, PubMed 27354719
Barzenje DA, Holte H, Fosså A, Ghanima W, Liestøl K, Delabie J, Kolstad A (2016)
Long-term outcome for patients with early stage marginal zone lymphoma and mantle cell lymphoma
Leuk Lymphoma, 58 (3), 623-632
DOI 10.1080/10428194.2016.1204653, PubMed 27389974
Blakkisrud J, Løndalen A, Dahle J, Turner S, Holte H, Kolstad A, Stokke C (2016)
Red Marrow-Absorbed Dose for Non-Hodgkin Lymphoma Patients Treated with 177Lu-Lilotomab Satetraxetan, a Novel Anti-CD37 Antibody-Radionuclide Conjugate
J Nucl Med, 58 (1), 55-61
DOI 10.2967/jnumed.116.180471, PubMed 27587710
Blakkisrud J, Løndalen A, Martinsen AC, Dahle J, Holtedahl JE, Bach-Gansmo T, Holte H, Kolstad A, Stokke C (2016)
Tumor-Absorbed Dose for Non-Hodgkin Lymphoma Patients Treated with the Anti-CD37 Antibody Radionuclide Conjugate 177Lu-Lilotomab Satetraxetan
J Nucl Med, 58 (1), 48-54
DOI 10.2967/jnumed.116.173922, PubMed 27493270
Eskelund CW, Kolstad A, Jerkeman M, Räty R, Laurell A, Eloranta S, Smedby KE, Husby S, Pedersen LB, Andersen NS, Eriksson M, Kimby E, Bentzen H, Kuittinen O, Lauritzsen GF, Nilsson-Ehle H, Ralfkiaer E, Ehinger M, Sundström C, Delabie J, Karjalainen-Lindsberg ML, Workman CT, Garde C, Elonen E, Brown P et al. (2016)
15-year follow-up of the Second Nordic Mantle Cell Lymphoma trial (MCL2): prolonged remissions without survival plateau
Br J Haematol, 175 (3), 410-418
DOI 10.1111/bjh.14241, PubMed 27378674
Holm KL, Indrevaer RL, Myklebust JH, Kolstad A, Moskaug JØ, Naderi EH, Blomhoff HK (2016)
Myeloid cell leukaemia 1 has a vital role in retinoic acid-mediated protection of Toll-like receptor 9-stimulated B cells from spontaneous and DNA damage-induced apoptosis
Immunology, 149 (1), 62-73
DOI 10.1111/imm.12629, PubMed 27278254
Kolstad A, Pedersen LB, Eskelund CW, Husby S, Grønbæk K, Jerkeman M, Laurell A, Räty R, Elonen E, Andersen NS, Brown PD, Kimby E, Bentzen H, Sundström C, Ehinger M, Karjalainen-Lindsberg ML, Delabie J, Ralfkiær E, Fagerli UM, Nilsson-Ehle H, Lauritzsen GF, Kuittinen O, Niemann C, Geisler CH, Nordic Lymphoma Group (2016)
Molecular Monitoring after Autologous Stem Cell Transplantation and Preemptive Rituximab Treatment of Molecular Relapse; Results from the Nordic Mantle Cell Lymphoma Studies (MCL2 and MCL3) with Median Follow-Up of 8.5 Years
Biol Blood Marrow Transplant, 23 (3), 428-435
DOI 10.1016/j.bbmt.2016.12.634, PubMed 28039078
Mensali N, Ying F, Sheng VO, Yang W, Walseng E, Kumari S, Fallang LE, Kolstad A, Uckert W, Malmberg KJ, Wälchli S, Olweus J (2016)
Targeting B-cell neoplasia with T-cell receptors recognizing a CD20-derived peptide on patient-specific HLA
Oncoimmunology, 5 (5), e1138199
DOI 10.1080/2162402X.2016.1138199, PubMed 27467957
Myklebust JH, Brody J, Kohrt HE, Kolstad A, Czerwinski DK, Wälchli S, Green MR, Trøen G, Liestøl K, Beiske K, Houot R, Delabie J, Alizadeh AA, Irish JM, Levy R (2016)
Distinct patterns of B-cell receptor signaling in non-Hodgkin lymphomas identified by single-cell profiling
Blood, 129 (6), 759-770
DOI 10.1182/blood-2016-05-718494, PubMed 28011673
Smeland KB, Kiserud CE, Lauritzsen GF, Blystad AK, Fagerli UM, Falk RS, Fluge Ø, Fosså A, Kolstad A, Loge JH, Maisenhölder M, Østenstad B, Kvaløy S, Holte H (2016)
A national study on conditional survival, excess mortality and second cancer after high dose therapy with autologous stem cell transplantation for non-Hodgkin lymphoma
Br J Haematol, 173 (3), 432-43
DOI 10.1111/bjh.13965, PubMed 26914167
Publications 2015
Barzenje DA, Cvancarova Småstuen M, Liestøl K, Fosså A, Delabie J, Kolstad A, Holte H (2015)
Radiotherapy Compared to Other Strategies in the Treatment of Stage I/II Follicular Lymphoma: A Study of 404 Patients with a Median Follow-Up of 15 Years
PLoS One, 10 (7), e0131158
DOI 10.1371/journal.pone.0131158, PubMed 26147646
Blaker YN, Brodtkorb M, Maddison J, Hveem TS, Nesheim JA, Mohn HM, Kolstad A, Geisler CH, Liestøl K, Smeland EB, Holte H, Delabie J, Danielsen H (2015)
Computerized image analysis of the Ki-67 proliferation index in mantle cell lymphoma
Histopathology, 67 (1), 62-9
DOI 10.1111/his.12624, PubMed 25431344
Blix ES, Kildal AB, Bertelsen E, Waage A, Myklebust JH, Kolstad A, Husebekk A (2015)
Content of endothelial progenitor cells in autologous stem cell grafts predict survival after transplantation for multiple myeloma
Biol Blood Marrow Transplant, 21 (5), 840-7
DOI 10.1016/j.bbmt.2014.12.027, PubMed 25689789
Hoster E, Geisler CH, Doorduijn J, van der Holt B, Walewski J, Bloehdorn J, Ribrag V, Salles G, Hallek M, Pott C, Szymczyk M, Kolstad A, Laurell A, Räty R, Jerkeman M, Van't Veer M, Kluin-Nelemans JC, Klapper W, Unterhalt M, Dreyling M, Hermine O (2015)
Total body irradiation after high-dose cytarabine in mantle cell lymphoma: a comparison of Nordic MCL2, HOVON-45, and European MCL Younger trials
Leukemia, 30 (6), 1428-30
DOI 10.1038/leu.2015.322, PubMed 26598017
Husby S, Ralfkiaer U, Garde C, Zandi R, Ek S, Kolstad A, Jerkeman M, Laurell A, Räty R, Pedersen LB, Pedersen A, Ehinger M, Sundström C, Karjalainen-Lindsberg ML, Delabie J, Clasen-Linde E, Brown P, Cowland JB, Workman CT, Geisler CH, Grønbæk K (2015)
miR-18b overexpression identifies mantle cell lymphoma patients with poor outcome and improves the MIPI-B prognosticator
Blood, 125 (17), 2669-77
DOI 10.1182/blood-2014-06-584193, PubMed 25736311
Kolstad A, Olweus J (2015)
"In situ" vaccination for systemic effects in follicular lymphoma
Oncoimmunology, 4 (7), e1014773
DOI 10.1080/2162402X.2015.1014773, PubMed 26140239
Smeland KB, Kiserud CE, Lauritzsen GF, Fagerli UM, Falk RS, Fluge Ø, Fosså A, Kolstad A, Loge JH, Maisenhölder M, Kvaløy S, Holte H (2015)
Conditional survival and excess mortality after high-dose therapy with autologous stem cell transplantation for adult refractory or relapsed Hodgkin lymphoma in Norway
Haematologica, 100 (6), e240-3
DOI 10.3324/haematol.2014.119214, PubMed 25682605
Publications 2014
Blaker YN, Eide MB, Liestøl K, Lauritzsen GF, Kolstad A, Fosså A, Smeland EB, Holte H (2014)
High dose chemotherapy with autologous stem cell transplant for patients with transformed B-cell non-Hodgkin lymphoma in the rituximab era
Leuk Lymphoma, 55 (10), 2319-27
DOI 10.3109/10428194.2013.871632, PubMed 24432894
Husøy MA, Brinch L, Tjønnfjord GE, Gedde-Dahl T, Heldal D, Holme PA, Dybedal I, Kolstad A, Akkök ÇA, Rollag H, Gaustad P, Bergan S, Egeland T, Josefsen D, Kvalheim G, Fløisand Y (2014)
[Allogeneic stem-cell transplantation in adults 1985-2012: results and development]
Tidsskr Nor Laegeforen, 134 (16), 1569-75
DOI 10.4045/tidsskr.13.1415, PubMed 25178233
Kolstad A, Kumari S, Walczak M, Madsbu U, Hagtvedt T, Bogsrud TV, Kvalheim G, Holte H, Aurlien E, Delabie J, Tierens A, Olweus J (2014)
Sequential intranodal immunotherapy induces antitumor immunity and correlated regression of disseminated follicular lymphoma
Blood, 125 (1), 82-9
DOI 10.1182/blood-2014-07-592162, PubMed 25293773
Kolstad A, Laurell A, Jerkeman M, Grønbæk K, Elonen E, Räty R, Pedersen LB, Loft A, Bogsrud TV, Kimby E, Hansen PB, Fagerli UM, Nilsson-Ehle H, Lauritzsen GF, Lehmann AK, Sundstrom C, Karjalainen-Lindsberg ML, Ralfkiaer E, Ehinger M, Delabie J, Bentzen H, Schildt J, Kostova-Aherdan K, Frederiksen H, Brown Pde N et al. (2014)
Nordic MCL3 study: 90Y-ibritumomab-tiuxetan added to BEAM/C in non-CR patients before transplant in mantle cell lymphoma
Blood, 123 (19), 2953-9
DOI 10.1182/blood-2013-12-541953, PubMed 24652994
Nordström L, Sernbo S, Eden P, Grønbaek K, Kolstad A, Räty R, Karjalainen ML, Geisler C, Ralfkiaer E, Sundström C, Laurell A, Delabie J, Ehinger M, Jerkeman M, Ek S (2014)
SOX11 and TP53 add prognostic information to MIPI in a homogenously treated cohort of mantle cell lymphoma--a Nordic Lymphoma Group study
Br J Haematol, 166 (1), 98-108
DOI 10.1111/bjh.12854, PubMed 24684350
Publications 2013
Bersvendsen H, Kolstad A, Blystad AK, Aurlien E, Fosså A, Kvaløy SO, Holte H, Lauritzsen GF (2013)
Multimodal treatment with ALL-like chemotherapy, Auto-SCT and radiotherapy for lymphoblastic lymphoma
Acta Oncol, 53 (5), 680-7
DOI 10.3109/0284186X.2013.855816, PubMed 24237392
Dahle J, Repetto-Llamazares AH, Mollatt CS, Melhus KB, Bruland OS, Kolstad A, Larsen RH (2013)
Evaluating antigen targeting and anti-tumor activity of a new anti-CD37 radioimmunoconjugate against non-Hodgkin's lymphoma
Anticancer Res, 33 (1), 85-95
PubMed 23267131
Laurell A, Kolstad A, Jerkeman M, Räty R, Geisler CH (2013)
High dose cytarabine with rituximab is not enough in first-line treatment of mantle cell lymphoma with high proliferation: early closure of the Nordic Lymphoma Group Mantle Cell Lymphoma 5 trial
Leuk Lymphoma, 55 (5), 1206-8
DOI 10.3109/10428194.2013.825906, PubMed 23876100
Myklebust JH, Irish JM, Brody J, Czerwinski DK, Houot R, Kohrt HE, Timmerman J, Said J, Green MR, Delabie J, Kolstad A, Alizadeh AA, Levy R (2013)
High PD-1 expression and suppressed cytokine signaling distinguish T cells infiltrating follicular lymphoma tumors from peripheral T cells
Blood, 121 (8), 1367-76
DOI 10.1182/blood-2012-04-421826, PubMed 23297127
Smeland KB, Kiserud CE, Lauritzsen GF, Blystad AK, Fagerli UM, Fluge Ø, Fosså A, Hammerstrøm J, Kolstad A, Loge JH, Maisenhølder M, Østenstad B, Kvaløy S, Holte H (2013)
High-dose therapy with autologous stem cell support for lymphoma in Norway 1987-2008
Tidsskr Nor Laegeforen, 133 (16), 1704-9
DOI 10.4045/tidsskr.13.0243, PubMed 24005706
Smeland KB, Kiserud CE, Lauritzsen GF, Fosså A, Hammerstrøm J, Jetne V, Kolstad A, Kvalheim G, Loge JH, Løkeland T, Tangen JM, Holte H, Kvaløy S (2013)
High-dose therapy with autologous stem cell support for lymphoma--from experimental to standard treatment
Tidsskr Nor Laegeforen, 133 (16), 1735-9
DOI 10.4045/tidsskr.13.0319, PubMed 24005713
Publications 2012
Blix ES, Irish JM, Husebekk A, Delabie J, Forfang L, Tierens AM, Myklebust JH, Kolstad A (2012)
Phospho-specific flow cytometry identifies aberrant signaling in indolent B-cell lymphoma
BMC Cancer, 12, 478
DOI 10.1186/1471-2407-12-478, PubMed 23072591
Blix ES, Irish JM, Husebekk A, Delabie J, Tierens AM, Myklebust JH, Kolstad A (2012)
Altered BCR and CD40 signalling are associated with clinical outcome in small lymphocytic lymphoma/chronic lymphocytic leukaemia and marginal zone lymphoma patients
Br J Haematol, 159 (5), 604-8
DOI 10.1111/bjh.12073, PubMed 23043253
Fløisand Y, Brinch L, Gedde-Dahl T, Tjønnfjord GE, Dybedal I, Holte H, Heldal D, Torfoss D, Aurlien E, Lauritzsen GF, Fosså A, Lehne G, Baggerød E, Kvalheim G, Egeland T, Bishop MR, Fowler DH, Kolstad A (2012)
Ultra-short course sirolimus contributes to effective GVHD prophylaxis after reduced-intensity allogeneic hematopoietic cell transplantation
Bone Marrow Transplant, 47 (12), 1552-7
DOI 10.1038/bmt.2012.63, PubMed 22522568
Geisler CH, Kolstad A, Laurell A, Jerkeman M, Raty R, Andersen NS, Pedersen LB, Eriksson M, Nordstrom M, Kimby E, Bentzen H, Kuittinen O, Lauritzsen GF, Nilsson-Ehle H, Ralfkiaer E, Ehinger M, Sundstrom C, Delabie J, Karjalainen-Lindsberg ML, Brown P, Elonen E, Nordic Lymphoma Grp (2012)
Nordic MCL2 Trial Update: 6-year follow-up after intensive immunochemotherapy for untreated mantle cell lymphoma followed by BEAM or BEAC Plus autologous stem-cell support: still very long survival but late relapses do occur (vol 158, pg 355, 2012)
Br. J. Haematol., 158 (6), 815-816
DOI 10.1111/bjh.12006
Geisler CH, Kolstad A, Laurell A, Jerkeman M, Räty R, Andersen NS, Pedersen LB, Eriksson M, Nordström M, Kimby E, Bentzen H, Kuittinen O, Lauritzsen GF, Nilsson-Ehle H, Ralfkiaer E, Ehinger M, Sundström C, Delabie J, Karjalainen-Lindsberg ML, Brown P, Elonen E, Nordic Lymphoma Group (2012)
Nordic MCL2 trial update: six-year follow-up after intensive immunochemotherapy for untreated mantle cell lymphoma followed by BEAM or BEAC + autologous stem-cell support: still very long survival but late relapses do occur
Br J Haematol, 158 (3), 355-62
DOI 10.1111/j.1365-2141.2012.09174.x, PubMed 22640180
Holte H, Leppä S, Björkholm M, Fluge O, Jyrkkiö S, Delabie J, Sundström C, Karjalainen-Lindsberg ML, Erlanson M, Kolstad A, Fosså A, Ostenstad B, Löfvenberg E, Nordström M, Janes R, Pedersen LM, Anderson H, Jerkeman M, Eriksson M (2012)
Dose-densified chemoimmunotherapy followed by systemic central nervous system prophylaxis for younger high-risk diffuse large B-cell/follicular grade 3 lymphoma patients: results of a phase II Nordic Lymphoma Group study
Ann Oncol, 24 (5), 1385-92
DOI 10.1093/annonc/mds621, PubMed 23247661
Olweus J, Kolstad A (2012)
[Can the immune system target cancer?]
Tidsskr Nor Laegeforen, 132 (7), 784-5
DOI 10.4045/tidsskr.12.0156, PubMed 22511078
Publications 2011
Abrahamsen IW, Kjellevoll S, Greve-Isdahl M, Mensali N, Wälchli S, Kumari S, Loland BF, Egeland T, Kolstad A, Olweus J (2011)
T cells raised against allogeneic HLA-A2/CD20 kill primary follicular lymphoma and acute lymphoblastic leukemia cells
Int J Cancer, 130 (8), 1821-32
DOI 10.1002/ijc.26209, PubMed 21630262
Eide MB, Lauritzsen GF, Kvalheim G, Kolstad A, Fagerli UM, Maisenhölder M, Østenstad B, Fluge Ø, Delabie J, Aarset H, Liestøl K, Holte H (2011)
High dose chemotherapy with autologous stem cell support for patients with histologically transformed B-cell non-Hodgkin lymphomas. A Norwegian multi centre phase II study
Br J Haematol, 152 (5), 600-10
DOI 10.1111/j.1365-2141.2010.08519.x, PubMed 21241276
Fosså A, Fiskvik IH, Kolstad A, Lauritzsen GF, Aurlien E, Blystad AK, Hole KH, Ikonomou IM, Holte H (2011)
Two escalated followed by six standard BEACOPP in advanced-stage high-risk classical Hodgkin lymphoma: high cure rates but increased risk of aseptic osteonecrosis
Ann Oncol, 23 (5), 1254-1259
DOI 10.1093/annonc/mdr385, PubMed 21926399
Hadzidimitriou A, Agathangelidis A, Darzentas N, Murray F, Delfau-Larue MH, Pedersen LB, Lopez AN, Dagklis A, Rombout P, Beldjord K, Kolstad A, Dreyling MH, Anagnostopoulos A, Tsaftaris A, Mavragani-Tsipidou P, Rosenwald A, Ponzoni M, Groenen P, Ghia P, Sander B, Papadaki T, Campo E, Geisler C, Rosenquist R, Davi F et al. (2011)
Is there a role for antigen selection in mantle cell lymphoma? Immunogenetic support from a series of 807 cases
Blood, 118 (11), 3088-95
DOI 10.1182/blood-2011-03-343434, PubMed 21791422
Yri OE, Torfoss D, Hungnes O, Tierens A, Waalen K, Nordøy T, Dudman S, Kilander A, Wader KF, Ostenstad B, Ekanger R, Meyer P, Kolstad A (2011)
Rituximab blocks protective serologic response to influenza A (H1N1) 2009 vaccination in lymphoma patients during or within 6 months after treatment
Blood, 118 (26), 6769-71
DOI 10.1182/blood-2011-08-372649, PubMed 22058114
Publications 2009
Andersen NS, Pedersen LB, Laurell A, Elonen E, Kolstad A, Boesen AM, Pedersen LM, Lauritzsen GF, Ekanger R, Nilsson-Ehle H, Nordström M, Fredén S, Jerkeman M, Eriksson M, Väärt J, Malmer B, Geisler CH (2009)
Pre-emptive treatment with rituximab of molecular relapse after autologous stem cell transplantation in mantle cell lymphoma
J Clin Oncol, 27 (26), 4365-70
DOI 10.1200/JCO.2008.21.3116, PubMed 19652064
Geisler C, Kolstad A, Laurell A, Räty R, Nordic Lymphoma Group, Mantle Cell Lymphoma Subcommittee (2009)
Mantle cell lymphoma - does primary intensive immunochemotherapy improve overall survival for younger patients?
Leuk Lymphoma, 50 (8), 1249-56
DOI 10.1080/10428190903040030, PubMed 19562619
Geisler CH, Kolstad A, Laurell A, Räty R, Jerkeman M, Eriksson M, Nordström M, Kimby E, Boesen AM, Nilsson-Ehle H, Kuittinen O, Lauritzsen GF, Ralfkiaer E, Ehinger M, Sundström C, Delabie J, Karjalainen-Lindsberg ML, Brown P, Elonen E, Nordic Lymphoma Group (2009)
The Mantle Cell Lymphoma International Prognostic Index (MIPI) is superior to the International Prognostic Index (IPI) in predicting survival following intensive first-line immunochemotherapy and autologous stem cell transplantation (ASCT)
Blood, 115 (8), 1530-3
DOI 10.1182/blood-2009-08-236570, PubMed 20032504
Houot R, Goldstein MJ, Kohrt HE, Myklebust JH, Alizadeh AA, Lin JT, Irish JM, Torchia JA, Kolstad A, Chen L, Levy R (2009)
Therapeutic effect of CD137 immunomodulation in lymphoma and its enhancement by Treg depletion
Blood, 114 (16), 3431-8
DOI 10.1182/blood-2009-05-223958, PubMed 19641184
Publications 2008
Bishop MR, Dean RM, Steinberg SM, Odom J, Pavletic SZ, Chow C, Pittaluga S, Sportes C, Hardy NM, Gea-Banacloche J, Kolstad A, Gress RE, Fowler DH (2008)
Clinical evidence of a graft-versus-lymphoma effect against relapsed diffuse large B-cell lymphoma after allogeneic hematopoietic stem-cell transplantation
Ann Oncol, 19 (11), 1935-40
DOI 10.1093/annonc/mdn404, PubMed 18684698
Geisler CH, Kolstad A, Laurell A, Andersen NS, Pedersen LB, Jerkeman M, Eriksson M, Nordström M, Kimby E, Boesen AM, Kuittinen O, Lauritzsen GF, Nilsson-Ehle H, Ralfkiaer E, Akerman M, Ehinger M, Sundström C, Langholm R, Delabie J, Karjalainen-Lindsberg ML, Brown P, Elonen E, Nordic Lymphoma Group (2008)
Long-term progression-free survival of mantle cell lymphoma after intensive front-line immunochemotherapy with in vivo-purged stem cell rescue: a nonrandomized phase 2 multicenter study by the Nordic Lymphoma Group
Blood, 112 (7), 2687-93
DOI 10.1182/blood-2008-03-147025, PubMed 18625886
Kolstad A (2008)
[Heart complications following cancer treatment]
Tidsskr Nor Laegeforen, 128 (2), 187-8
PubMed 18240394
Kolstad A, Tjønnfjord G, Jønsson V (2008)
High frequency of unrecognized indolent hematological disorders among HLA-matched siblings of patients with lymphoproliferative malignancies eligible for allo-SCT
Bone Marrow Transplant, 42 (6), 427-8
DOI 10.1038/bmt.2008.183, PubMed 18587433
Morschhauser F, Radford J, Van Hoof A, Vitolo U, Soubeyran P, Tilly H, Huijgens PC, Kolstad A, d'Amore F, Gonzalez Diaz M, Petrini M, Sebban C, Zinzani PL, van Oers MH, van Putten W, Bischof-Delaloye A, Rohatiner A, Salles G, Kuhlmann J, Hagenbeek A (2008)
Phase III trial of consolidation therapy with yttrium-90-ibritumomab tiuxetan compared with no additional therapy after first remission in advanced follicular lymphoma
J Clin Oncol, 26 (32), 5156-64
DOI 10.1200/JCO.2008.17.2015, PubMed 18854568
Publications 2007
Kolstad A, Holte H, Fosså A, Lauritzsen GF, Gaustad P, Torfoss D (2007)
Pneumocystis jirovecii pneumonia in B-cell lymphoma patients treated with the rituximab-CHOEP-14 regimen
Haematologica, 92 (1), 139-40
DOI 10.3324/haematol.10564, PubMed 17229653
Kolstad A, Nome O, Delabie J, Lauritzsen GF, Fossa A, Holte H (2007)
Standard CHOP-21 as first line therapy for elderly patients with Hodgkin's lymphoma
Leuk Lymphoma, 48 (3), 570-6
DOI 10.1080/10428190601126610, PubMed 17454601
Micci F, Panagopoulos I, Tjønnfjord GE, Kolstad A, Delabie J, Beiske K, Heim S (2007)
Molecular cytogenetic characterization of t(14;19)(q32;p13), a new recurrent translocation in B cell malignancies
Virchows Arch, 450 (5), 559-65
DOI 10.1007/s00428-007-0407-6, PubMed 17406891
Publications 2006
Fowler DH, Odom J, Steinberg SM, Chow CK, Foley J, Kogan Y, Hou J, Gea-Banacloche J, Sportes C, Pavletic S, Leitman S, Read EJ, Carter C, Kolstad A, Fox R, Beatty GL, Vonderheide RH, Levine BL, June CH, Gress RE, Bishop MR (2006)
Phase I clinical trial of costimulated, IL-4 polarized donor CD4+ T cells as augmentation of allogeneic hematopoietic cell transplantation
Biol Blood Marrow Transplant, 12 (11), 1150-60
DOI 10.1016/j.bbmt.2006.06.015, PubMed 17085308
Publications 2005
Kaminski MS, Tuck M, Estes J, Kolstad A, Ross CW, Zasadny K, Regan D, Kison P, Fisher S, Kroll S, Wahl RL (2005)
131I-tositumomab therapy as initial treatment for follicular lymphoma
N Engl J Med, 352 (5), 441-9
DOI 10.1056/NEJMoa041511, PubMed 15689582
Publications 2004
Husebekk A, Skaug K, Kolstad A, Dahl IM, Gutteberg T, Skogen B (2004)
Hepatitis B virus-infected peripheral blood progenitor cell harvests in liquid nitrogen freezer containing non-infectious products
Transfusion, 44 (6), 942-3
DOI 10.1111/j.1537-2995.2004.00379.x, PubMed 15157265
Kolstad A (2004)
Effekt av aktiv sykemelding, 2002-2003
In Rapport, Utredningsavdelingen, [Oslo], 03/2004, 23 s.
BIBSYS 041696573
Kolstad A, Risberg T, Bremnes Y, Wilsgaard T, Holte H, Klepp O, Mella O, Wist E (2004)
Use of complementary and alternative therapies: a national multicentre study of oncology health professionals in Norway
Support Care Cancer, 12 (5), 312-8
DOI 10.1007/s00520-004-0590-9, PubMed 14767750
Pettersen KI, Veenstra M, Guldvog B, Kolstad A (2004)
The Patient Experiences Questionnaire: development, validity and reliability
Int J Qual Health Care, 16 (6), 453-63
DOI 10.1093/intqhc/mzh074, PubMed 15557355
Risberg T, Bremnes Y, Kolstad A, Holte H, Wist E, Mella O, Klepp O (2004)
[Should complementary therapies be offered in hospitals?]
Tidsskr Nor Laegeforen, 124 (23), 3078-80
PubMed 15586193
Risberg T, Kolstad A, Bremnes Y, Holte H, Wist EA, Mella O, Klepp O, Wilsgaard T, Cassileth BR (2004)
Knowledge of and attitudes toward complementary and alternative therapies; a national multicentre study of oncology professionals in Norway
Eur J Cancer, 40 (4), 529-35
DOI 10.1016/j.ejca.2003.11.011, PubMed 14962719
Publications 2003
Andersen NS, Pedersen L, Elonen E, Johnson A, Kolstad A, Franssila K, Langholm R, Ralfkiaer E, Akerman M, Eriksson M, Kuittinen O, Geisler CH, Nordic Lymphoma Group (2003)
Primary treatment with autologous stem cell transplantation in mantle cell lymphoma: outcome related to remission pretransplant
Eur J Haematol, 71 (2), 73-80
DOI 10.1034/j.1600-0609.2003.00093.x, PubMed 12890145
Kann IC, Kolstad A (2003)
Effekt av aktiv sykmelding?
In Rapport, Utredningsavdelingen, [Oslo], 10/2003, 57 s.
BIBSYS 041593731
Risberg T, Kolstad A (2003)
[Alternative medicine--attitudes and use among physicians, nurses and administrative staff employed in hospitals in northern Norway]
Tidsskr Nor Laegeforen, 123 (5), 604-6
PubMed 12683182
Risberg T, Kolstad A (2003)
[Mental distress and use of alternative medicine among cancer patients]
Tidsskr Nor Laegeforen, 123 (5), 607-9
PubMed 12683183
Risberg T, Kolstad A, Wist EA, Holte H, Mella O, Klepp O (2003)
[Should alternative therapists treat cancer--what is the opinion of oncology health personnel?]
Tidsskr Nor Laegeforen, 123 (21), 3059-61
PubMed 14618177
Publications 2002
Nordøy T, Aaberge IS, Husebekk A, Samdal HH, Steinert S, Melby H, Kolstad A (2002)
Cancer patients undergoing chemotherapy show adequate serological response to vaccinations against influenza virus and Streptococcus pneumoniae
Med Oncol, 19 (2), 71-8
DOI 10.1385/MO:19:2:71, PubMed 12180483
Risberg T, Kolstad A, Cassileth BR (2002)
Use of alternative medicine among Norwegian cancer patients is associated with mental distress--a follow-up study
Acta Oncol, 41 (7-8), 646-51
PubMed 14651209
Risberg T, Kolstad A, Cassileth BR (2002)
Use of Alternative Medicine Among Norwegian Cancer Patients is Associated with Mental Distress - A Follow-up Study
Acta Oncol, 41 (7-8), 646-651
DOI 10.1080/028418602321028265, PubMed 28758867
Storvoll EE, Wichstrøm L, Kolstad A, Pape H (2002)
Structure of conduct problems in adolescence
Scand J Psychol, 43 (1), 81-91
DOI 10.1111/1467-9450.00271, PubMed 11885763
Publications 2001
Nordøy T, Husebekk A, Aaberge IS, Jenum PA, Samdal HH, Flugsrud LB, Kristoffersen AC, Holte H, Kvaløy S, Kolstad A (2001)
Humoral immunity to viral and bacterial antigens in lymphoma patients 4-10 years after high-dose therapy with ABMT. Serological responses to revaccinations according to EBMT guidelines
Bone Marrow Transplant, 28 (7), 681-7
DOI 10.1038/sj.bmt.1703228, PubMed 11704791
Nordøy T, Kolstad A, Tuck MK, Aaberge IS, Husebekk A, Kaminski MS (2001)
Radioimmunotherapy with iodine-131 tositumomab in patients with low-grade non-Hodgkin's B-cell lymphoma does not induce loss of acquired humoral immunity against common antigens
Clin Immunol, 100 (1), 40-8
DOI 10.1006/clim.2001.5050, PubMed 11414744
Publications 2000
Nordoy T, Kolstad A, Husebekk A (2000)
Persistent immunological changes 55 months after PBPCT. Is the restoration of immune function possible with a longer follow-up? Response
Bone Marrow Transplant., 26 (6), 708
DOI 10.1038/sj.bmt.1702605
Pedersen W, Kolstad A (2000)
Adolescent alcohol abstainers: Traditional patterns in new groups
Acta Sociol., 43 (3), 219-233
DOI 10.1177/000169930004300303
Snellingen T, Shrestha JK, Huq F, Husain R, Koirala S, Rao GN, Pokhrel RP, Kolstad A, Upadhyay MP, Apple DJ, Arnesen E, Cheng H, Olsen EG, Vogel M (2000)
The South Asian cataract management study: complications, vision outcomes, and corneal endothelial cell loss in a randomized multicenter clinical trial comparing intracapsular cataract extraction with and without anterior chamber intraocular lens implantation
Ophthalmology, 107 (2), 231-40
DOI 10.1016/s0161-6420(99)00008-1, PubMed 10690817
Publications 1999
Kolstad A (1999)
Effects of changing government policies on sickness absence behaviour
In NOVA-rapport, Norsk institutt for forskning om oppvekst, velferd og aldring, Oslo, 14/99, 44 s.
BIBSYS 000108804, ISBN 82-7894-083-5
Nordøy T, Kolstad A, Endresen P, Holte H, Kvaløy S, Kvalheim G, Husebekk A (1999)
Persistent changes in the immune system 4-10 years after ABMT
Bone Marrow Transplant, 24 (8), 873-8
DOI 10.1038/sj.bmt.1702006, PubMed 10516699
Risberg T, Kolstad A, Johansen A, Vingerhagen K (1999)
Opinions on and use of alternative medicine among physicians, nurses and clerks in northern Norway
In Vivo, 13 (6), 493-8
PubMed 10757043
Publications 1998
Husebekk A, Kolstad A, Dahl IM, Skogen B (1998)
[Decentralized high-dose cytostatic treatment with autologous stem cell support]
Tidsskr Nor Laegeforen, 118 (18), 2777-80
PubMed 9748807
Katsarou E, Kolstad A, Hadjiliadis N, Sletten E (1998)
H-1 NMR study on the interaction between trans-Cl2Pd(dipeptide)(2) (dipeptide is glyglyOH and gly-L-nvalOH) and the dodecanucleotide [d(CGCGAATTCGCG)](2)
J. Inorg. Biochem., 70 (3-4), 265-269
DOI 10.1016/S0162-0134(98)10026-0
Kolstad A (1998)
Risk perception related to depletion of the ozone layer and UV-B radiation in the arctic
Int J Circumpolar Health, 57 Suppl 1, 596-600
PubMed 10093349
Publications 1996
Kolstad A (1996)
Imprisonment as rehabilitation: Offenders' assessment of why it does not work
J. Crim. Justice, 24 (4), 323-335
DOI 10.1016/0047-2352(96)00020-7
Kolstad A, Holte H, Kvaløy S, Jakobsen E, Erikstein B, Aurlien E, Kvalheim G, Bøhler PJ, Langholm R (1996)
[High-dose therapy with autologous stem cell support in malignant lymphoma and breast cancer. Experiences with hematopoietic stem cells isolate from blood]
Tidsskr Nor Laegeforen, 116 (21), 2547-51
PubMed 8928122
Steinkopf S, Nerdal W, Kolstad A, Sletten E (1996)
Sequence-selective interaction between mercury(II) ions and the DNA dodecamer [d(GCCGATATCGGC)]2 studied by 1H NMR spectroscopy
Acta Chem Scand (Cph), 50 (9), 775-82
DOI 10.3891/acta.chem.scand.50-0775, PubMed 8817868
Publications 1995
Kolstad A (1995)
Norge for nordmenn?
In Samfunnsspeilet, Statistisk sentralbyrå, Oslo, 9(1995)nr 2, S. 47-52
BIBSYS 032145764
Publications 1993
Esping-Andersen G, Kolberg JE, Kolstad A (1993)
Changing classes: stratification and mobility in post-industrial societies
International Sociological Association, London, IX, 261 s.
BIBSYS 931094062, ISBN 0-8039-8896-6
Publications 1992
Kolstad A (1992)
Children's symptoms and items of behaviour. An epidemiological study of sociocultural aetiology
Acta Paedopsychiatr, 55 (2), 77-82
PubMed 1585805
Kolstad A, Toubert A, Weyl D, Jun G, Hannestad K (1992)
Mapping of an epitope defined by a human hybridoma antibody (TrD3): a new HLA-B supertype associated with a subset of HLA-Bw6
Hum Immunol, 34 (2), 77-84
DOI 10.1016/0198-8859(92)90032-i, PubMed 1385373
Publications 1991
Kolstad A (1991)
[Assessment and quality assurance of medical technology--Scandinavian cooperation]
Nord Med, 106 (2), 61-4
PubMed 2006098
Publications 1989
Kolstad A (1989)
Evaluation of medical equipment on the basis of users' experiences and hazard registration
Health Policy, 11 (1), 61-72
DOI 10.1016/0168-8510(89)90056-0, PubMed 10292207
Kolstad A (1989)
Variants of HLA antigens defined by human-human hybridomaantibodies
Intitute of Medical Biology, University of Tromsø, Tromsø, 1 b. (flere pag.)
BIBSYS 890075492
Kolstad A, Bratlie A, Hannestad K (1989)
A cytotoxic human-human hybridoma antibody (TrC7) specific for HLA-A29
Tissue Antigens, 33 (5), 542-5
DOI 10.1111/j.1399-0039.1989.tb01705.x, PubMed 2552611
Kolstad A, Hannestad K (1989)
A supertypic HLA-DP specificity defined by two human-human hybridoma antibodies (TrB50; TrE11)
Hum Immunol, 25 (4), 247-56
DOI 10.1016/0198-8859(89)90087-6, PubMed 2788637
Kolstad A, Hannestad K, Vandvik B, Vartdal F (1989)
Multiple sclerosis patients have a high frequency of an HLA-DQ beta epitope defined by a human-human hybridoma antibody
Tissue Antigens, 33 (5), 546-9
DOI 10.1111/j.1399-0039.1989.tb01706.x, PubMed 2477915
Kolstad A, Johansen B, Hannestad K (1989)
Two HLA-DQ-specific human-human hybridoma antibodies (TrG6;TrC5) define epitopes also expressed by a transcomplementing hybrid DQ molecule (DQw7 alpha/DQw4 beta)
Hum Immunol, 24 (1), 15-29
DOI 10.1016/0198-8859(89)90043-8, PubMed 2464569
Publications 1988
Berg J, Kolstad A (1988)
Rapport fra rusmiddelundersøkelsen 1987
Bodø, 46 s.
BIBSYS 920681905
Kolstad A (1988)
Fiskernes trygdemessige status og sosiale ordninger ; Frafiskesesong til sykepengesesong?
In Rapport, Nordlandsforskning, Bodø, 12/88, 29 s.
BIBSYS 900029722
Kolstad A, Hagen H (1988)
[Where ought psychiatric patients be placed? A survey of ideal and realistic residential and therapeutic possibilities for patients in psychiatric hospitals]
Tidsskr Nor Laegeforen, 108 (4), 315-8
PubMed 3353927
KOLSTAD A, HAGEN H (1988)
WHERE DO PSYCHIATRIC-PATIENTS WANT TO STAY
Nord. Psykol., 40 (3), 161-170
DOI 10.1080/00291463.1988.10636920
Kolstad A, Hansen T, Hannestad K (1988)
A cytotoxic human-human hybridoma antibody (TrH6) specific for HLA-DRw52
Tissue Antigens, 31 (2), 90-7
DOI 10.1111/j.1399-0039.1988.tb02069.x, PubMed 2836964
Saetnan AR, Backe B, Kolstad A, Lamvik T (1988)
Look to Norway! (But not uncritically)
Int J Technol Assess Health Care, 4 (3), 359-74
DOI 10.1017/s0266462300000325, PubMed 10312679
Publications 1987
Hansen T, Kolstad A, Mathisen G, Hannestad K (1987)
A human-human hybridoma (Tr7E2) producing cytotoxic antibody to HLA-DQw1
Hum Immunol, 20 (4), 307-20
DOI 10.1016/0198-8859(87)90021-8, PubMed 2449413
Hansen T, Kolstad A, Thorsby E, Hannestad K (1987)
A human-human hybridoma producing cytotoxic antibody to HLA-B15, cross-reacting with B17, B5, B35 and B18
Tissue Antigens, 29 (5), 246-56
DOI 10.1111/j.1399-0039.1987.tb01584.x, PubMed 2821654
KOLSTAD A (1987)
JACK PLUS JILL EQUALS TROUBLE - YOUNG-PEOPLE AND SEX - NORWEGIAN - ERICSSON,K, LUNDBY,G, RUDBERG,M
Nord. Psykol., 39 (1), 71-73
Kolstad A, Hansen T, Hannestad K (1987)
A human-human hybridoma antibody (TrB12) defining subgroups of HLA-DQw1 and -DQw3
Hum Immunol, 20 (3), 219-31
DOI 10.1016/0198-8859(87)90105-4, PubMed 2830209
Publications 1986
KOLSTAD A (1986)
VIOLENCE AND CONFLICTS WITH ANIMALS AND MAN - NORWEGIAN - BJERKE,T
Nord. Psykol., 38 (3), 233-235
Publications 1985
Brilliant LB, Pokhrel RP, Grasset NC, Lepkowski JM, Kolstad A, Hawks W, Pararajasegaram R, Brilliant GE, Gilbert S, Shrestha SR (1985)
Epidemiology of blindness in Nepal
Bull World Health Organ, 63 (2), 375-86
PubMed 3874717
BRILLIANT LB, POKHREL RP, GRASSET NC, LEPKOWSKI JM, KOLSTAD A, HAWKS W, PARARAJASEGARAM R, BRILLIANT GE, GILBERT S, SHRESTHA SR, KUO J (1985)
EPIDEMIOLOGY OF BLINDNESS IN NEPAL
Bull. World Health Organ., 63 (2), 375-386
Schmidt-Melbye A, Kolstad A, Hannestad K (1985)
Antibodies to granulocytes detected by an indirect immunofluorescence method not requiring chemical modification of cells
Transfusion, 25 (2), 165-9
DOI 10.1046/j.1537-2995.1985.25285169213.x, PubMed 3885485