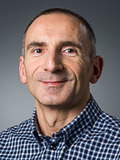 Piotr Sowa

Position:
PhD student, consultant of radiology, MD
Phone:
+47 230 72600
Email:
Address: Department of Radiology and Nuclear Medicine, Section of Neuroradiology, Oslo University Hospital, 0424 Oslo
Background:
Piotr Sowa received his medical degree from the Medical University of Wroclaw (Poland) in 1996, and his specialisation in radiology and medical imaging from the University Hospital in Krakow (Poland) in 2005. Sowa has been working within radiology since 1999, both in Krakow, Trondheim and the Oslo region, in the past few years with main focus on neuroradiology.
PhD-project:
Title of the PhD project: MRI biomarkers of Disease Activity and Progression in Multiple Sclerosis.
Main supervisor: Mona Beyer (Consultant at the Department of Radiology and Nuclear Medicine, Section of Neuroradiology, Oslo University Hospital)
Co-supervisor: Hanne F. Harbo (MD, PhD)
Research interests:
• Radiology/MRI in MS
• Restriction Spectrum Imaging in MS
• Perfusion Weighted Imaging in MS