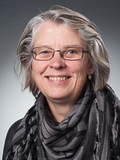 Elisabeth Gulowsen Celius

Position:
Consultant of neurology, dr.med. (MD, PhD)
Phone:
+47 221 19202
Email:
Background:
Medical degree from University of Bonn, Germany 1985, certified in neurology 1993. PhD in 1986. Has worked as a consultant with a special focus on MS at the Oslo University Hospital since 1987. Head of the Neurological department 2002-2010. Since 2010 head of the out-patient clinic at OUS. Member of the steering group of the National MS-Registry, member of reference group preparing guidelines for treatment of MS and priorities Norwegian Directorate of Health, previous member of ECTRIMS Council. Member of steering committees in international trials and national investigator in several trials.
Project/Research interest:
Leader of the MS clinic and the MS team. Special interest in MS epidemiology and clinical studies, but also participating in genetic studies and gene-environment studies. Takes actively part in the development of local, national and international data collections and research projects.
Author network for Elisabeth Gulowsen Celius by COREMINE medical
Publications 2017
de Rodez Benavent SA, Nygaard GO, Harbo HF, Tønnesen S, Sowa P, Landrø NI, Wendel-Haga M, Etholm L, Nilsen KB, Drolsum L, Kerty E, Celius EG, Laeng B (2017)
Fatigue and cognition: Pupillary responses to problem-solving in early multiple sclerosis patients
Brain Behav, 7 (7), e00717
PubMed 28729927
Sowa P, Nygaard GO, Bjørnerud A, Celius EG, Harbo HF, Beyer MK (2017)
Magnetic resonance imaging perfusion is associated with disease severity and activity in multiple sclerosis
Neuroradiology, 59 (7), 655-664
PubMed 28585082
Publications 2016
Berge T, Leikfoss IS, Brorson IS, Bos SD, Page CM, Gustavsen MW, Bjølgerud A, Holmøy T, Celius EG, Damoiseaux J, Smolders J, Harbo HF, Spurkland A (2016)
The multiple sclerosis susceptibility genes TAGAP and IL2RA are regulated by vitamin D in CD4+ T cells
Genes Immun, 17 (2), 118-27
PubMed 26765264
Bjørnevik K, Riise T, Benjaminsen E, Celius EG, Dahl OP, Kampman MT, Løken-Amsrud KI, Midgard R, Myhr KM, Torkildsen Ø, Vatne A, Grytten N (2016)
Level of education and multiple sclerosis risk over a 50-year period: Registry-based sibling study
Mult Scler, 23 (2), 213-219
PubMed 27207453
Bos SD, Berge T, Celius EG, Harbo HF (2016)
From genetic associations to functional studies in multiple sclerosis
Eur J Neurol, 23 (5), 847-53
PubMed 26948534
Celius EG, Rocca M, Andersen O (2016)
Preface
Acta Neurol Scand, 134 Suppl 200, 3
PubMed 27580898
George MF, Briggs FB, Shao X, Gianfrancesco MA, Kockum I, Harbo HF, Celius EG, Bos SD, Hedström A, Shen L, Bernstein A, Alfredsson L, Hillert J, Olsson T, Patsopoulos NA, De Jager PL, Oturai AB, Søndergaard HB, Sellebjerg F, Sorensen PS, Gomez R, Caillier SJ, Cree BA, Oksenberg JR, Hauser SL et al. (2016)
Multiple sclerosis risk loci and disease severity in 7,125 individuals from 10 studies
Neurol Genet, 2 (4), e87
PubMed 27540591
Gustavsen MW, Celius EG, Winsvold BS, Moen SM, Nygaard GO, Berg-Hansen P, Lie BA, Zwart JA, Harbo HF (2016)
Migraine and frequent tension-type headache are not associated with multiple sclerosis in a Norwegian case-control study
Mult Scler J Exp Transl Clin, 2, 2055217316682976
PubMed 28607748
Moen SM, Harbo HF, Celius EG, Sowa P, Nygaard GO, Beyer MK (2016)
[No title available]
Tidsskr Nor Laegeforen, 136 (20), 1702
PubMed 27830899
Moen SM, Harbo HF, Celius EG, Sowa P, Nygaard GO, Beyer MK (2016)
[No title available]
Tidsskr Nor Laegeforen, 136 (19), 1608
PubMed 27790879
Moen SM, Harbo HF, Sowa P, Celius EG, Nygaard GO, Beyer MK (2016)
[MRI in multiple sclerosis]
Tidsskr Nor Laegeforen, 136 (16), 1373-6
PubMed 27637059
Simonsen CS, Celius EG, Brunborg C, Tallaksen C, Eriksen EF, Holmøy T, Moen SM (2016)
Bone mineral density in patients with multiple sclerosis, hereditary ataxia or hereditary spastic paraplegia after at least 10 years of disease - a case control study
BMC Neurol, 16 (1), 252
PubMed 27919248
Simonsen CS, Edland A, Berg-Hansen P, Celius EG (2016)
High prevalence and increasing incidence of multiple sclerosis in the Norwegian county of Buskerud
Acta Neurol Scand, 135 (4), 412-418
PubMed 27241360
Publications 2015
Berg-Hansen P, Celius EG (2015)
Socio-economic factors and immigrant population studies of multiple sclerosis
Acta Neurol Scand, 132 (199), 37-41
PubMed 26046557
Berg-Hansen P, Moen SM, Harbo HF, Celius EG (2015)
Comments on the review article 'Time trends in the incidence and prevalence of multiple sclerosis in Norway during eight decades'
Acta Neurol Scand, 132 (5), 364-7
PubMed 26423981
Goris A, Pauwels I, Gustavsen MW, van Son B, Hilven K, Bos SD, Celius EG, Berg-Hansen P, Aarseth J, Myhr KM, D'Alfonso S, Barizzone N, Leone MA, Martinelli Boneschi F, Sorosina M, Liberatore G, Kockum I, Olsson T, Hillert J, Alfredsson L, Bedri SK, Hemmer B, Buck D, Berthele A, Knier B et al. (2015)
Genetic variants are major determinants of CSF antibody levels in multiple sclerosis
Brain, 138 (Pt 3), 632-43
PubMed 25616667
Leikfoss IS, Keshari PK, Gustavsen MW, Bjølgerud A, Brorson IS, Celius EG, Spurkland A, Bos SD, Harbo HF, Berge T (2015)
Multiple Sclerosis Risk Allele in CLEC16A Acts as an Expression Quantitative Trait Locus for CLEC16A and SOCS1 in CD4+ T Cells
PLoS One, 10 (7), e0132957
PubMed 26203907
Moutsianas L, Jostins L, Beecham AH, Dilthey AT, Xifara DK, Ban M, Shah TS, Patsopoulos NA, Alfredsson L, Anderson CA, Attfield KE, Baranzini SE, Barrett J, Binder TMC, Booth D, Buck D, Celius EG, Cotsapas C, D'Alfonso S, Dendrou CA, Donnelly P, Dubois B, Fontaine B, Fugger L, Goris A et al. (2015)
Class II HLA interactions modulate genetic risk for multiple sclerosis
Nat Genet, 47 (10), 1107-1113
PubMed 26343388
Nygaard GO, Celius EG, de Rodez Benavent SA, Sowa P, Gustavsen MW, Fjell AM, Landrø NI, Walhovd KB, Harbo HF (2015)
A Longitudinal Study of Disability, Cognition and Gray Matter Atrophy in Early Multiple Sclerosis Patients According to Evidence of Disease Activity
PLoS One, 10 (8), e0135974
PubMed 26280173
Nygaard GO, de Rodez Benavent SA, Harbo HF, Laeng B, Sowa P, Damangir S, Bernhard Nilsen K, Etholm L, Tønnesen S, Kerty E, Drolsum L, Inge Landrø N, Celius EG (2015)
Eye and hand motor interactions with the Symbol Digit Modalities Test in early multiple sclerosis
Mult Scler Relat Disord, 4 (6), 585-9
PubMed 26590666
Penner IK, Sivertsdotter EC, Celius EG, Fuchs S, Schreiber K, Berkö S, Svenningsson A, TYNERGY trial investigators (2015)
Improvement in Fatigue during Natalizumab Treatment is Linked to Improvement in Depression and Day-Time Sleepiness
Front Neurol, 6, 18
PubMed 25755648
Sowa P, Bjørnerud A, Nygaard GO, Damangir S, Spulber G, Celius EG, Due-Tønnessen P, Harbo HF, Beyer MK (2015)
Reduced perfusion in white matter lesions in multiple sclerosis
Eur J Radiol, 84 (12), 2605-12
PubMed 26391230
Publications 2014
Berg-Hansen P, Moen SM, Harbo HF, Celius EG (2014)
High prevalence and no latitude gradient of multiple sclerosis in Norway
Mult Scler, 20 (13), 1780-2
PubMed 24603884
Berg-Hansen P, Moen SM, Sandvik L, Harbo HF, Bakken IJ, Stoltenberg C, Celius EG (2014)
Prevalence of multiple sclerosis among immigrants in Norway
Mult Scler, 21 (6), 695-702
PubMed 25344371
Gustavsen MW, Celius EG, Moen SM, Bjølgerud A, Berg-Hansen P, Nygaard GO, Sandvik L, Lie BA, Harbo HF (2014)
No association between multiple sclerosis and periodontitis after adjusting for smoking habits
Eur J Neurol, 22 (3), 588-90
PubMed 25041906
Gustavsen MW, Page CM, Moen SM, Bjølgerud A, Berg-Hansen P, Nygaard GO, Sandvik L, Lie BA, Celius EG, Harbo HF (2014)
Environmental exposures and the risk of multiple sclerosis investigated in a Norwegian case-control study
BMC Neurol, 14, 196
PubMed 25274070
Gustavsen MW, Viken MK, Celius EG, Berge T, Mero IL, Berg-Hansen P, Aarseth JH, Myhr KM, Søndergaard HB, Sellebjerg F, Oturai AB, Hillert J, Alfredsson L, Olsson T, Kockum I, Lie BA, Harbo HF (2014)
Oligoclonal band phenotypes in MS differ in their HLA class II association, while specific KIR ligands at HLA class I show association to MS in general
J Neuroimmunol, 274 (1-2), 174-9
PubMed 25037176
Lund C, Nakken KO, Edland A, Celius EG (2014)
Multiple sclerosis and seizures: incidence and prevalence over 40 years
Acta Neurol Scand, 130 (6), 368-73
PubMed 25209977
Nygaard GO, Walhovd KB, Sowa P, Chepkoech JL, Bjørnerud A, Due-Tønnessen P, Landrø NI, Damangir S, Spulber G, Storsve AB, Beyer MK, Fjell AM, Celius EG, Harbo HF (2014)
Cortical thickness and surface area relate to specific symptoms in early relapsing-remitting multiple sclerosis
Mult Scler, 21 (4), 402-14
PubMed 25139946
Torkildsen O, Aarseth J, Benjaminsen E, Celius E, Holmøy T, Kampman MT, Løken-Amsrud K, Midgard R, Myhr KM, Riise T, Grytten N (2014)
Month of birth and risk of multiple sclerosis: confounding and adjustments
Ann Clin Transl Neurol, 1 (2), 141-4
PubMed 25356394
Torkildsen O, Aarseth J, Celius EG, Holmøy T, Kampman MT, Løken-Amsrud KI, Midgard R, Myhr KM, Riise T, Grytten N (2014)
Reply to comment: Month of birth and risk of multiple sclerosis: confounding and adjustments
Ann Clin Transl Neurol, 1 (5), 376-7
PubMed 25356407
Trojano M, Celius EG, Donzé C, Izquierdo G, Patti F, Pöhlau D (2014)
Clinical case reviews and poster sessions in multiple sclerosis spasticity: main outcomes and highlights
Eur Neurol, 72 Suppl 1, 15-9
PubMed 25278119
Westerlind H, Imrell K, Ramanujam R, Myhr KM, Celius EG, Harbo HF, Oturai AB, Hamsten A, Alfredsson L, Olsson T, Kockum I, Koski T, Hillert J (2014)
Identity-by-descent mapping in a Scandinavian multiple sclerosis cohort
Eur J Hum Genet, 23 (5), 688-92
PubMed 25159868
Publications 2013
Ban M, Caillier S, Mero IL, Myhr KM, Celius EG, Aarseth J, Torkildsen Ø, Harbo HF, Oksenberg J, Hauser SL, Sawcer S, Compston A (2013)
No evidence of association between mutant alleles of the CYP27B1 gene and multiple sclerosis
Ann Neurol, 73 (3), 430-2
PubMed 23444327
Berg-Hansen P, Smestad C, Sandvik L, Harbo HF, Celius EG (2013)
Increased disease severity in non-Western immigrants with multiple sclerosis in Oslo, Norway
Eur J Neurol, 20 (12), 1546-52
PubMed 23834430
Harbo HF, Isobe N, Berg-Hansen P, Bos SD, Caillier SJ, Gustavsen MW, Mero IL, Celius EG, Hauser SL, Oksenberg JR, Gourraud PA (2013)
Oligoclonal bands and age at onset correlate with genetic risk score in multiple sclerosis
Mult Scler, 20 (6), 660-8
PubMed 24099750
International Multiple Sclerosis Genetics Consortium (IMSGC), Beecham AH, Patsopoulos NA, Xifara DK, Davis MF, Kemppinen A, Cotsapas C, Shah TS, Spencer C, Booth D, Goris A, Oturai A, Saarela J, Fontaine B, Hemmer B, Martin C, Zipp F, D'Alfonso S, Martinelli-Boneschi F, Taylor B, Harbo HF, Kockum I, Hillert J, Olsson T, Ban M et al. (2013)
Analysis of immune-related loci identifies 48 new susceptibility variants for multiple sclerosis
Nat Genet, 45 (11), 1353-60
PubMed 24076602
Kampman MT, Aarseth JH, Grytten N, Benjaminsen E, Celius EG, Dahl OP, Holmøy T, Løken-Amsrud K, Midgard R, Myhr KM, Risberg G, Vatne A, Torkildsen O (2013)
Sex ratio of multiple sclerosis in persons born from 1930 to 1979 and its relation to latitude in Norway
J Neurol, 260 (6), 1481-8
PubMed 23292231
Leone MA, Barizzone N, Esposito F, Lucenti A, Harbo HF, Goris A, Kockum I, Oturai AB, Celius EG, Mero IL, Dubois B, Olsson T, Søndergaard HB, Cusi D, Lupoli S, Andreassen BK, International Multiple Sclerosis Genetics Consortium, Wellcome Trust Case Control Consortium 2, Myhr KM, Guerini FR, PROGEMUS Group, PROGRESSO Group, Comi G, Martinelli-Boneschi F, D'Alfonso S (2013)
Association of genetic markers with CSF oligoclonal bands in multiple sclerosis patients
PLoS One, 8 (6), e64408
PubMed 23785401
Mero IL, Gustavsen MW, Sæther HS, Flåm ST, Berg-Hansen P, Søndergaard HB, Jensen PE, Berge T, Bjølgerud A, Muggerud A, Aarseth JH, International Multiple Sclerosis Genetics Consortium, Myhr KM, Celius EG, Sellebjerg F, Hillert J, Alfredsson L, Olsson T, Oturai AB, Kockum I, Lie BA, Andreassen BK, Harbo HF (2013)
Oligoclonal band status in Scandinavian multiple sclerosis patients is associated with specific genetic risk alleles
PLoS One, 8 (3), e58352
PubMed 23472185
Svenningsson A, Falk E, Celius EG, Fuchs S, Schreiber K, Berkö S, Sun J, Penner IK, Tynergy Trial Investigators (2013)
Natalizumab treatment reduces fatigue in multiple sclerosis. Results from the TYNERGY trial; a study in the real life setting
PLoS One, 8 (3), e58643
PubMed 23555589
Publications 2012
Brambilla P, Esposito F, Lindstrom E, Sorosina M, Giacalone G, Clarelli F, Rodegher M, Colombo B, Moiola L, Ghezzi A, Capra R, Collimedaglia L, Coniglio G, Celius EG, Galimberti D, Sørensen PS, Martinelli V, Oturai AB, Harbo HF, Hillert J, Comi G, Martinelli-Boneschi F (2012)
Association between DPP6 polymorphism and the risk of progressive multiple sclerosis in Northern and Southern Europeans
Neurosci Lett, 530 (2), 155-60
PubMed 23069673
Grytten N, Torkildsen Ø, Aarseth JH, Benjaminsen E, Celius EG, Dahl OP, Holmøy T, Løken-Amsrud K, Midgard R, Myhr KM, Risberg G, Vatne A, Kampman MT (2012)
Month of birth as a latitude-dependent risk factor for multiple sclerosis in Norway
Mult Scler, 19 (8), 1028-34
PubMed 23257620
Link J, Kockum I, Lorentzen AR, Lie BA, Celius EG, Westerlind H, Schaffer M, Alfredsson L, Olsson T, Brynedal B, Harbo HF, Hillert J (2012)
Importance of human leukocyte antigen (HLA) class I and II alleles on the risk of multiple sclerosis
PLoS One, 7 (5), e36779
PubMed 22586495
Mero IL, Smestad C, Lie BA, Lorentzen ÅR, Sandvik L, Landrø NI, Aarseth JH, Myhr KM, Celius EG, Harbo HF (2012)
Polymorphisms of the BDNF gene show neither association with multiple sclerosis susceptibility nor clinical course
J Neuroimmunol, 244 (1-2), 107-10
PubMed 22341604
Moen SM, Celius EG, Sandvik L, Brustad M, Nordsletten L, Eriksen EF, Holmøy T (2012)
Bone turnover and metabolism in patients with early multiple sclerosis and prevalent bone mass deficit: a population-based case-control study
PLoS One, 7 (9), e45703
PubMed 23029191
Publications 2011
Hansen B, Oturai AB, Harbo HF, Celius EG, Nissen KK, Laska MJ, Søndergaard HB, Petersen T, Nexø BA (2011)
Genetic association of multiple sclerosis with the marker rs391745 near the endogenous retroviral locus HERV-Fc1: analysis of disease subtypes
PLoS One, 6 (10), e26438
PubMed 22039488
Harbo HF, Lorentzen AR, Lie BA, Celius EG, Spurkland A (2011)
[New gene map for multiple sclerosis]
Tidsskr Nor Laegeforen, 131 (21), 2126-30
PubMed 22048209
Holmøy T, Celius EG (2011)
[Development of new therapies for multiple sclerosis]
Tidsskr Nor Laegeforen, 131 (8), 832-6
PubMed 21556088
International Multiple Sclerosis Genetics Consortium, Wellcome Trust Case Control Consortium 2, Sawcer S, Hellenthal G, Pirinen M, Spencer CC, Patsopoulos NA, Moutsianas L, Dilthey A, Su Z, Freeman C, Hunt SE, Edkins S, Gray E, Booth DR, Potter SC, Goris A, Band G, Oturai AB, Strange A, Saarela J, Bellenguez C, Fontaine B, Gillman M, Hemmer B et al. (2011)
Genetic risk and a primary role for cell-mediated immune mechanisms in multiple sclerosis
Nature, 476 (7359), 214-9
PubMed 21833088
Lundström W, Greiner E, Lundmark F, Westerlind H, Smestad C, Lorentzen AR, Kockum I, Link J, Brynedal B, Celius EG, Harbo HF, Masterman T, Hillert J (2011)
No influence on disease progression of non-HLA susceptibility genes in MS
J Neuroimmunol, 237 (1-2), 98-100
PubMed 21742385
Moen SM, Celius EG, Nordsletten L, Holmøy T (2011)
Fractures and falls in patients with newly diagnosed clinically isolated syndrome and multiple sclerosis
Acta Neurol Scand Suppl (191), 79-82
PubMed 21711261
Moen SM, Celius EG, Sandvik L, Nordsletten L, Eriksen EF, Holmøy T (2011)
Low bone mass in newly diagnosed multiple sclerosis and clinically isolated syndrome
Neurology, 77 (2), 151-7
PubMed 21747073
Reichenbach A, Celius EG, Fure B, Vatn S, Wyller TB (2011)
[Treatment of stroke--an interdisciplinary challenge]
Tidsskr Nor Laegeforen, 131 (9-10), 934-6
PubMed 21606987
Søndergaard HB, Sellebjerg F, Hillert J, Olsson T, Kockum I, Lindén M, Mero IL, Myhr KM, Celius EG, Harbo HF, Christensen JR, Börnsen L, Sørensen PS, Oturai AB (2011)
Alterations in KLRB1 gene expression and a Scandinavian multiple sclerosis association study of the KLRB1 SNP rs4763655
Eur J Hum Genet, 19 (10), 1100-3
PubMed 21610746
Publications 2010
Beyeen AD, Adzemovic MZ, Ockinger J, Stridh P, Becanovic K, Laaksonen H, Lassmann H, Harris RA, Hillert J, Alfredsson L, Celius EG, Harbo HF, Kockum I, Jagodic M, Olsson T (2010)
IL-22RA2 associates with multiple sclerosis and macrophage effector mechanisms in experimental neuroinflammation
J Immunol, 185 (11), 6883-90
PubMed 21041731
Booth DR, Heard RN, Stewart GJ, Cox M, Scott RJ, Lechner-Scott J, Goris A, Dobosi R, Dubois B, Saarela J, Leppa V, Peltonen L, Pirttila T, Cournu-Rebeix I, Fontaine B, Bergamaschi L, D'Alfonso S, Leone M, Lorentzen AR, Harbo HF, Celius EG, Spurkland A, Link J, Kockum I, Olsson T et al. (2010)
Lack of support for association between the KIF1B rs10492972[C] variant and multiple sclerosis
Nature Genet., 42 (6), 469-470
Holmøy T, Harbo HF, Celius EG (2010)
[Treatment of multiple sclerosis]
Tidsskr Nor Laegeforen, 130 (9), 923; author reply 923
PubMed 20453948
International Multiple Sclerosis Genetics Consortium (IMSGC), Booth DR, Heard RN, Stewart GJ, Cox M, Scott RJ, Lechner-Scott J, Goris A, Dobosi R, Dubois B, Saarela J, Leppä V, Peltonen L, Pirttila T, Cournu-Rebeix I, Fontaine B, Bergamaschi L, D'Alfonso S, Leone M, Lorentzen AR, Harbo HF, Celius EG, Spurkland A, Link J, Kockum I et al. (2010)
Lack of support for association between the KIF1B rs10492972[C] variant and multiple sclerosis
Nat Genet, 42 (6), 469-70; author reply 470-1
PubMed 20502484
Link J, Lorentzen AR, Kockum I, Duvefelt K, Lie BA, Celius EG, Harbo HF, Hillert J, Brynedal B (2010)
Two HLA class I genes independently associated with multiple sclerosis
J Neuroimmunol, 226 (1-2), 172-6
PubMed 20678810
Lorentzen AR, Melum E, Ellinghaus E, Smestad C, Mero IL, Aarseth JH, Myhr KM, Celius EG, Lie BA, Karlsen TH, Franke A, Harbo HF (2010)
Association to the Glypican-5 gene in multiple sclerosis
J Neuroimmunol, 226 (1-2), 194-7
PubMed 20692050
Mero IL, Ban M, Lorentzen ÅR, Smestad C, Celius EG, Sæther H, Saeedi H, Viken MK, Skinningsrud B, Undlien DE, Aarseth J, Myhr KM, Granum S, Spurkland A, Sawcer S, Compston A, Lie BA, Harbo HF (2010)
Exploring the CLEC16A gene reveals a MS-associated variant with correlation to the relative expression of CLEC16A isoforms in thymus
Genes Immun, 12 (3), 191-8
PubMed 21179112
Ravnborg M, Sørensen PS, Andersson M, Celius EG, Jongen PJ, Elovaara I, Bartholomé E, Constantinescu CS, Beer K, Garde E, Sperling B (2010)
Methylprednisolone in combination with interferon beta-1a for relapsing-remitting multiple sclerosis (MECOMBIN study): a multicentre, double-blind, randomised, placebo-controlled, parallel-group trial
Lancet Neurol, 9 (7), 672-80
PubMed 20542736
Publications 2009
Ban M, Goris A, Lorentzen AR, Baker A, Mihalova T, Ingram G, Booth DR, Heard RN, Stewart GJ, Bogaert E, Dubois B, Harbo HF, Celius EG, Spurkland A, Strange R, Hawkins C, Robertson NP, Dudbridge F, Wason J, De Jager PL, Hafler D, Rioux JD, Ivinson AJ, McCauley JL, Pericak-Vance M et al. (2009)
Replication analysis identifies TYK2 as a multiple sclerosis susceptibility factor
Eur J Hum Genet, 17 (10), 1309-13
PubMed 19293837
Celius EG, Smestad C (2009)
Change in sex ratio, disease course and age at diagnosis in Oslo MS patients through seven decades
Acta Neurol Scand Suppl (189), 27-9
PubMed 19566494
Kemppinen A, Suvela M, Tienari PJ, Elovaara I, Koivisto K, Pirttilä T, Reunanen M, Rautakorpi I, Hillert J, Lundmark F, Oturai A, Ryder L, Harbo HF, Celius EG, Palotie A, Daly M, Peltonen L, Saarela J (2009)
MYO9B polymorphisms in multiple sclerosis
Eur J Hum Genet, 17 (6), 840-3
PubMed 19142207
Lorentzen AR, Karlsen TH, Olsson M, Smestad C, Mero IL, Woldseth B, Sun JY, Senitzer D, Celius EG, Thorsby E, Spurkland A, Lie BA, Harbo HF (2009)
Killer immunoglobulin-like receptor ligand HLA-Bw4 protects against multiple sclerosis
Ann Neurol, 65 (6), 658-66
PubMed 19630074
Mero IL, Lorentzen AR, Ban M, Smestad C, Celius EG, Aarseth JH, Myhr KM, Link J, Hillert J, Olsson T, Kockum I, Masterman T, Oturai AB, Søndergaard HB, Sellebjerg F, Saarela J, Kemppinen A, Elovaara I, Spurkland A, Dudbridge F, Lie BA, Harbo HF (2009)
A rare variant of the TYK2 gene is confirmed to be associated with multiple sclerosis
Eur J Hum Genet, 18 (4), 502-4
PubMed 19888296
Ockinger J, Stridh P, Beyeen AD, Lundmark F, Seddighzadeh M, Oturai A, Sørensen PS, Lorentzen AR, Celius EG, Leppä V, Koivisto K, Tienari PJ, Alfredsson L, Padyukov L, Hillert J, Kockum I, Jagodic M, Olsson T (2009)
Genetic variants of CC chemokine genes in experimental autoimmune encephalomyelitis, multiple sclerosis and rheumatoid arthritis
Genes Immun, 11 (2), 142-54
PubMed 19865101
Smestad C, Sandvik L, Celius EG (2009)
Excess mortality and cause of death in a cohort of Norwegian multiple sclerosis patients
Mult Scler, 15 (11), 1263-70
PubMed 19812114
Smestad C, Sandvik L, Landrø NI, Celius EG (2009)
Cognitive impairment after three decades of multiple sclerosis
Eur J Neurol, 17 (3), 499-505
PubMed 20050887
Publications 2008
Holmoy T, Celius EG (2008)
Cost-effectiveness of natalizumab in multiple sclerosis
Expert Rev Pharmacoecon Outcomes Res, 8 (1), 11-21
PubMed 20528351
Lerdal A, Celius EG, Moum T (2008)
Perceptions of illness and its development in patients with multiple sclerosis: a prospective cohort study
J Adv Nurs, 65 (1), 184-92
PubMed 19032506
Lorentzen AR, Smestad C, Lie BA, Oturai AB, Akesson E, Saarela J, Myhr KM, Vartdal F, Celius EG, Sørensen PS, Hillert J, Spurkland A, Harbo HF (2008)
The SH2D2A gene and susceptibility to multiple sclerosis
J Neuroimmunol, 197 (2), 152-8
PubMed 18554728
Publications 2007
Datta P, Harbo HF, Ryder LP, Akesson E, Benedikz J, Celius EG, Andersen O, Myhr KM, Sandberg-Wollheim M, Hillert J, Svejgaard A, Sorensen PS, Spurkland A, Oturai A (2007)
A follow-up study of Nordic multiple sclerosis candidate gene regions
Mult Scler, 13 (5), 584-9
PubMed 17548436
Harbo HF, Utsi E, Lorentzen AR, Kampman MT, Celius EG, Myhr KM, Lie BA, Mellgren SI, Thorsby E (2007)
Low frequency of the disease-associated DRB1*15-DQB1*06 haplotype may contribute to the low prevalence of multiple sclerosis in Sami
Tissue Antigens, 69 (4), 299-304
PubMed 17389012
Hensiek AE, Seaman SR, Barcellos LF, Oturai A, Eraksoi M, Cocco E, Vecsei L, Stewart G, Dubois B, Bellman-Strobl J, Leone M, Andersen O, Bencsik K, Booth D, Celius EG, Harbo HF, Hauser SL, Heard R, Hillert J, Myhr KM, Marrosu MG, Oksenberg JR, Rajda C, Sawcer SJ, Sørensen PS et al. (2007)
Familial effects on the clinical course of multiple sclerosis
Neurology, 68 (5), 376-83
PubMed 17261686
Holmøy T, Celius EG (2007)
[A rush job and knowledge handling]
Tidsskr Nor Laegeforen, 127 (15), 1961-2
PubMed 17700745
Holmøy T, Celius EG (2007)
[Incorrect information about treatment of multiple sclerosis from the Knowledge Center]
Tidsskr Nor Laegeforen, 127 (12), 1672-3; author reply 1673
PubMed 17571115
Knudsen GP, Harbo HF, Smestad C, Celius EG, Akesson E, Oturai A, Ryder LP, Spurkland A, Ørstavik KH (2007)
X chromosome inactivation in females with multiple sclerosis
Eur J Neurol, 14 (12), 1392-6
PubMed 17970735
Lerdal A, Celius EG, Krupp L, Dahl AA (2007)
A prospective study of patterns of fatigue in multiple sclerosis
Eur J Neurol, 14 (12), 1338-43
PubMed 17903208
Lundmark F, Duvefelt K, Iacobaeus E, Kockum I, Wallström E, Khademi M, Oturai A, Ryder LP, Saarela J, Harbo HF, Celius EG, Salter H, Olsson T, Hillert J (2007)
Variation in interleukin 7 receptor alpha chain (IL7R) influences risk of multiple sclerosis
Nat Genet, 39 (9), 1108-13
PubMed 17660816
Smestad C, Brynedal B, Jonasdottir G, Lorentzen AR, Masterman T, Akesson E, Spurkland A, Lie BA, Palmgren J, Celius EG, Hillert J, Harbo HF (2007)
The impact of HLA-A and -DRB1 on age at onset, disease course and severity in Scandinavian multiple sclerosis patients
Eur J Neurol, 14 (8), 835-40
PubMed 17662002
Smestad C, Sandvik L, Holmoy T, Harbo HF, Celius EG (2007)
Marked differences in prevalence of multiple sclerosis between ethnic groups in Oslo, Norway
J Neurol, 255 (1), 49-55
PubMed 18080855
Publications 2006
Harbo HF, Ekstrøm PO, Lorentzen AR, Sundvold-Gjerstad V, Celius EG, Sawcer S, Spurkland A (2006)
Coding region polymorphisms in T cell signal transduction genes. Prevalence and association to development of multiple sclerosis
J Neuroimmunol, 177 (1-2), 40-5
PubMed 16764945
Lundmark F, Harbo HF, Celius EG, Saarela J, Datta P, Oturai A, Lindgren CM, Masterman T, Salter H, Hillert J (2006)
Association analysis of the LAG3 and CD4 genes in multiple sclerosis in two independent populations
J Neuroimmunol, 180 (1-2), 193-8
PubMed 17020785
Publications 2005
Lorentzen AR, Celius EG, Ekstrøm PO, Wiencke K, Lie BA, Myhr KM, Ling V, Thorsby E, Vartdal F, Spurkland A, Harbo HF (2005)
Lack of association with the CD28/CTLA4/ICOS gene region among Norwegian multiple sclerosis patients
J Neuroimmunol, 166 (1-2), 197-201
PubMed 16005527
Midgard R, Seland JH, Hovdal H, Celius EG, Eriksen K, Jensen D, Heger H, Mellgren SI, Wexler A, Beiske AG, Myhr KM (2005)
[Optic neuritis--diagnosis, treatment and follow up]
Tidsskr Nor Laegeforen, 125 (4), 425-8 (Retracted)
PubMed 15742012
Midgard R, Seland JH, Hovdal H, Celius EG, Eriksen K, Jensen D, Heger H, Mellgren SI, Wexler A, Beiske AG, Myhr KM (2005)
[Retraction of article]
Tidsskr Nor Laegeforen, 125 (15), 2056
PubMed 16208878
Roxburgh RH, Seaman SR, Masterman T, Hensiek AE, Sawcer SJ, Vukusic S, Achiti I, Confavreux C, Coustans M, le Page E, Edan G, McDonnell GV, Hawkins S, Trojano M, Liguori M, Cocco E, Marrosu MG, Tesser F, Leone MA, Weber A, Zipp F, Miterski B, Epplen JT, Oturai A, Sørensen PS et al. (2005)
Multiple Sclerosis Severity Score: using disability and disease duration to rate disease severity
Neurology, 64 (7), 1144-51
PubMed 15824338
Publications 2004
Harbo HF, Lie BA, Sawcer S, Celius EG, Dai KZ, Oturai A, Hillert J, Lorentzen AR, Laaksonen M, Myhr KM, Ryder LP, Fredrikson S, Nyland H, Sørensen PS, Sandberg-Wollheim M, Andersen O, Svejgaard A, Edland A, Mellgren SI, Compston A, Vartdal F, Spurkland A (2004)
Genes in the HLA class I region may contribute to the HLA class II-associated genetic susceptibility to multiple sclerosis
Tissue Antigens, 63 (3), 237-47
PubMed 14989713
Landrø NI, Celius EG, Sletvold H (2004)
Depressive symptoms account for deficient information processing speed but not for impaired working memory in early phase multiple sclerosis (MS)
J Neurol Sci, 217 (2), 211-6
PubMed 14706226
Oturai AB, Ryder LP, Fredrikson S, Myhr KM, Celius EG, Harbo HF, Andersen O, Akesson E, Hillert J, Madsen HO, Nyland H, Spurkland A, Datta P, Svejgaard A, Sorensen PS (2004)
Concordance for disease course and age of onset in Scandinavian multiple sclerosis coaffected sib pairs
Mult Scler, 10 (1), 5-8
PubMed 14760946
Publications 2003
Bølviken B, Celius EG, Nilsen R, Strand T (2003)
Radon: a possible risk factor in multiple sclerosis
Neuroepidemiology, 22 (1), 87-94
PubMed 12566959
Harbo HF, Datta P, Oturai A, Ryder LP, Sawcer S, Setakis E, Akesson E, Celius EG, Modin H, Sandberg-Wollheim M, Myhr KM, Andersen O, Hillert J, Sorensen PS, Svejgaard A, Compston A, Vartdal F, Spurkland A (2003)
Two genome-wide linkage disequilibrium screens in Scandinavian multiple sclerosis patients
J Neuroimmunol, 143 (1-2), 101-6
PubMed 14575924
Lerdal A, Celius EG, Moum T (2003)
Fatigue and its association with sociodemographic variables among multiple sclerosis patients
Mult Scler, 9 (5), 509-14
PubMed 14582778
Midgard R, Beiske AG, Celius EG, Jensen D, Hovdal H, Mellgren SI, Myhr KM (2003)
[New diagnostic criteria in multiple sclerosis]
Tidsskr Nor Laegeforen, 123 (10), 1345-8
PubMed 12806674
Publications 2001
Celius EG, Vandvik B (2001)
Multiple sclerosis in Oslo, Norway: prevalence on 1 January 1995 and incidence over a 25-year period
Eur J Neurol, 8 (5), 463-9
PubMed 11554910
Dai KZ, Harbo HF, Celius EG, Oturai A, Sørensen PS, Ryder LP, Datta P, Svejgaard A, Hillert J, Fredrikson S, Sandberg-Wollheim M, Laaksonen M, Myhr KM, Nyland H, Vartdal F, Spurkland A (2001)
The T cell regulator gene SH2D2A contributes to the genetic susceptibility of multiple sclerosis
Genes Immun, 2 (5), 263-8
PubMed 11528519
Publications 2000
Celius EG, Harbo HF, Egeland T, Vartdal F, Vandvik B, Spurkiand A (2000)
Sex and age at diagnosis are correlated with the HLA-DR2, DQ6 haplotype in multiple sclerosis
J Neurol Sci, 178 (2), 132-5
PubMed 11018705
Landrø NI, Sletvold H, Celius EG (2000)
Memory functioning and emotional changes in early phase multiple sclerosis
Arch Clin Neuropsychol, 15 (1), 37-46
PubMed 14590566
Publications 1999
Harbo HF, Celius EG, Vartdal F, Spurkland A (1999)
CTLA4 promoter and exon 1 dimorphisms in multiple sclerosis
Tissue Antigens, 53 (1), 106-10
PubMed 10082437
Myhr KM, Riise T, Green Lilleås FE, Beiske TG, Celius EG, Edland A, Jensen D, Larsen JP, Nilsen R, Nortvedt MW, Smievoll AI, Vedeler C, Nyland HI (1999)
Interferon-alpha2a reduces MRI disease activity in relapsing-remitting multiple sclerosis. Norwegian Study Group on Interferon-alpha in Multiple Sclerosis
Neurology, 52 (5), 1049-56
PubMed 10102427
Publications 1998
Brekke M, Hjortdahl P, Thelle DS, Celius EG, Heldal E, Joner G, Kvien TK (1998)
[Differences in morbidity between the Eastern central city district and the suburban Western district of Oslo]
Tidsskr Nor Laegeforen, 118 (1), 14-7
PubMed 9481903
Publications 1997
Celius EG (1997)
[Neurologic complications in heroin abuse. Illustrated by two unusual cases]
Tidsskr Nor Laegeforen, 117 (3), 356-7
PubMed 9064856
Spurkland A, Celius EG, Knutsen I, Beiske A, Thorsby E, Vartdal F (1997)
The HLA-DQ(alpha 1*0102, beta 1*0602) heterodimer may confer susceptibility to multiple sclerosis in the absence of the HLA-DR(alpha 1*01, beta 1*1501) heterodimer
Tissue Antigens, 50 (1), 15-22
PubMed 9243750
Publications 1996
Celius EG, Andersson S (1996)
Leucoencephalopathy after inhalation of heroin: a case report
J Neurol Neurosurg Psychiatry, 60 (6), 694-5
PubMed 8648344