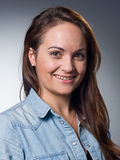 Ingvild Sørum Leikfoss

Position:
Research coordinator/senior engineer, PhD, MSc
Phone:
+47 230 79021
Email:
Address: Oslo University Hospital, Research Unit for Neuroscience, Domus Medica II, 2nd floor, L-260, Gaustadalleen 34, 0372 Oslo
Background:
Ingvild Sørum Leikfoss has a PhD degree in Molecular Immunology from the University of Oslo from 2015, with the following title "Characterization of multiple sclerosis susceptibility genes". She has a Master of Science degree in Molecular Biology and Immunology from the Department of Molecular Biosciences. The focus of her master thesis was in vitro characterization of the binding between Immunoglobulin G and different Fc receptors from both humans and mice.
PhD-project:
Project title: " Characterization of multiple sclerosis susceptibility genes - Genetic and molecular studies in T cells".
The main objective was to understand the biological implications for the single nucleotide polymorphisms in the CLEC16A gene that show genome-wide significant associations with MS. In addition, using molecular and immunological methods, the aim has been to characterize the function of CLEC16A in human immune cell lines.
Main supervisor: Tone Berge (MSc, PhD)
Co-supervisors: Hanne F Harbo (MD, PhD) and Anne Spurkland (MD, PhD, Professor at the Department of Anatomy, Institute of Basic Medical Sciences, University of Oslo).
Research interest:
• Immunology
• Autoimmunity
• Molecular biology
• Cloning
Methodology:
• Cultivation and transfection of cell lines (Jurkat T cells, Raji B cells)
• Isolation and cultivation of primary, human T - and B- cells
• Western blotting
• Flow cytometry
• Image stream
• RNA and DNA isolation
• Quantitative real-time PCR
• Sub-cloning
• ELISA
Author network for Ingvild Sørum Leikfoss by COREMINE medical
Publications 2016
Berge T, Leikfoss IS, Brorson IS, Bos SD, Page CM, Gustavsen MW, Bjølgerud A, Holmøy T, Celius EG, Damoiseaux J, Smolders J, Harbo HF, Spurkland A (2016)
The multiple sclerosis susceptibility genes TAGAP and IL2RA are regulated by vitamin D in CD4+ T cells
Genes Immun, 17 (2), 118-27
PubMed 26765264
Publications 2015
Bos SD, Page CM, Andreassen BK, Elboudwarej E, Gustavsen MW, Briggs F, Quach H, Leikfoss IS, Bjølgerud A, Berge T, Harbo HF, Barcellos LF (2015)
Genome-wide DNA methylation profiles indicate CD8+ T cell hypermethylation in multiple sclerosis
PLoS One, 10 (3), e0117403
PubMed 25734800
Leikfoss IS, Keshari PK, Gustavsen MW, Bjølgerud A, Brorson IS, Celius EG, Spurkland A, Bos SD, Harbo HF, Berge T (2015)
Multiple Sclerosis Risk Allele in CLEC16A Acts as an Expression Quantitative Trait Locus for CLEC16A and SOCS1 in CD4+ T Cells
PLoS One, 10 (7), e0132957
PubMed 26203907
Publications 2014
Eriksen AB, Berge T, Gustavsen MW, Leikfoss IS, Bos SD, Spurkland A, Harbo HF, Blomhoff HK (2014)
Retinoic acid enhances the levels of IL-10 in TLR-stimulated B cells from patients with relapsing-remitting multiple sclerosis
J Neuroimmunol, 278, 11-8
PubMed 25595247
Publications 2013
Berge T, Leikfoss IS, Harbo HF (2013)
From Identification to Characterization of the Multiple Sclerosis Susceptibility Gene CLEC16A
Int J Mol Sci, 14 (3), 4476-97
PubMed 23439554
Publications 2012
Andersen JT, Foss S, Kenanova VE, Olafsen T, Leikfoss IS, Roopenian DC, Wu AM, Sandlie I (2012)
Anti-carcinoembryonic antigen single-chain variable fragment antibody variants bind mouse and human neonatal Fc receptor with different affinities that reveal distinct cross-species differences in serum half-life
J Biol Chem, 287 (27), 22927-37
PubMed 22570488
Leikfoss IS, Mero IL, Dahle MK, Lie BA, Harbo HF, Spurkland A, Berge T (2012)
Multiple sclerosis-associated single-nucleotide polymorphisms in CLEC16A correlate with reduced SOCS1 and DEXI expression in the thymus
Genes Immun, 14 (1), 62-6
PubMed 23151489