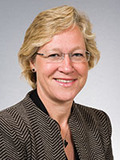 Hanne Flinstad Harbo

Position:
Group leader, senior consultant, professor dr. med., MD, PhD
Phone:
+47 221 18660
Email:
Background:
Hanne F Harbo has a medical degree from the University of Oslo (UiO) from 1988 and is a specialist in neurology from 1997. Since her PhD in MS genetics in 2003, she has worked as the leader of the MS research group at Oslo University Hospital as well as a consultant with a special focus on MS, and is from 2010 a professor of neurology at the University of Oslo. She has been a member of several international committees related to neurogenetic- and MS research and acts currently as member of the governance group the Norwegian Brain Council and of the International MS Genetics Consortium (IMSGC) and is member of the ECTRIMS council.
Project/Research interest:
Hanne F Harbo is project leader and supervisor of projects in the MS Research Group at Oslo University Hospital focusing on translational MS-projects spanning from genetic and molecular studies to gene-environment- , phenotype- and MRI- research. She has also a strong clinical interest in MS and takes actively part in the MS clinic as well in the development of local, national and international data collections and research projects.
Author network for Hanne Flinstad Harbo by COREMINE medical
Publications 2017
de Rodez Benavent SA, Nygaard GO, Harbo HF, Tønnesen S, Sowa P, Landrø NI, Wendel-Haga M, Etholm L, Nilsen KB, Drolsum L, Kerty E, Celius EG, Laeng B (2017)
Fatigue and cognition: Pupillary responses to problem-solving in early multiple sclerosis patients
Brain Behav, 7 (7), e00717
PubMed 28729927
Hedstrom AK, Katsoulis M, Hossjer O, Bomfim IL, Oturai A, Sondergaard HB, Sellebjerg F, Ullum H, Thorner LW, Gustavsen MW, Harbo HF, Obradovic D, Gianfrancesco MA, Barcellos LF, Schaefer CA, Hillert J, Kockum I, Olsson T, Alfredsson L (2017)
The interaction between smoking and HLA genes in multiple sclerosis: replication and refinement
Eur. J. Epidemiol., 32 (10), 909-919
Olafsson S, Stridh P, Bos SD, Ingason A, Euesden J, Sulem P, Thorleifsson G, Gustafsson O, Johannesson A, Geirsson AJ, Thorsson AV, Sigurgeirsson B, Ludviksson BR, Olafsson E, Kristjansdottir H, Jonasson JG, Olafsson JH, Orvar KB, Benediktsson R, Bjarnason R, Kristjansdottir S, Gislason T, Valdimarsson T, Mikaelsdottir E, Sigurdsson S et al. (2017)
Fourteen sequence variants that associate with multiple sclerosis discovered by meta-analysis informed by genetic correlations
npj Genom. Med., 2, 24
Sowa P, Nygaard GO, Bjørnerud A, Celius EG, Harbo HF, Beyer MK (2017)
Magnetic resonance imaging perfusion is associated with disease severity and activity in multiple sclerosis
Neuroradiology, 59 (7), 655-664
PubMed 28585082
Publications 2016
Berge T, Leikfoss IS, Brorson IS, Bos SD, Page CM, Gustavsen MW, Bjølgerud A, Holmøy T, Celius EG, Damoiseaux J, Smolders J, Harbo HF, Spurkland A (2016)
The multiple sclerosis susceptibility genes TAGAP and IL2RA are regulated by vitamin D in CD4+ T cells
Genes Immun, 17 (2), 118-27
PubMed 26765264
Bos SD, Berge T, Celius EG, Harbo HF (2016)
From genetic associations to functional studies in multiple sclerosis
Eur J Neurol, 23 (5), 847-53
PubMed 26948534
George MF, Briggs FB, Shao X, Gianfrancesco MA, Kockum I, Harbo HF, Celius EG, Bos SD, Hedström A, Shen L, Bernstein A, Alfredsson L, Hillert J, Olsson T, Patsopoulos NA, De Jager PL, Oturai AB, Søndergaard HB, Sellebjerg F, Sorensen PS, Gomez R, Caillier SJ, Cree BA, Oksenberg JR, Hauser SL et al. (2016)
Multiple sclerosis risk loci and disease severity in 7,125 individuals from 10 studies
Neurol Genet, 2 (4), e87
PubMed 27540591
Keshari PK, Harbo HF, Myhr KM, Aarseth JH, Bos SD, Berge T (2016)
Allelic imbalance of multiple sclerosis susceptibility genes IKZF3 and IQGAP1 in human peripheral blood
BMC Genet, 17, 59
PubMed 27080863
Keshavan A, Paul F, Beyer MK, Zhu AH, Papinutto N, Shinohara RT, Stern W, Amann M, Bakshi R, Bischof A, Carriero A, Comabella M, Crane JC, D'Alfonso S, Demaerel P, Dubois B, Filippi M, Fleischer V, Fontaine B, Gaetano L, Goris A, Graetz C, Gröger A, Groppa S, Hafler DA et al. (2016)
Power estimation for non-standardized multisite studies
Neuroimage, 134, 281-294
PubMed 27039700
Moen SM, Harbo HF, Celius EG, Sowa P, Nygaard GO, Beyer MK (2016)
[No title available]
Tidsskr Nor Laegeforen, 136 (20), 1702
PubMed 27830899
Moen SM, Harbo HF, Celius EG, Sowa P, Nygaard GO, Beyer MK (2016)
[No title available]
Tidsskr Nor Laegeforen, 136 (19), 1608
PubMed 27790879
Moen SM, Harbo HF, Sowa P, Celius EG, Nygaard GO, Beyer MK (2016)
[MRI in multiple sclerosis]
Tidsskr Nor Laegeforen, 136 (16), 1373-6
PubMed 27637059
Wang Y, Bos SD, Harbo HF, Thompson WK, Schork AJ, Bettella F, Witoelar A, Lie BA, Li W, McEvoy LK, Djurovic S, Desikan RS, Dale AM, Andreassen OA (2016)
Genetic overlap between multiple sclerosis and several cardiovascular disease risk factors
Mult Scler, 22 (14), 1783-1793
PubMed 26920376
Publications 2015
Berg-Hansen P, Moen SM, Harbo HF, Celius EG (2015)
Comments on the review article 'Time trends in the incidence and prevalence of multiple sclerosis in Norway during eight decades'
Acta Neurol Scand, 132 (5), 364-7
PubMed 26423981
Bos SD, Page CM, Andreassen BK, Elboudwarej E, Gustavsen MW, Briggs F, Quach H, Leikfoss IS, Bjølgerud A, Berge T, Harbo HF, Barcellos LF (2015)
Genome-wide DNA methylation profiles indicate CD8+ T cell hypermethylation in multiple sclerosis
PLoS One, 10 (3), e0117403
PubMed 25734800
Goris A, Pauwels I, Gustavsen MW, van Son B, Hilven K, Bos SD, Celius EG, Berg-Hansen P, Aarseth J, Myhr KM, D'Alfonso S, Barizzone N, Leone MA, Martinelli Boneschi F, Sorosina M, Liberatore G, Kockum I, Olsson T, Hillert J, Alfredsson L, Bedri SK, Hemmer B, Buck D, Berthele A, Knier B et al. (2015)
Genetic variants are major determinants of CSF antibody levels in multiple sclerosis
Brain, 138 (Pt 3), 632-43
PubMed 25616667
Leikfoss IS, Keshari PK, Gustavsen MW, Bjølgerud A, Brorson IS, Celius EG, Spurkland A, Bos SD, Harbo HF, Berge T (2015)
Multiple Sclerosis Risk Allele in CLEC16A Acts as an Expression Quantitative Trait Locus for CLEC16A and SOCS1 in CD4+ T Cells
PLoS One, 10 (7), e0132957
PubMed 26203907
Moutsianas L, Jostins L, Beecham AH, Dilthey AT, Xifara DK, Ban M, Shah TS, Patsopoulos NA, Alfredsson L, Anderson CA, Attfield KE, Baranzini SE, Barrett J, Binder TMC, Booth D, Buck D, Celius EG, Cotsapas C, D'Alfonso S, Dendrou CA, Donnelly P, Dubois B, Fontaine B, Fugger L, Goris A et al. (2015)
Class II HLA interactions modulate genetic risk for multiple sclerosis
Nat Genet, 47 (10), 1107-1113
PubMed 26343388
Nygaard GO, Celius EG, de Rodez Benavent SA, Sowa P, Gustavsen MW, Fjell AM, Landrø NI, Walhovd KB, Harbo HF (2015)
A Longitudinal Study of Disability, Cognition and Gray Matter Atrophy in Early Multiple Sclerosis Patients According to Evidence of Disease Activity
PLoS One, 10 (8), e0135974
PubMed 26280173
Nygaard GO, de Rodez Benavent SA, Harbo HF, Laeng B, Sowa P, Damangir S, Bernhard Nilsen K, Etholm L, Tønnesen S, Kerty E, Drolsum L, Inge Landrø N, Celius EG (2015)
Eye and hand motor interactions with the Symbol Digit Modalities Test in early multiple sclerosis
Mult Scler Relat Disord, 4 (6), 585-9
PubMed 26590666
Page CM, Baranzini SE, Mevik BH, Bos SD, Harbo HF, Andreassen BK (2015)
Assessing the Power of Exome Chips
PLoS One, 10 (10), e0139642
PubMed 26437075
Seldin MF, Alkhairy OK, Lee AT, Lamb JA, Sussman J, Pirskanen-Matell R, Piehl F, Verschuuren JJ, Kostera-Pruszczyk A, Szczudlik P, Mckee D, Maniaol AH, Harbo HF, Lie BA, Melms A, Garchon HJ, Willcox N, Gregersen PK, Hammarstrom L (2015)
Genome-wide Association Study of Late-Onset Myasthenia Gravis: Confirmation of TNFRSF11A, and Identification of ZBTB10 and Three Distinct HLA Associations
Mol Med, 21, 769-781
PubMed 26562150
Sowa P, Bjørnerud A, Nygaard GO, Damangir S, Spulber G, Celius EG, Due-Tønnessen P, Harbo HF, Beyer MK (2015)
Reduced perfusion in white matter lesions in multiple sclerosis
Eur J Radiol, 84 (12), 2605-12
PubMed 26391230
Publications 2014
Andreassen OA, Harbo HF, Wang Y, Thompson WK, Schork AJ, Mattingsdal M, Zuber V, Bettella F, Ripke S, Kelsoe JR, Kendler KS, O'Donovan MC, Sklar P, Psychiatric Genomics Consortium (PGC) Bipolar Disorder and Schizophrenia Work Groups, International Multiple Sclerosis Genetics Consortium (IMSGC), McEvoy LK, Desikan RS, Lie BA, Djurovic S, Dale AM (2014)
Genetic pleiotropy between multiple sclerosis and schizophrenia but not bipolar disorder: differential involvement of immune-related gene loci
Mol Psychiatry, 20 (2), 207-14
PubMed 24468824
Avidan N, Le Panse R, Harbo HF, Bernasconi P, Poulas K, Ginzburg E, Cavalcante P, Colleoni L, Baggi F, Antozzi C, Truffault F, Horn-Saban S, Pöschel S, Zagoriti Z, Maniaol A, Lie BA, Bernard I, Saoudi A, Illes Z, Casasnovas Pons C, Melms A, Tzartos S, Willcox N, Kostera-Pruszczyk A, Tallaksen C et al. (2014)
VAV1 and BAFF, via NFκB pathway, are genetic risk factors for myasthenia gravis
Ann Clin Transl Neurol, 1 (5), 329-39
PubMed 25356403
Berg-Hansen P, Moen SM, Harbo HF, Celius EG (2014)
High prevalence and no latitude gradient of multiple sclerosis in Norway
Mult Scler, 20 (13), 1780-2
PubMed 24603884
Berg-Hansen P, Moen SM, Sandvik L, Harbo HF, Bakken IJ, Stoltenberg C, Celius EG (2014)
Prevalence of multiple sclerosis among immigrants in Norway
Mult Scler, 21 (6), 695-702
PubMed 25344371
Eriksen AB, Berge T, Gustavsen MW, Leikfoss IS, Bos SD, Spurkland A, Harbo HF, Blomhoff HK (2014)
Retinoic acid enhances the levels of IL-10 in TLR-stimulated B cells from patients with relapsing-remitting multiple sclerosis
J Neuroimmunol, 278, 11-8
PubMed 25595247
Gustavsen MW, Celius EG, Moen SM, Bjølgerud A, Berg-Hansen P, Nygaard GO, Sandvik L, Lie BA, Harbo HF (2014)
No association between multiple sclerosis and periodontitis after adjusting for smoking habits
Eur J Neurol, 22 (3), 588-90
PubMed 25041906
Gustavsen MW, Page CM, Moen SM, Bjølgerud A, Berg-Hansen P, Nygaard GO, Sandvik L, Lie BA, Celius EG, Harbo HF (2014)
Environmental exposures and the risk of multiple sclerosis investigated in a Norwegian case-control study
BMC Neurol, 14, 196
PubMed 25274070
Gustavsen MW, Viken MK, Celius EG, Berge T, Mero IL, Berg-Hansen P, Aarseth JH, Myhr KM, Søndergaard HB, Sellebjerg F, Oturai AB, Hillert J, Alfredsson L, Olsson T, Kockum I, Lie BA, Harbo HF (2014)
Oligoclonal band phenotypes in MS differ in their HLA class II association, while specific KIR ligands at HLA class I show association to MS in general
J Neuroimmunol, 274 (1-2), 174-9
PubMed 25037176
Nygaard GO, Walhovd KB, Sowa P, Chepkoech JL, Bjørnerud A, Due-Tønnessen P, Landrø NI, Damangir S, Spulber G, Storsve AB, Beyer MK, Fjell AM, Celius EG, Harbo HF (2014)
Cortical thickness and surface area relate to specific symptoms in early relapsing-remitting multiple sclerosis
Mult Scler, 21 (4), 402-14
PubMed 25139946
Sundal C, Baker M, Karrenbauer V, Gustavsen M, Bedri S, Glaser A, Myhr KM, Haugarvoll K, Zetterberg H, Harbo H, Kockum I, Hillert J, Wszolek Z, Rademakers R, Andersen O (2014)
Hereditary diffuse leukoencephalopathy with spheroids with phenotype of primary progressive multiple sclerosis
Eur J Neurol, 22 (2), 328-333
PubMed 25311247
Westerlind H, Imrell K, Ramanujam R, Myhr KM, Celius EG, Harbo HF, Oturai AB, Hamsten A, Alfredsson L, Olsson T, Kockum I, Koski T, Hillert J (2014)
Identity-by-descent mapping in a Scandinavian multiple sclerosis cohort
Eur J Hum Genet, 23 (5), 688-92
PubMed 25159868
Publications 2013
Ban M, Caillier S, Mero IL, Myhr KM, Celius EG, Aarseth J, Torkildsen Ø, Harbo HF, Oksenberg J, Hauser SL, Sawcer S, Compston A (2013)
No evidence of association between mutant alleles of the CYP27B1 gene and multiple sclerosis
Ann Neurol, 73 (3), 430-2
PubMed 23444327
Berg-Hansen P, Smestad C, Sandvik L, Harbo HF, Celius EG (2013)
Increased disease severity in non-Western immigrants with multiple sclerosis in Oslo, Norway
Eur J Neurol, 20 (12), 1546-52
PubMed 23834430
Berge T, Leikfoss IS, Harbo HF (2013)
From Identification to Characterization of the Multiple Sclerosis Susceptibility Gene CLEC16A
Int J Mol Sci, 14 (3), 4476-97
PubMed 23439554
Harbo HF, Gold R, Tintoré M (2013)
Sex and gender issues in multiple sclerosis
Ther Adv Neurol Disord, 6 (4), 237-48
PubMed 23858327
Harbo HF, Isobe N, Berg-Hansen P, Bos SD, Caillier SJ, Gustavsen MW, Mero IL, Celius EG, Hauser SL, Oksenberg JR, Gourraud PA (2013)
Oligoclonal bands and age at onset correlate with genetic risk score in multiple sclerosis
Mult Scler, 20 (6), 660-8
PubMed 24099750
Høglund RA, Holmøy T, Harbo HF, Maghazachi AA (2013)
A one year follow-up study of natural killer and dendritic cells activities in multiple sclerosis patients receiving glatiramer acetate (GA)
PLoS One, 8 (4), e62237
PubMed 23614042
International Multiple Sclerosis Genetics Consortium (IMSGC), Beecham AH, Patsopoulos NA, Xifara DK, Davis MF, Kemppinen A, Cotsapas C, Shah TS, Spencer C, Booth D, Goris A, Oturai A, Saarela J, Fontaine B, Hemmer B, Martin C, Zipp F, D'Alfonso S, Martinelli-Boneschi F, Taylor B, Harbo HF, Kockum I, Hillert J, Olsson T, Ban M et al. (2013)
Analysis of immune-related loci identifies 48 new susceptibility variants for multiple sclerosis
Nat Genet, 45 (11), 1353-60
PubMed 24076602
Isobe N, Gourraud PA, Harbo HF, Caillier SJ, Santaniello A, Khankhanian P, Maiers M, Spellman S, Cereb N, Yang S, Pando MJ, Piccio L, Cross AH, De Jager PL, Cree BA, Hauser SL, Oksenberg JR (2013)
Genetic risk variants in African Americans with multiple sclerosis
Neurology, 81 (3), 219-27
PubMed 23771490
Leone MA, Barizzone N, Esposito F, Lucenti A, Harbo HF, Goris A, Kockum I, Oturai AB, Celius EG, Mero IL, Dubois B, Olsson T, Søndergaard HB, Cusi D, Lupoli S, Andreassen BK, International Multiple Sclerosis Genetics Consortium, Wellcome Trust Case Control Consortium 2, Myhr KM, Guerini FR, PROGEMUS Group, PROGRESSO Group, Comi G, Martinelli-Boneschi F, D'Alfonso S (2013)
Association of genetic markers with CSF oligoclonal bands in multiple sclerosis patients
PLoS One, 8 (6), e64408
PubMed 23785401
Mero IL, Gustavsen MW, Sæther HS, Flåm ST, Berg-Hansen P, Søndergaard HB, Jensen PE, Berge T, Bjølgerud A, Muggerud A, Aarseth JH, International Multiple Sclerosis Genetics Consortium, Myhr KM, Celius EG, Sellebjerg F, Hillert J, Alfredsson L, Olsson T, Oturai AB, Kockum I, Lie BA, Andreassen BK, Harbo HF (2013)
Oligoclonal band status in Scandinavian multiple sclerosis patients is associated with specific genetic risk alleles
PLoS One, 8 (3), e58352
PubMed 23472185
Publications 2012
Brambilla P, Esposito F, Lindstrom E, Sorosina M, Giacalone G, Clarelli F, Rodegher M, Colombo B, Moiola L, Ghezzi A, Capra R, Collimedaglia L, Coniglio G, Celius EG, Galimberti D, Sørensen PS, Martinelli V, Oturai AB, Harbo HF, Hillert J, Comi G, Martinelli-Boneschi F (2012)
Association between DPP6 polymorphism and the risk of progressive multiple sclerosis in Northern and Southern Europeans
Neurosci Lett, 530 (2), 155-60
PubMed 23069673
Gourraud PA, Harbo HF, Hauser SL, Baranzini SE (2012)
The genetics of multiple sclerosis: an up-to-date review
Immunol Rev, 248 (1), 87-103
PubMed 22725956
Gregersen PK, Kosoy R, Lee AT, Lamb J, Sussman J, McKee D, Simpfendorfer KR, Pirskanen-Matell R, Piehl F, Pan-Hammarstrom Q, Verschuuren JJ, Titulaer MJ, Niks EH, Marx A, Ströbel P, Tackenberg B, Pütz M, Maniaol A, Elsais A, Tallaksen C, Harbo HF, Lie BA, Raychaudhuri S, de Bakker PI, Melms A et al. (2012)
Risk for myasthenia gravis maps to a (151) Pro→Ala change in TNIP1 and to human leukocyte antigen-B*08
Ann Neurol, 72 (6), 927-35
PubMed 23055271
Harbo HF, Mero IL (2012)
From genes to characteristics of multiple sclerosis
Acta Neurol Scand Suppl (195), 76-83
PubMed 23278661
Leikfoss IS, Mero IL, Dahle MK, Lie BA, Harbo HF, Spurkland A, Berge T (2012)
Multiple sclerosis-associated single-nucleotide polymorphisms in CLEC16A correlate with reduced SOCS1 and DEXI expression in the thymus
Genes Immun, 14 (1), 62-6
PubMed 23151489
Link J, Kockum I, Lorentzen AR, Lie BA, Celius EG, Westerlind H, Schaffer M, Alfredsson L, Olsson T, Brynedal B, Harbo HF, Hillert J (2012)
Importance of human leukocyte antigen (HLA) class I and II alleles on the risk of multiple sclerosis
PLoS One, 7 (5), e36779
PubMed 22586495
Maniaol AH, Boldingh M, Brunborg C, Harbo HF, Tallaksen CM (2012)
Smoking and socio-economic status may affect myasthenia gravis
Eur J Neurol, 20 (3), 453-60
PubMed 22934661
Maniaol AH, Elsais A, Lorentzen ÅR, Owe JF, Viken MK, Sæther H, Flåm ST, Bråthen G, Kampman MT, Midgard R, Christensen M, Rognerud A, Kerty E, Gilhus NE, Tallaksen CM, Lie BA, Harbo HF (2012)
Late onset myasthenia gravis is associated with HLA DRB1*15:01 in the Norwegian population
PLoS One, 7 (5), e36603
PubMed 22590574
Martinelli-Boneschi F, Esposito F, Brambilla P, Lindström E, Lavorgna G, Stankovich J, Rodegher M, Capra R, Ghezzi A, Coniglio G, Colombo B, Sorosina M, Martinelli V, Booth D, Oturai AB, Stewart G, Harbo HF, Kilpatrick TJ, Hillert J, Rubio JP, Abderrahim H, Wojcik J, Comi G (2012)
A genome-wide association study in progressive multiple sclerosis
Mult Scler, 18 (10), 1384-94
PubMed 22457343
Mero IL, Smestad C, Lie BA, Lorentzen ÅR, Sandvik L, Landrø NI, Aarseth JH, Myhr KM, Celius EG, Harbo HF (2012)
Polymorphisms of the BDNF gene show neither association with multiple sclerosis susceptibility nor clinical course
J Neuroimmunol, 244 (1-2), 107-10
PubMed 22341604
Publications 2011
Burgunder JM, Schöls L, Baets J, Andersen P, Gasser T, Szolnoki Z, Fontaine B, Van Broeckhoven C, Di Donato S, De Jonghe P, Lynch T, Mariotti C, Spinazzola A, Tabrizi SJ, Tallaksen C, Zeviani M, Harbo HF, Finsterer J, EFNS (2011)
EFNS guidelines for the molecular diagnosis of neurogenetic disorders: motoneuron, peripheral nerve and muscle disorders
Eur J Neurol, 18 (2), 207-17
PubMed 20500522
Hansen B, Oturai AB, Harbo HF, Celius EG, Nissen KK, Laska MJ, Søndergaard HB, Petersen T, Nexø BA (2011)
Genetic association of multiple sclerosis with the marker rs391745 near the endogenous retroviral locus HERV-Fc1: analysis of disease subtypes
PLoS One, 6 (10), e26438
PubMed 22039488
Harbo HF, Lorentzen AR, Lie BA, Celius EG, Spurkland A (2011)
[New gene map for multiple sclerosis]
Tidsskr Nor Laegeforen, 131 (21), 2126-30
PubMed 22048209
International Multiple Sclerosis Genetics Consortium, Wellcome Trust Case Control Consortium 2, Sawcer S, Hellenthal G, Pirinen M, Spencer CC, Patsopoulos NA, Moutsianas L, Dilthey A, Su Z, Freeman C, Hunt SE, Edkins S, Gray E, Booth DR, Potter SC, Goris A, Band G, Oturai AB, Strange A, Saarela J, Bellenguez C, Fontaine B, Gillman M, Hemmer B et al. (2011)
Genetic risk and a primary role for cell-mediated immune mechanisms in multiple sclerosis
Nature, 476 (7359), 214-9
PubMed 21833088
Lundström W, Greiner E, Lundmark F, Westerlind H, Smestad C, Lorentzen AR, Kockum I, Link J, Brynedal B, Celius EG, Harbo HF, Masterman T, Hillert J (2011)
No influence on disease progression of non-HLA susceptibility genes in MS
J Neuroimmunol, 237 (1-2), 98-100
PubMed 21742385
Pandya AD, Al-Jaderi Z, Høglund RA, Holmøy T, Harbo HF, Norgauer J, Maghazachi AA (2011)
Identification of human NK17/NK1 cells
PLoS One, 6 (10), e26780
PubMed 22039549
Søndergaard HB, Sellebjerg F, Hillert J, Olsson T, Kockum I, Lindén M, Mero IL, Myhr KM, Celius EG, Harbo HF, Christensen JR, Börnsen L, Sørensen PS, Oturai AB (2011)
Alterations in KLRB1 gene expression and a Scandinavian multiple sclerosis association study of the KLRB1 SNP rs4763655
Eur J Hum Genet, 19 (10), 1100-3
PubMed 21610746
Publications 2010
Beyeen AD, Adzemovic MZ, Ockinger J, Stridh P, Becanovic K, Laaksonen H, Lassmann H, Harris RA, Hillert J, Alfredsson L, Celius EG, Harbo HF, Kockum I, Jagodic M, Olsson T (2010)
IL-22RA2 associates with multiple sclerosis and macrophage effector mechanisms in experimental neuroinflammation
J Immunol, 185 (11), 6883-90
PubMed 21041731
Booth DR, Heard RN, Stewart GJ, Cox M, Scott RJ, Lechner-Scott J, Goris A, Dobosi R, Dubois B, Saarela J, Leppa V, Peltonen L, Pirttila T, Cournu-Rebeix I, Fontaine B, Bergamaschi L, D'Alfonso S, Leone M, Lorentzen AR, Harbo HF, Celius EG, Spurkland A, Link J, Kockum I, Olsson T et al. (2010)
Lack of support for association between the KIF1B rs10492972[C] variant and multiple sclerosis
Nature Genet., 42 (6), 469-470
Burgunder JM, Finsterer J, Szolnoki Z, Fontaine B, Baets J, Van Broeckhoven C, Di Donato S, De Jonghe P, Lynch T, Mariotti C, Schöls L, Spinazzola A, Tabrizi SJ, Tallaksen C, Zeviani M, Harbo HF, Gasser T, EFNS (2010)
EFNS guidelines on the molecular diagnosis of channelopathies, epilepsies, migraine, stroke, and dementias
Eur J Neurol, 17 (5), 641-8
PubMed 20298421
Holmøy T, Harbo HF, Celius EG (2010)
[Treatment of multiple sclerosis]
Tidsskr Nor Laegeforen, 130 (9), 923; author reply 923
PubMed 20453948
International Multiple Sclerosis Genetics Consortium (IMSGC), Booth DR, Heard RN, Stewart GJ, Cox M, Scott RJ, Lechner-Scott J, Goris A, Dobosi R, Dubois B, Saarela J, Leppä V, Peltonen L, Pirttila T, Cournu-Rebeix I, Fontaine B, Bergamaschi L, D'Alfonso S, Leone M, Lorentzen AR, Harbo HF, Celius EG, Spurkland A, Link J, Kockum I et al. (2010)
Lack of support for association between the KIF1B rs10492972[C] variant and multiple sclerosis
Nat Genet, 42 (6), 469-70; author reply 470-1
PubMed 20502484
Jakkula E, Leppä V, Sulonen AM, Varilo T, Kallio S, Kemppinen A, Purcell S, Koivisto K, Tienari P, Sumelahti ML, Elovaara I, Pirttilä T, Reunanen M, Aromaa A, Oturai AB, Søndergaard HB, Harbo HF, Mero IL, Gabriel SB, Mirel DB, Hauser SL, Kappos L, Polman C, De Jager PL, Hafler DA et al. (2010)
Genome-wide association study in a high-risk isolate for multiple sclerosis reveals associated variants in STAT3 gene
Am J Hum Genet, 86 (2), 285-91
PubMed 20159113
Link J, Lorentzen AR, Kockum I, Duvefelt K, Lie BA, Celius EG, Harbo HF, Hillert J, Brynedal B (2010)
Two HLA class I genes independently associated with multiple sclerosis
J Neuroimmunol, 226 (1-2), 172-6
PubMed 20678810
Lorentzen AR, Melum E, Ellinghaus E, Smestad C, Mero IL, Aarseth JH, Myhr KM, Celius EG, Lie BA, Karlsen TH, Franke A, Harbo HF (2010)
Association to the Glypican-5 gene in multiple sclerosis
J Neuroimmunol, 226 (1-2), 194-7
PubMed 20692050
Mero IL, Ban M, Lorentzen ÅR, Smestad C, Celius EG, Sæther H, Saeedi H, Viken MK, Skinningsrud B, Undlien DE, Aarseth J, Myhr KM, Granum S, Spurkland A, Sawcer S, Compston A, Lie BA, Harbo HF (2010)
Exploring the CLEC16A gene reveals a MS-associated variant with correlation to the relative expression of CLEC16A isoforms in thymus
Genes Immun, 12 (3), 191-8
PubMed 21179112
Nohra R, Beyeen AD, Guo JP, Khademi M, Sundqvist E, Hedreul MT, Sellebjerg F, Smestad C, Oturai AB, Harbo HF, Wallström E, Hillert J, Alfredsson L, Kockum I, Jagodic M, Lorentzen J, Olsson T (2010)
RGMA and IL21R show association with experimental inflammation and multiple sclerosis
Genes Immun, 11 (4), 279-93
PubMed 20072140
Publications 2009
Ban M, Goris A, Lorentzen AR, Baker A, Mihalova T, Ingram G, Booth DR, Heard RN, Stewart GJ, Bogaert E, Dubois B, Harbo HF, Celius EG, Spurkland A, Strange R, Hawkins C, Robertson NP, Dudbridge F, Wason J, De Jager PL, Hafler D, Rioux JD, Ivinson AJ, McCauley JL, Pericak-Vance M et al. (2009)
Replication analysis identifies TYK2 as a multiple sclerosis susceptibility factor
Eur J Hum Genet, 17 (10), 1309-13
PubMed 19293837
Finsterer J, Harbo HF, Baets J, Van Broeckhoven C, Di Donato S, Fontaine B, De Jonghe P, Lossos A, Lynch T, Mariotti C, Schöls L, Spinazzola A, Szolnoki Z, Tabrizi SJ, Tallaksen CM, Zeviani M, Burgunder JM, Gasser T, European Federation of Neurological Sciences (2009)
EFNS guidelines on the molecular diagnosis of mitochondrial disorders
Eur J Neurol, 16 (12), 1255-64
PubMed 19950421
Gasser T, Finsterer J, Baets J, Van Broeckhoven C, Di Donato S, Fontaine B, De Jonghe P, Lossos A, Lynch T, Mariotti C, Schöls L, Spinazzola A, Szolnoki Z, Tabrizi SJ, Tallaksen CM, Zeviani M, Burgunder JM, Harbo HF, EFNS (2009)
EFNS guidelines on the molecular diagnosis of ataxias and spastic paraplegias
Eur J Neurol, 17 (2), 179-88
PubMed 20050888
Harbo HF, Finsterer J, Baets J, Van Broeckhoven C, Di Donato S, Fontaine B, De Jonghe P, Lossos A, Lynch T, Mariotti C, Schöls L, Spinazzola A, Szolnoki Z, Tabrizi SJ, Tallaksen C, Zeviani M, Burgunder JM, Gasser T, EFNS (2009)
EFNS guidelines on the molecular diagnosis of neurogenetic disorders: general issues, Huntington's disease, Parkinson's disease and dystonias
Eur J Neurol, 16 (7), 777-85
PubMed 19469830
Harbo HF, Riccio ME, Lorentzen AR, Utsi E, Myhr KM, Mellgren SI, Flåm ST, Thorsby E, Sanchez-Mazas A, Lie BA (2009)
Norwegian Sami differs significantly from other Norwegians according to their HLA profile
Tissue Antigens, 75 (3), 207-17
PubMed 20047643
Holmøy T, Harbo H, Vartdal F, Spurkland A (2009)
Genetic and molecular approaches to the immunopathogenesis of multiple sclerosis: an update
Curr Mol Med, 9 (5), 591-611
PubMed 19601809
Jagodic M, Colacios C, Nohra R, Dejean AS, Beyeen AD, Khademi M, Casemayou A, Lamouroux L, Duthoit C, Papapietro O, Sjöholm L, Bernard I, Lagrange D, Dahlman I, Lundmark F, Oturai AB, Soendergaard HB, Kemppinen A, Saarela J, Tienari PJ, Harbo HF, Spurkland A, Ramagopalan SV, Sadovnick DA, Ebers GC et al. (2009)
A role for VAV1 in experimental autoimmune encephalomyelitis and multiple sclerosis
Sci Transl Med, 1 (10), 10ra21
PubMed 20368159
Kallio SP, Jakkula E, Purcell S, Suvela M, Koivisto K, Tienari PJ, Elovaara I, Pirttilä T, Reunanen M, Bronnikov D, Viander M, Meri S, Hillert J, Lundmark F, Harbo HF, Lorentzen AR, De Jager PL, Daly MJ, Hafler DA, Palotie A, Peltonen L, Saarela J (2009)
Use of a genetic isolate to identify rare disease variants: C7 on 5p associated with MS
Hum Mol Genet, 18 (9), 1670-83
PubMed 19221116
Kemppinen A, Suvela M, Tienari PJ, Elovaara I, Koivisto K, Pirttilä T, Reunanen M, Rautakorpi I, Hillert J, Lundmark F, Oturai A, Ryder L, Harbo HF, Celius EG, Palotie A, Daly M, Peltonen L, Saarela J (2009)
MYO9B polymorphisms in multiple sclerosis
Eur J Hum Genet, 17 (6), 840-3
PubMed 19142207
Lorentzen AR, Karlsen TH, Olsson M, Smestad C, Mero IL, Woldseth B, Sun JY, Senitzer D, Celius EG, Thorsby E, Spurkland A, Lie BA, Harbo HF (2009)
Killer immunoglobulin-like receptor ligand HLA-Bw4 protects against multiple sclerosis
Ann Neurol, 65 (6), 658-66
PubMed 19630074
Mero IL, Lorentzen AR, Ban M, Smestad C, Celius EG, Aarseth JH, Myhr KM, Link J, Hillert J, Olsson T, Kockum I, Masterman T, Oturai AB, Søndergaard HB, Sellebjerg F, Saarela J, Kemppinen A, Elovaara I, Spurkland A, Dudbridge F, Lie BA, Harbo HF (2009)
A rare variant of the TYK2 gene is confirmed to be associated with multiple sclerosis
Eur J Hum Genet, 18 (4), 502-4
PubMed 19888296
Ramagopalan SV, Link J, Byrnes JK, Dyment DA, Giovannoni G, Hintzen RQ, Sundqvist E, Kockum I, Smestad C, Lie BA, Harbo HF, Padyukov L, Alfredsson L, Olsson T, Sadovnick AD, Hillert J, Ebers GC (2009)
HLA-DRB1 and month of birth in multiple sclerosis
Neurology, 73 (24), 2107-11
PubMed 20018638
Publications 2008
Lorentzen AR, Smestad C, Lie BA, Oturai AB, Akesson E, Saarela J, Myhr KM, Vartdal F, Celius EG, Sørensen PS, Hillert J, Spurkland A, Harbo HF (2008)
The SH2D2A gene and susceptibility to multiple sclerosis
J Neuroimmunol, 197 (2), 152-8
PubMed 18554728
Pugliatti M, Harbo HF, Holmøy T, Kampman MT, Myhr KM, Riise T, Wolfson C (2008)
Environmental risk factors in multiple sclerosis
Acta Neurol Scand Suppl, 188, 34-40
PubMed 18439219
Publications 2007
Datta P, Harbo HF, Ryder LP, Akesson E, Benedikz J, Celius EG, Andersen O, Myhr KM, Sandberg-Wollheim M, Hillert J, Svejgaard A, Sorensen PS, Spurkland A, Oturai A (2007)
A follow-up study of Nordic multiple sclerosis candidate gene regions
Mult Scler, 13 (5), 584-9
PubMed 17548436
Harbo HF, Mørk S, Vedeler C, Myhr KM (2007)
[Multiple sclerosis biobank established]
Tidsskr Nor Laegeforen, 127 (17), 2276
PubMed 17828328
Harbo HF, Spurkland A (2007)
Genetics in multiple sclerosis: past and future perspectives
Acta Neurol Scand Suppl, 187, 34-8
PubMed 17419826
Harbo HF, Utsi E, Lorentzen AR, Kampman MT, Celius EG, Myhr KM, Lie BA, Mellgren SI, Thorsby E (2007)
Low frequency of the disease-associated DRB1*15-DQB1*06 haplotype may contribute to the low prevalence of multiple sclerosis in Sami
Tissue Antigens, 69 (4), 299-304
PubMed 17389012
Hensiek AE, Seaman SR, Barcellos LF, Oturai A, Eraksoi M, Cocco E, Vecsei L, Stewart G, Dubois B, Bellman-Strobl J, Leone M, Andersen O, Bencsik K, Booth D, Celius EG, Harbo HF, Hauser SL, Heard R, Hillert J, Myhr KM, Marrosu MG, Oksenberg JR, Rajda C, Sawcer SJ, Sørensen PS et al. (2007)
Familial effects on the clinical course of multiple sclerosis
Neurology, 68 (5), 376-83
PubMed 17261686
Knudsen GP, Harbo HF, Smestad C, Celius EG, Akesson E, Oturai A, Ryder LP, Spurkland A, Ørstavik KH (2007)
X chromosome inactivation in females with multiple sclerosis
Eur J Neurol, 14 (12), 1392-6
PubMed 17970735
Lundmark F, Duvefelt K, Iacobaeus E, Kockum I, Wallström E, Khademi M, Oturai A, Ryder LP, Saarela J, Harbo HF, Celius EG, Salter H, Olsson T, Hillert J (2007)
Variation in interleukin 7 receptor alpha chain (IL7R) influences risk of multiple sclerosis
Nat Genet, 39 (9), 1108-13
PubMed 17660816
Smestad C, Brynedal B, Jonasdottir G, Lorentzen AR, Masterman T, Akesson E, Spurkland A, Lie BA, Palmgren J, Celius EG, Hillert J, Harbo HF (2007)
The impact of HLA-A and -DRB1 on age at onset, disease course and severity in Scandinavian multiple sclerosis patients
Eur J Neurol, 14 (8), 835-40
PubMed 17662002
Smestad C, Sandvik L, Holmoy T, Harbo HF, Celius EG (2007)
Marked differences in prevalence of multiple sclerosis between ethnic groups in Oslo, Norway
J Neurol, 255 (1), 49-55
PubMed 18080855
Publications 2006
Games Collaborative Group, Ban M, Booth D, Heard R, Stewart G, Goris A, Vandenbroeck K, Dubois B, Laaksonen M, Ilonen J, Alizadeh M, Edan G, Babron MC, Brassat D, Clanet M, Cournu-Rebeix I, Fontaine B, Semana G, Goedde R, Epplen J, Weber A, Infante-Duarte C, Zipp F, Rajda C, Bencsik K et al. (2006)
Linkage disequilibrium screening for multiple sclerosis implicates JAG1 and POU2AF1 as susceptibility genes in Europeans
J Neuroimmunol, 179 (1-2), 108-16
PubMed 16934875
Harbo HF, Ekstrøm PO, Lorentzen AR, Sundvold-Gjerstad V, Celius EG, Sawcer S, Spurkland A (2006)
Coding region polymorphisms in T cell signal transduction genes. Prevalence and association to development of multiple sclerosis
J Neuroimmunol, 177 (1-2), 40-5
PubMed 16764945
Lundmark F, Harbo HF, Celius EG, Saarela J, Datta P, Oturai A, Lindgren CM, Masterman T, Salter H, Hillert J (2006)
Association analysis of the LAG3 and CD4 genes in multiple sclerosis in two independent populations
J Neuroimmunol, 180 (1-2), 193-8
PubMed 17020785
Wiencke K, Boberg KM, Donaldson P, Harbo H, Ling V, Schrumpf E, Spurkland A (2006)
No major effect of the CD28/CTLA4/ICOS gene region on susceptibility to primary sclerosing cholangitis
Scand J Gastroenterol, 41 (5), 586-91
PubMed 16638702
Publications 2005
Lorentzen AR, Celius EG, Ekstrøm PO, Wiencke K, Lie BA, Myhr KM, Ling V, Thorsby E, Vartdal F, Spurkland A, Harbo HF (2005)
Lack of association with the CD28/CTLA4/ICOS gene region among Norwegian multiple sclerosis patients
J Neuroimmunol, 166 (1-2), 197-201
PubMed 16005527
Sawcer S, Ban M, Maranian M, Yeo TW, Compston A, Kirby A, Daly MJ, De Jager PL, Walsh E, Lander ES, Rioux JD, Hafler DA, Ivinson A, Rimmler J, Gregory SG, Schmidt S, Pericak-Vance MA, Akesson E, Hillert J, Datta P, Oturai A, Ryder LP, Harbo HF, Spurkland A, Myhr KM et al. (2005)
A high-density screen for linkage in multiple sclerosis
Am J Hum Genet, 77 (3), 454-67
PubMed 16080120
Smerdel-Ramoya A, Finholt C, Lilleby V, Gilboe IM, Harbo HF, Maslinski S, Førre Ø, Thorsby E, Lie BA (2005)
Systemic lupus erythematosus and the extended major histocompatibility complex--evidence for several predisposing loci
Rheumatology (Oxford), 44 (11), 1368-73
PubMed 16174649
Torkildsen O, Utsi E, Harbo HF, Mellgren SI, Vedeler CA, Myhr KM (2005)
Ethnic variations of IL-10 polymorphisms in a Sami and Norwegian population
Scand J Immunol, 62 (1), 71-4
PubMed 16091126
Torkildsen O, Utsi E, Mellgren SI, Harbo HF, Vedeler CA, Myhr KM (2005)
Ethnic variation of Fc gamma receptor polymorphism in Sami and Norwegian populations
Immunology, 115 (3), 416-21
PubMed 15946259
Publications 2004
Harbo HF, Lie BA, Sawcer S, Celius EG, Dai KZ, Oturai A, Hillert J, Lorentzen AR, Laaksonen M, Myhr KM, Ryder LP, Fredrikson S, Nyland H, Sørensen PS, Sandberg-Wollheim M, Andersen O, Svejgaard A, Edland A, Mellgren SI, Compston A, Vartdal F, Spurkland A (2004)
Genes in the HLA class I region may contribute to the HLA class II-associated genetic susceptibility to multiple sclerosis
Tissue Antigens, 63 (3), 237-47
PubMed 14989713
Oturai AB, Ryder LP, Fredrikson S, Myhr KM, Celius EG, Harbo HF, Andersen O, Akesson E, Hillert J, Madsen HO, Nyland H, Spurkland A, Datta P, Svejgaard A, Sorensen PS (2004)
Concordance for disease course and age of onset in Scandinavian multiple sclerosis coaffected sib pairs
Mult Scler, 10 (1), 5-8
PubMed 14760946
Publications 2003
Akesson E, Coraddu F, Marrosu MG, Massacesi L, Hensiek A, Harbo HF, Oturai A, Trojano M, Momigliano-Richiardi P, Cocco E, Murru R, Hillert J, Compston A, Sawcer S (2003)
Refining the linkage analysis on chromosome 10 in 449 sib-pairs with multiple sclerosis
J Neuroimmunol, 143 (1-2), 31-8
PubMed 14575911
Harbo HF, Datta P, Oturai A, Ryder LP, Sawcer S, Setakis E, Akesson E, Celius EG, Modin H, Sandberg-Wollheim M, Myhr KM, Andersen O, Hillert J, Sorensen PS, Svejgaard A, Compston A, Vartdal F, Spurkland A (2003)
Two genome-wide linkage disequilibrium screens in Scandinavian multiple sclerosis patients
J Neuroimmunol, 143 (1-2), 101-6
PubMed 14575924
Myhr KM, Harbo HF (2003)
[Multiple sclerosis--a disease with complex genetics]
Tidsskr Nor Laegeforen, 123 (19), 2723-6
PubMed 14600746
Publications 2002
Akesson E, Oturai A, Berg J, Fredrikson S, Andersen O, Harbo HF, Laaksonen M, Myhr KM, Nyland HI, Ryder LP, Sandberg-Wollheim M, Sorensen PS, Spurkland A, Svejgaard A, Holmans P, Compston A, Hillert J, Sawcer S (2002)
A genome-wide screen for linkage in Nordic sib-pairs with multiple sclerosis
Genes Immun, 3 (5), 279-85
PubMed 12140746
Publications 2001
Dai KZ, Harbo HF, Celius EG, Oturai A, Sørensen PS, Ryder LP, Datta P, Svejgaard A, Hillert J, Fredrikson S, Sandberg-Wollheim M, Laaksonen M, Myhr KM, Nyland H, Vartdal F, Spurkland A (2001)
The T cell regulator gene SH2D2A contributes to the genetic susceptibility of multiple sclerosis
Genes Immun, 2 (5), 263-8
PubMed 11528519
Dai Y, Masterman T, Huang WX, Sandberg-Wollheim M, Laaksonen M, Harbo HF, Oturai A, Ryder LP, Soelberg-Sørensen P, Svejgaard A, Hillert J (2001)
Analysis of an interferon-gamma gene dinucleotide-repeat polymorphism in Nordic multiple sclerosis patients
Mult Scler, 7 (3), 157-63
PubMed 11475438
Isojärvi JI, Taubøll E, Pakarinen AJ, van Parys J, Rättyä J, Harbo HF, Dale PO, Fauser BC, Gjerstad L, Koivunen R, Knip M, Tapanainen JS (2001)
Altered ovarian function and cardiovascular risk factors in valproate-treated women
Am J Med, 111 (4), 290-6
PubMed 11566460
Publications 2000
Celius EG, Harbo HF, Egeland T, Vartdal F, Vandvik B, Spurkiand A (2000)
Sex and age at diagnosis are correlated with the HLA-DR2, DQ6 haplotype in multiple sclerosis
J Neurol Sci, 178 (2), 132-5
PubMed 11018705
Larsen F, Oturai A, Ryder LP, Madsen HO, Hillert J, Fredrikson S, Sandberg-Wollheim M, Laaksonen M, Harbo HF, Sawcer S, Fugger L, Sorensen PS, Svejgaard A (2000)
Linkage analysis of a candidate region in Scandinavian sib pairs with multiple sclerosis reveals linkage to chromosome 17q
Genes Immun, 1 (7), 456-9
PubMed 11196677
Publications 1999
Harbo HF, Celius EG, Vartdal F, Spurkland A (1999)
CTLA4 promoter and exon 1 dimorphisms in multiple sclerosis
Tissue Antigens, 53 (1), 106-10
PubMed 10082437
Taubøll E, Isojärvi JI, Harbo HF, Pakarinen AJ, Gjerstad L (1999)
Long-term valproate treatment induces changes in ovarian morphology and serum sex steroid hormone levels in female Wistar rats
Seizure, 8 (8), 490-3
PubMed 10627413
Publications 1996
Harbo HF (1996)
[Brain abscess. A difficult diagnosis?]
Tidsskr Nor Laegeforen, 116 (7), 866-8
PubMed 8644101