CyTOF 2 (Montebello) CyTOF 2 Mass Cytometer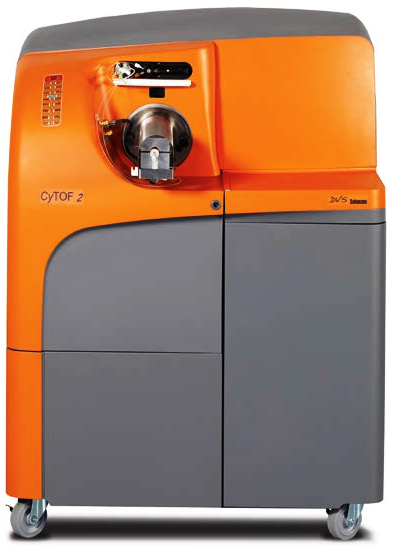 "The CyTOF® 2 mass cytometer analyzes individual cells labeled with stable heavy metal isotopes using state of the art Time‐of‐Flight Inductively Coupled Plasma mass spectrometry (TOF ICPMS) technology. With over 120 detection channels, the CyTOF® 2 has the exquisite ability to simultaneously resolve multiple elemental probes per cell at high acquisition rates without the need for compensation, thereby maximizing the per‐cell information obtained from a single sample. These attributes provide researchers with an unparalleled ability to generate high resolution phenotypic and functional profiles of cells from normal and diseased states".
Ref: CyTOF2 Mass Cytometer User Manual
Room: K03.020
We provide an in-house libray of metal-labeled antibodies that users can buy per ul. More metal-labeled antibodies can also be bought from Fluidigm (http://maxpar.fluidigm.com/product-catalog-metal.php). You can conjugate your own antibodies using metal labeling kits that we also provide for a fee per reaction (100ug antibody needed) (http://maxpar.fluidigm.com/product-catalog-maxpar.php). Please contact us (see next section) to get info on antibodies available and prices, help with project planning, panel design, staining protocols, and data analysis. The CyTOF 2 will be upgraded to a Helios with a slide imaging module (Hyperion) in August/September 2019!
Access:
To use the CyTOF2, please contact flowcytometri@rr-research.no. Regular users will be given training to run the CyTOF2 unsupervised.
User fees:
Helse Sør-Øst and UiO users will be prioritized.
Academic users:

DIY Running samples: 1000 kr/h (+ first run for free!)
Assisted: 1500 kr/h
Commercial users:

DIY Running samples: 3000 kr/h
Assisted: 4500 kr/h