In order to stimulate excellent research and draw attention to the hospital's extensive research activity, Oslo University Hospital reward outstanding publications regularly.
Every half-year, six of the very best papers authored by scientists working on the hospital (first or last author must be affiliated to OUS) are selected. The nomination takes place through the research panel of each division. The final selection process is performed by an external committee.
The award winners are ranked equally.
---
Award winners, excellent articles for the second half-year of 2017 (first or last author affiliated to OUH)
Journal: Journal of Allergy and Clinical Immunology (journal impact factor 12.485)
First author: Astrid Stray-Pedersen
Stray-Pedersen A, Sorte HS, Samarakoon P, Gambin T, Chinn IK, Coban Akdemir ZH, Erichsen HC, Forbes LR, Gu S, Yuan B, Jhangiani SN, Muzny DM, Rødningen OK, Sheng Y, Nicholas SK, Noroski LM, Seeborg FO, Davis CM, Canter DL, Mace EM, Vece TJ, Allen CE, Abhyankar HA, Boone PM, Beck CR et al. (2016)
Primary immunodeficiency diseases: Genomic approaches delineate heterogeneous Mendelian disorders
J Allergy Clin Immunol, 139 (1), 232-245
PubMed 27577878
---
Journal: Blood (journal impact factor 11.847)
First author: June Helen Myklebust
Myklebust JH, Brody J, Kohrt HE, Kolstad A, Czerwinski DK, Wälchli S, Green MR, Trøen G, Liestøl K, Beiske K, Houot R, Delabie J, Alizadeh AA, Irish JM, Levy R (2016)
Distinct patterns of B-cell receptor signaling in non-Hodgkin lymphomas identified by single-cell profiling
Blood, 129 (6), 759-770
PubMed 28011673
---
Journal: Cell Reports (journal impact factor 7.87)
Last author: Therese Sørlie
Lesurf R, Aure MR, Mørk HH, Vitelli V, Oslo Breast Cancer Research Consortium (OSBREAC), Lundgren S, Børresen-Dale AL, Kristensen V, Wärnberg F, Hallett M, Sørlie T (2016)
Molecular Features of Subtype-Specific Progression from Ductal Carcinoma In Situ to Invasive Breast Cancer
Cell Rep, 16 (4), 1166-79
PubMed 27396337
---
Journal: European Heart Journal (journal impact factor 15.064)
Last author: Lars Gullestad
Kleveland O, Kunszt G, Bratlie M, Ueland T, Broch K, Holte E, Michelsen AE, Bendz B, Amundsen BH, Espevik T, Aakhus S, Damås JK, Aukrust P, Wiseth R, Gullestad L (2016)
Effect of a single dose of the interleukin-6 receptor antagonist tocilizumab on inflammation and troponin T release in patients with non-ST-elevation myocardial infarction: a double-blind, randomized, placebo-controlled phase 2 trial
Eur Heart J, 37 (30), 2406-13
PubMed 27161611
---
Journal: Nature (journal impact factor 38.138)
First author: John Arne Dahl, last author: Arne Klungland
Dahl JA, Jung I, Aanes H, Greggains GD, Manaf A, Lerdrup M, Li G, Kuan S, Li B, Lee AY, Preissl S, Jermstad I, Haugen MH, Suganthan R, Bjørås M, Hansen K, Dalen KT, Fedorcsak P, Ren B, Klungland A (2016)
Broad histone H3K4me3 domains in mouse oocytes modulate maternal-to-zygotic transition
Nature, 537 (7621), 548-552
PubMed 27626377
---
Journal: Brain (journal impact factor 10.103)
First author: Roar Fjær, last author: Katja Kristine Selmer
Moen MN, Fjær R, Hamdani EH, Laerdahl JK, Menchini RJ, Vigeland MD, Sheng Y, Undlien DE, Hassel B, Salih MA, El Khashab HY, Selmer KK, Chaudhry FA (2016)
Pathogenic variants in KCTD7 perturb neuronal K+ fluxes and glutamine transport
Brain, 139 (Pt 12), 3109-3120
PubMed 27742667
---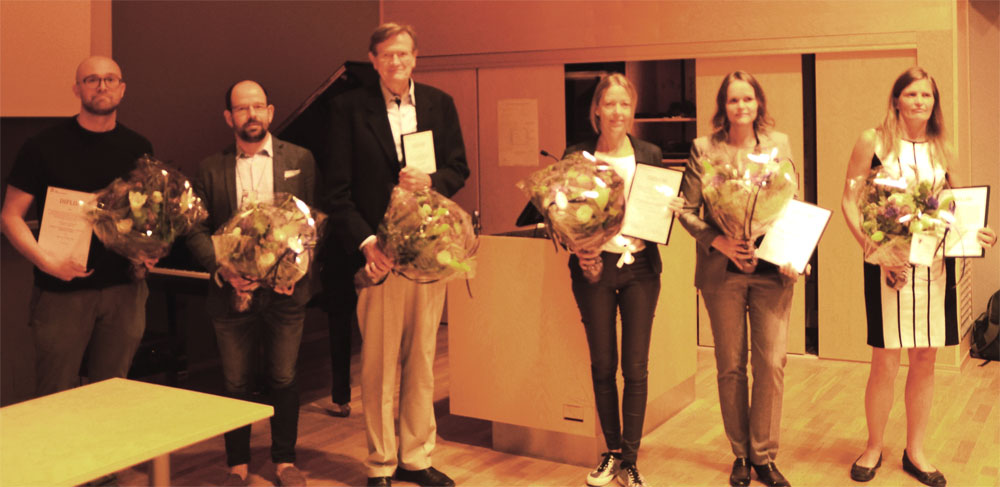 Award winners, exellent artcies, second half-year of 2016.
From left: Roar Fjær, Peter Fedorcsak, Lars Gullestad, June Myklebust, Therese Sørlie and Asbjørg Stray-Pedersen (photo: Margrethe Falch)