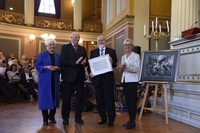 Per Ottar Seglen received the award from H.M. King Harald V and was congratulated by Anne Lise Ryel and Gunn-Elin Aa. Bjørneboe
King Olav V's cancer research prize for 2017 was on June 6th given to professor Per O. Seglen, formerly head of the Proteomics & Mammalian Cell Biology Section at the Institute for Cancer Research, OUH, currently a guest researcher at NCMM.

The prestigious prize is distributed annually by the Norwegian Cancer Society, and the winner receives NOK 1.000.000.