Antoni Wiedlocha's group - Protein internalisation and signaling
Nuclear translocation and intracrine signaling of FGFs
A. Wiedlocha
Altered cell signaling in growth regulation is a prerequisite for cancer development. Our group studies fibroblast growth factor (FGF) signaling mechanisms and the translocation of FGF1 and FGF2 into cells. We found that, in addition to the well known mechanism of signaling through the tyrosine kinase receptor, FGF1 similarly to FGF2 is able to translocate into cells to fulfill the signal. We are going to understand in details mechanisms of FGF action including (i) activation of signaling network, internalization and down-regulation of activated FGF receptors. (ii) FGF1 and FGF2 translocation into the cytosol and nucleus, (iii) identification of new intracellular FGF1 and FGF2 binding partners. New findings in this field would be beneficial for finding new molecular targets for anti-cancer therapy.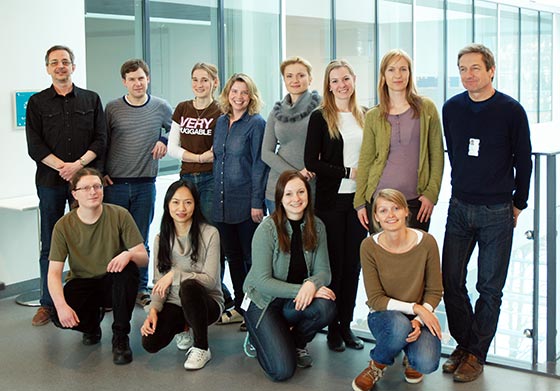 Antoni Wiedlocha's Group click to enlarge image
Contact information:
Email: Antoni.Wiedlocha@rr-research.no
Department of Biochemistry, Institute for Cancer Research
The Norwegian Radium Hospital, Montebello, 0379 Oslo, Norway
Phone +47 22 78 19 30 (Wiedlocha), Switchboard: +47 22 93 40 00
Selected publications
Zakrzewska M, Haugsten EM, Nadratowska-Wesolowska B, Oppelt A, Hausott B, Jin Y, Otlewski J, Wesche J, Wiedlocha A (2013)
ERK-Mediated Phosphorylation of Fibroblast Growth Factor Receptor 1 on Ser777 Inhibits Signaling.
Sci Signal. 6(262)
23405013 Free pdf
Zhen Y, Sørensen V, Skjerpen CS, Haugsten EM, Jin Y, Wälchli S, Olsnes S, Wiedlocha A (2012)
Nuclear import of exogenous FGF1 requires the ER-protein LRRC59 and the importins Kpnα1 and Kpnβ1.
Traffic. 2012 Feb 9. [Epub ahead of print]
PubMed 22321063
Jin Y, Zhen Y, Haugsten EM, Wiedlocha A (2011)
The driver of malignancy in KG-1a leukemic cells, FGFR1OP2-FGFR1, encodes an HSP90 addicted oncoprotein
Cell Signal. 2011 Nov;23(11):1758-66
Pubmed 21745565.
Sørensen V, Zhen Y, Zakrzewska M, Haugsten EM, Wälchli S, Nilsen T, Olsnes S, Wiedlocha A (2008)
Phosphorylation of fibroblast growth factor (FGF) receptor 1 at Ser777 by p38 mitogen-activated protein kinase regulates translocation of exogenous FGF1 to the cytosol and nucleus.
Mol Cell Biol. 12, 4129-41
PubMed 18411303
Zhen Y, Sørensen V, Jin Y, Suo Z, Wiedlocha A (2007)
Indirubin-3'-monoxime inhibits autophosphorylation of FGFR1 and stimulates ERK1/2 activity via p38 MAPK
Oncogene, 26 (44), 6372-85
PubMed 17533378
Nilsen T, Rosendal KR, Sørensen V, Wesche J, Olsnes S, Wiedlocha A (2007)
A nuclear export sequence located on a beta-strand in fibroblast growth factor-1
J Biol Chem, 282 (36), 26245-56
PubMed 17616529
Wiedlocha A, Nilsen T, Wesche J, Sørensen V, Malecki J, Marcinkowska E, Olsnes S (2005)
Phosphorylation-regulated nucleocytoplasmic trafficking of internalized fibroblast growth factor-1
Mol Biol Cell, 16 (2), 794-810
PubMed 15574884