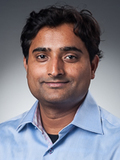 Pankaj Kumar Keshari

Position:
PhD student, MSc
Phone:
+47 230 79025
Email:
Address: Oslo University Hospital, Research Unit for Neuroscience, Domus Medica II, 2nd floor, L-201, Gaustadalleen 34, 0372 Oslo
Background:
Pankaj Keshari has a Master degree in Biotechnology from Allahabad Agricultural Institute-Deemed University, India. He has worked in different research laboratories in Denmark, Norway and India. In his recent research at the Odense University Hospital, Denmark he studied the effect of different osteogenic growth factors on gene regulation and identified a signaling pathway using state of art molecular and cellular biology techniques.
PhD project:
Project title: "Immunogenetic loci characterization of multiple sclerosis"
The PhD project aims to characterize the molecular mechanisms in development and presentation of MS to make a basis for better strategies for MS treatment. Keshari will perform molecular characterization of molecules encoded by genes recently identified in the MS immunochip project.
Main supervisor: Hanne F. Harbo (MD, PhD)
Co-supervisors: Tone Berge (MSc, PhD) and Steffan D. Bos (MSc, PhD)
Research interests:
• Molecular biology
• Molecular Immunology
Methodology
• Mammalian cell transfections and cell culture techniques
• Quantitative real-time PCR (TaqMan and SYBR Green)
• Expression, purification and refolding of recombinant proteins
• Isolation of DNA, RNA and microRNA
• Western blotting
• Cloning techniques
• Immunohistochemistry
Author network for Pankaj Kumar Keshari by COREMINE medical
Publications 2017
Abdallah BM, Figeac F, Larsen KH, Ditzel N, Keshari P, Isa A, Jafari A, Andersen TL, Delaisse JM, Goshima Y, Ohshima T, Kassem M (2017)
CRMP4 Inhibits Bone Formation by Negatively Regulating BMP and RhoA Signaling
J Bone Miner Res, 32 (5), 913-926
PubMed 28019696
Publications 2016
Keshari PK, Harbo HF, Myhr KM, Aarseth JH, Bos SD, Berge T (2016)
Allelic imbalance of multiple sclerosis susceptibility genes IKZF3 and IQGAP1 in human peripheral blood
BMC Genet, 17, 59
PubMed 27080863
Publications 2015
Leikfoss IS, Keshari PK, Gustavsen MW, Bjølgerud A, Brorson IS, Celius EG, Spurkland A, Bos SD, Harbo HF, Berge T (2015)
Multiple Sclerosis Risk Allele in CLEC16A Acts as an Expression Quantitative Trait Locus for CLEC16A and SOCS1 in CD4+ T Cells
PLoS One, 10 (7), e0132957
PubMed 26203907
Publications 2010
Kettunen P, Kivimäe S, Keshari P, Klein OD, Cheyette BN, Luukko K (2010)
Dact1-3 mRNAs exhibit distinct expression domains during tooth development
Gene Expr Patterns, 10 (2-3), 140-3
PubMed 20170752