Stine Aske Danielsen successfully defends her PhD thesis

Stine Aske Danielsen from the Lothe lab gave an excellent trial lecture on the topic "Molecular basis for targeted therapies in colorectal cancer" on November 15, and successfully defended her PhD thesis the following day.

Her thesis is entitled "Molecular markers of colorectal cancer and their clinical potential".
Stine Aske Danielsen is now employed as a Postdoc in the Lothe lab.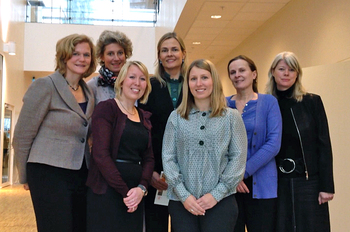 From left: Second opponent Helga Salvesen, first opponent Mef Nilbert, PhD-candidate Stine Aske Danielsen, third member of evaluation committee Johanna Olweus, co-supervisor Guro E. Lind, main supervisor Ragnhild A. Lothe, and Acting Dean Hilde Nebb.