Tumor Immunology group
The Tumor Immunology group investigates the interplay between the immune system and cancer with a main focus on two types of immune cells, namely tumor-specific T cells and macrophages.
The immune system has a central role in cancer because it can both promote and suppress tumor development. Our research vision is to increase our understanding of how the immune system naturally fights cancer in order to develop novel strategies for cancer immunotherapy in humans. We perform both in vivo and in vitro experiments with experimental mouse models, various cell lines, and tumor tissue from patients with non-small cell lung cancer (NSCLC). On the basis of our previous findings, we focus our research on the mechanisms whereby tumor-specific T helper cells and macrophages collaborate to recognize and eliminate malignant cells. We are also very interested in cytokine-mediated communication between immune cells and in tumor-associated inflammation.
Projects
Macrophage activation and killing of tumor cells
Cancer-suppressive versus cancer-promoting inflammation
Immune cell composition in human non-small cell lung cancer
Prognostic value of tumor-infiltrating immune cells in lung cancer
A novel vaccine strategy against cancer and infectious diseases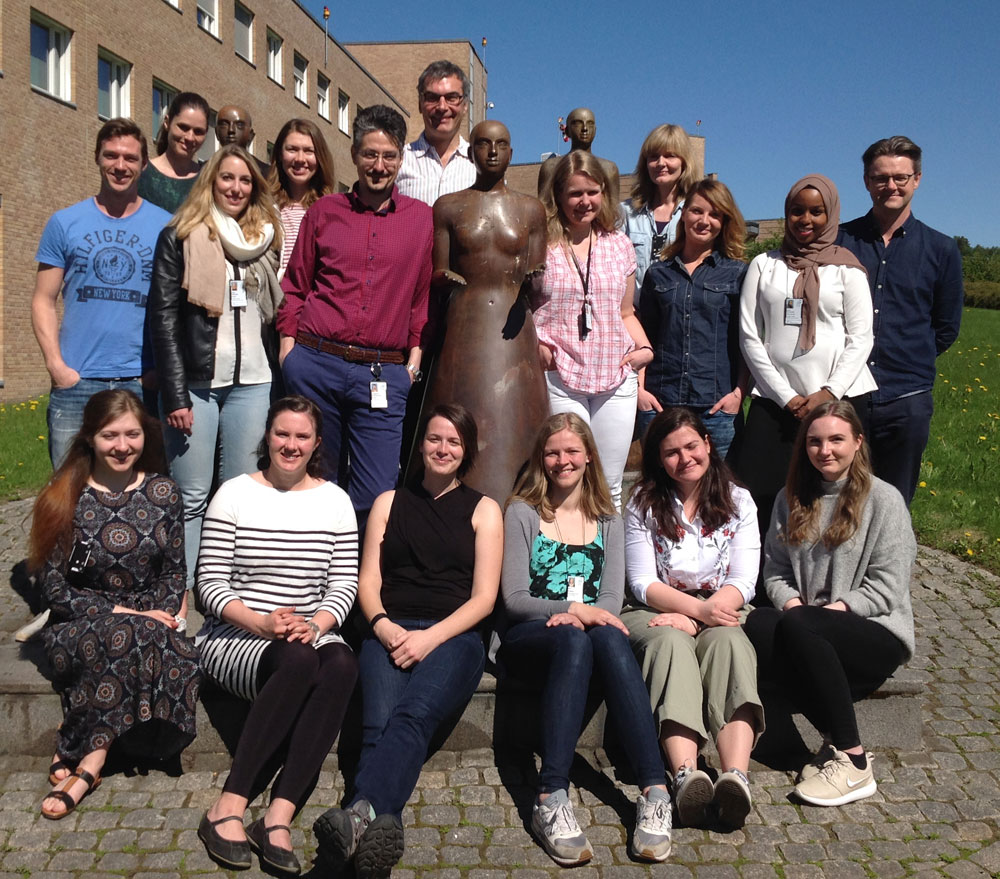 Back, from left to right: Kari Tvete Inngjerdingen*, Anna Lunde, Alexandre Corthay, Inger Øynebråten, Henrik Aamodt.
Middle: Christian Winther Wold*, Aline Defforges, Panagiotis Christopoulos, Linda Dorp, Justyna Stokowiec, Ashalul Ahmed Nur Gutale.
Front: Baiba Kurena, Elisabeth Müller, Branislava Stankovic, Astri Frafjord, Ajna Avdagic, Renate Skarshaug.
* Associate group members.
Photographer: Kathrine Rehder

Contact information:
Alexandre Corthay, PhD
Head of Tumor immunology group
President of the Norwegian Society for Immunology
Mail address: Department of Pathology, Oslo University Hospital Rikshospitalet, P.O. Box 4950 Nydalen, NO-0424 Oslo, Norway.
Visitor address: Institute of Pathology, Oslo University Hospital Rikshospitalet, Sognsvannsveien 20, Oslo, Norway. Office: room A3.M018.